Arts & Culture
Campus & City
2018 Fringe Review: Unscriptured
Travis Bernhardt improvises a new religion on the spot within a recyclable format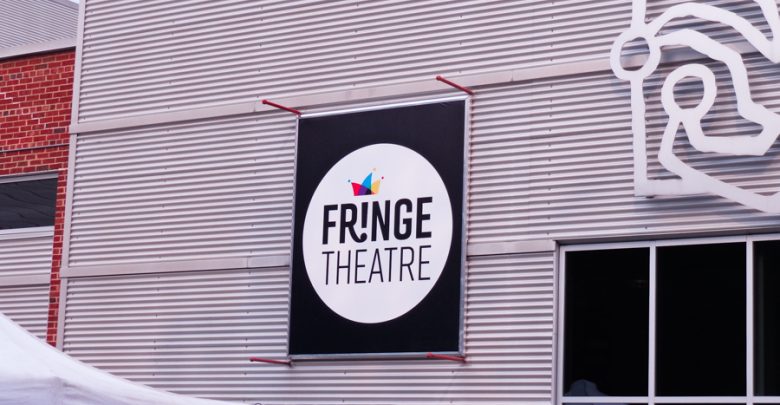 Unscriptured invites the audience to "please rise" in an improvised religious service as creator-performer Travis Bernhardt himself rises to the occasion.
Over the course of an hour, Bernhardt takes an audience suggestion for the central object of worship for an all-new religion. Suggestion chosen (after a couple minutes — our irreverent reverend is picky), he conducts a church service for whatever peculiar new faith it conjures. When I attended, the suggestion was "low self-esteem," which led the audience to enthusiastically shout the mantra "I suck" (the ultimate Fringe mood).
Unscriptured's format is clever and clearly reproducible: Bernhardt opened by improvising low self-esteem-themed lyrics to the popular gospel tunes "Swing Low, Sweet Chariot," and "When the Saints Go Marching In." He followed this by asking members of the audience to search up "poems about low self-esteem" on their phones, one of which he chose to read aloud as a piece of scripture. Bernhardt sustained the remaining half hour or so with audience interaction, and with a final rousing chorus of "I'm Not that Good at Anything," we were on our way.
As past reviews of the show indicate, Bernhardt recycles the building blocks of the rewritten gospel tunes and internet poetry with each iteration, no doubt riffing on the suggestion with the audience to fill the remaining time. While this could indicate a lack of improv's spontaneity in Bernhardt's performance, he manages to find novel ways to work with the suggestion and keep the audience engaged.
While he made sure to institute an "out" for audience members who wanted to steer clear of interaction, Bernhardt's wisecracks — consequent to the risky topic of low self-esteem — may have crossed (or at least teetered on) the line at a few points.
But overall, Unscriptured was a lighthearted hour of cheeky sociopolitical humour, where Bernhardt poked fun at the peculiarities of religious life without stirring the pot beyond salvation.