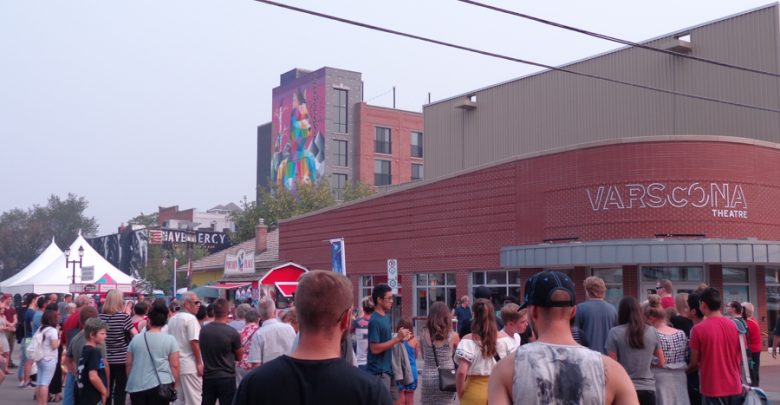 The Soldier's Tale is a piece of music by 20th century Russian-born classical composer Igor Stravinsky. It's also a dramatic work by Swiss writer Charles-Ferdinand Ramuz.
How you evaluate the work depends largely on which category of art you place it in.
The Soldier's Tale combines theatrical movement and dance, Stravinsky's score, and Ramuz' text to tell the story of a soldier (Oscar Derkx) who's seduced by the devil (Andrea House) into giving up his prized fiddle for a magic book which produces infinite riches. Based on a Russian fairy tale, the story is a cautionary tale warning against the traps of greed and vice.
Stravinsky's score is brilliant. Harnessing strings in romantic moments accompanied by ballet, and drawing on energetic percussion at the devil's appearances, the composer conjures diverse sound pallets which (in conductor Alex Prior's hands) sustain audience engagement over the course of the piece's 60 minutes.
Laura Krewski's choreography unifies The Soldier's Tale's musical and dramatic components, blending ballet and contemporary movement styles to visualize the soldier's journey into the devil's arms and across the world.
The dramatic component itself, however, is comparatively weak. Ramuz's text (here, in English translation from the original French), unfolds a thematically thin plot lacking psychological depth. This is unsurprising given its fairy tale source text, but while some adaptations of folk stories problematize their simple moral lessons and grant greater complexity to their archetypal characters, The Soldier's Tale reproduces the original story at face value.
Yet while Ramuz's text would not hold up on its own, Stravinsky's score infuses it with a magical quality that supersedes its weaknesses. It's no sophisticated drama, but it doesn't try to be one. Rather, enchanting music and dreamlike staging elevate this simple story to greater heights of artistry.
If you evaluate The Soldier's Tale as part of the category of drama, you will be disappointed. But if you evaluate it firstly as a work of music, its affective powers augmented with theatrical elements, you will be astounded.