Arts & Culture
Campus & City
Tash Sultana rocks the stage at the 2018 Edmonton Folk Music Festival
The young Australian musician showed off their virtuosity to a packed hill of folk festers at Stage 6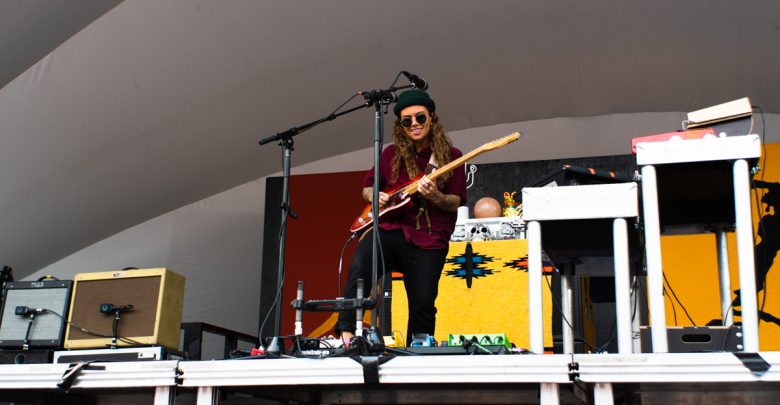 Australian musician Tash Sultana (who uses they/them pronouns) was my first show at Folk Fest ever. I think they may have actually ruined the festival for me — not because it was a bad act, but because I don't know if anything will ever live up to it.
Sultana is a one-person band, dancing barefoot on the stage, usually with a guitar, pressing loops pedals and adding in synths. They explained to the audience that there is no backing track; instead, every piece is moulded live. They expertly layered sounds, setting them up to rise and crash like waves over the audience at stage three.
However, Sultana's repertoire wasn't just guitar and synths. When they broke out the mandolin (it is Folk Fest after all) and distorted it, my jaw dropped. When they pulled out a trumpet, playing it adeptly, I was in awe. And when they started beatboxing into a pan flute, my friend next to me said, "Can [they] stop being able to play everything?"
Sultana started playing guitar at three years old, and plays close to 20 other instruments. Their musical career started with busking, but when a home video of them performing went viral in 2016, they got in the studio and recorded their breakout EP, Notion, followed by a world tour.
It was a miracle that we even got to see Sultana, since their show on Thursday at the main stage had been cancelled. They had been playing the night before in Toronto during the biggest storm of the year, damaging their custom-made equipment. Luckily, Folk Fest was able to move their show to Friday. "I didn't think anyone was going to come," Sultana confessed as they looked out over the huge crowd.
With only an EP and some singles out, Sultana is gearing up for the release of their first album, Flow State, on August 31 of this year. Yet even without a full album under their belt, they already have some big hits, like "Jungle," the song they chose to close out the concert. While the radio usually cuts Sultana's songs down to a typical length, Sultana played us the extra-long version, which broke down in the middle into a quiet hum. But they fell to their knees and let out a carnal cry as the song pumped back up, jumping down into the audience as we went wild.