Institutional
News
New survey asks students and staff about campus security
Data from the survey will be used to draft new security measures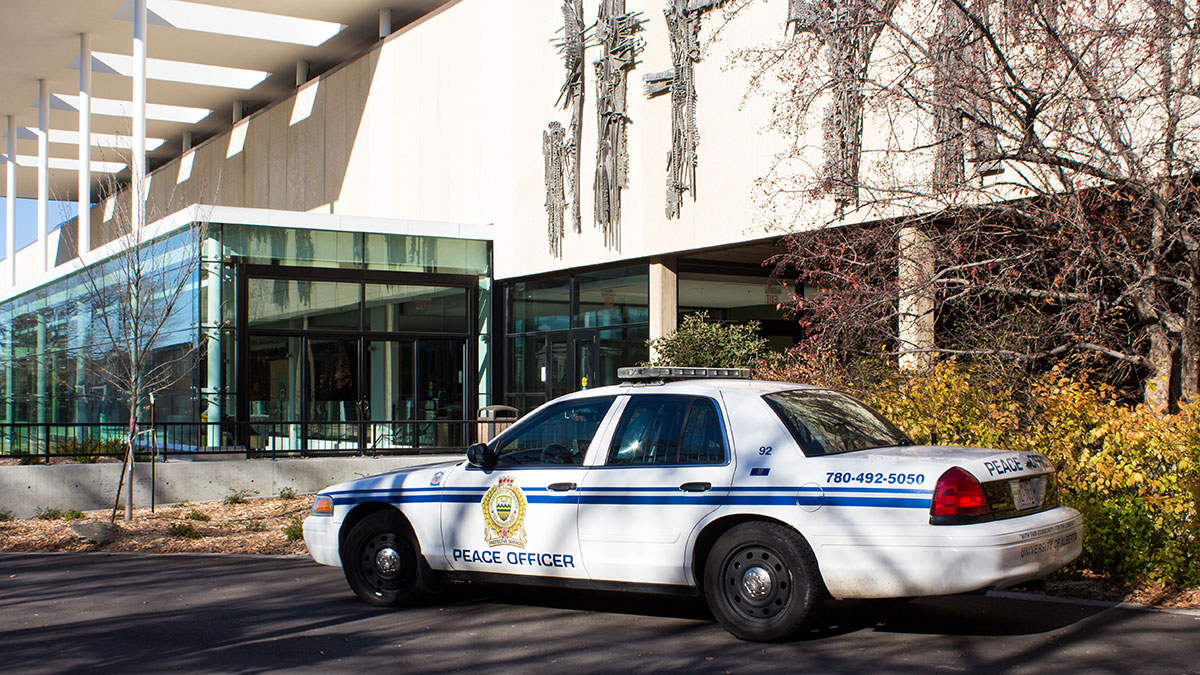 A new university-wide survey is trying to gauge where students and staff feel unsafe on campus.
The online survey, which closes July 17, asks where respondents spend their time on campus and how safe they feel in those areas. Launched by the campus and facilities safety and security working group, the intent of the survey is to gather data for a draft report in September that will help the university prioritize areas where people have concerns, similar to what's been done in the Fine Arts Building (FAB) where security cameras have been installed in response to complaints from students and staff.
Rob Munro, acting associate vice-president of Risk Management Services and co-chair of the working group, said the report will have short and long-term strategies to address security issues on campus. He said measures can include installing cameras in some areas or educating people on reporting dangerous situations.
"There has been a number of concerns that have been brought forward on security issues on campus," Munro said. "The decision was made that we need to make sure that we're addressing those concerns."
James Allen, associate vice-president of operations and maintenance and the other co-chair of the working group, said data from U of A Protective Services (UAPS) shows that the majority of complaints they've received deal with trespassing and suspicious activity, with violent crime and theft happening in smaller numbers.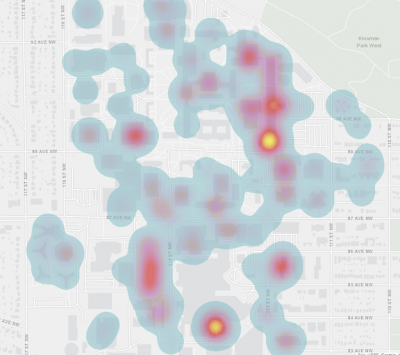 UAPS also created a heat map of on-campus incidents which shows a large concentration of complaints from FAB, HUB Mall, and the Edmonton Clinic Health Academy.
The working group was formed on April 12, following a town hall organized by the Music Students' Association where people who frequent FAB shared their dangerous experiences working there. The event was organized after an incident where a student walked in on two men weighing cocaine in a washroom.
Allen said security on campus was a concern before the town hall, but the publicity around FAB's issues accelerated the creation of the working group.
Munro said the group aims to submit a final report on December 14, and that the survey will be repeated in January so that the group could compare results from the previous survey.
"This will help us determine how effective we're being," Munro said. "The hope is that we're actually seeing that people's perception of safety and security on campus is improving from wherever this baseline will show us."
While the survey closes on July 17, both Allen and Munro realize the results could be affected with students being away from campus in the summer. However, Munro said they're willing to be flexible with their timelines.
"It's more important that we get the right report than to get it in by December 14," Munro said.
Cameras and other measures installed in FAB
Since the town hall on FAB security, Allen said cameras and other security measures have been put in place, such as fencing and access controls throughout the building. The cost of these new measures totals to around $106,000, with the cameras and monitors costing about $70,000 and fencing and access control at $36,000.
Allen and Munro added that while the cameras are recording things that happen in the building, they're not actively being monitored, which is why improving security patrols is an option.
"A presence in uniform has a certain deterrent as well," Munro said. "We haven't determined all of the solutions yet but that's part of what the working group will determine."
Students' Union vice-president (student life) Andre Bourgeois, who also sits on the safety and security working group, said he's happy with the steps the university has taken to increase security in FAB, and that he'd like to see similar measures in other areas that need it like HUB Mall.
"Honestly, I think students spoke up about Fine Arts Building and they responded by improving the security in the Fine Arts Building, I'd like to see that kind of response more often from the university," Bourgeois said. "That's been a pretty awesome response to the concerns."