Institutional
News
Associate professor put on leave following child pornography charges
Janke was the rural program director in the Department of Family Medicine at the U of A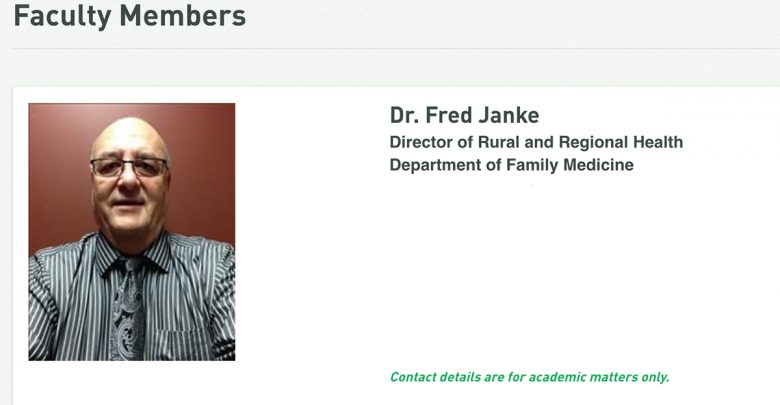 An associate professor at the University of Alberta has been charged with several child exploitation offences, following an undercover investigation by authorities in B.C. and Alberta.
62-year-old Fred Janke was arrested on June 27, and charged with making arrangements to commit a sexual offence against a child, as well as the making and distribution of child pornography. In addition to being a family doctor at Sylvan Lake since 1984, Janke was also an associate professor in the University of Alberta's Department of Family Medicine. The university has placed him on leave. 
RCMP Cpl. Cameron Dunn, an investigator in the Internet Child Exploitation (ICE) unit in northern Alberta, said Janke was in touch with an undercover police officer in B.C. in October 2017. Dunn said the officer posed as a mother who would let her 5-year-old child be sexually offended by Janke.
Dunn said Janke expressed his desire to meet with the officer and the child to perform these acts. Once Janke was identified, authorities in B.C. contacted the ICE unit in Alberta about locating and arresting him.
According to a webpage detailing his position with the U of A, Janke taught family medicine at the postgraduate level and was the rural program director in the Department of Family Medicine since 2008. The page also mentions four awards he received for his work, as well as his fellowship in the Society of Rural Physicians of Canada which he'd received in 2009. Additionally, he was the first full-time faculty member to have his practice outside of Edmonton.
Janke was also the president of the Alberta College of Family Physicians. He was removed from the position after his arrest.
On June 29, the university issued a statement saying Janke had been put on leave, his duties had been reassigned, and that the university is committed to a safe working and learning environment.
"Today the University of Alberta learned with surprise and grave concern of the arrest of one of its faculty members," the statement said. "While we are unable to comment on an active police investigation, we will cooperate fully if requested."
Dunn said the university has been cooperative, but added that the investigation didn't require evidence from the university as Janke's offences had nothing to do with his medical practice or university teaching.
"We haven't needed them to cooperate with much at all," Dunn said. "Their involvement, to be honest, is quite limited."
Janke has been released on several conditions. He is prohibited from contacting children or accessing the internet. A court date has yet to be set.