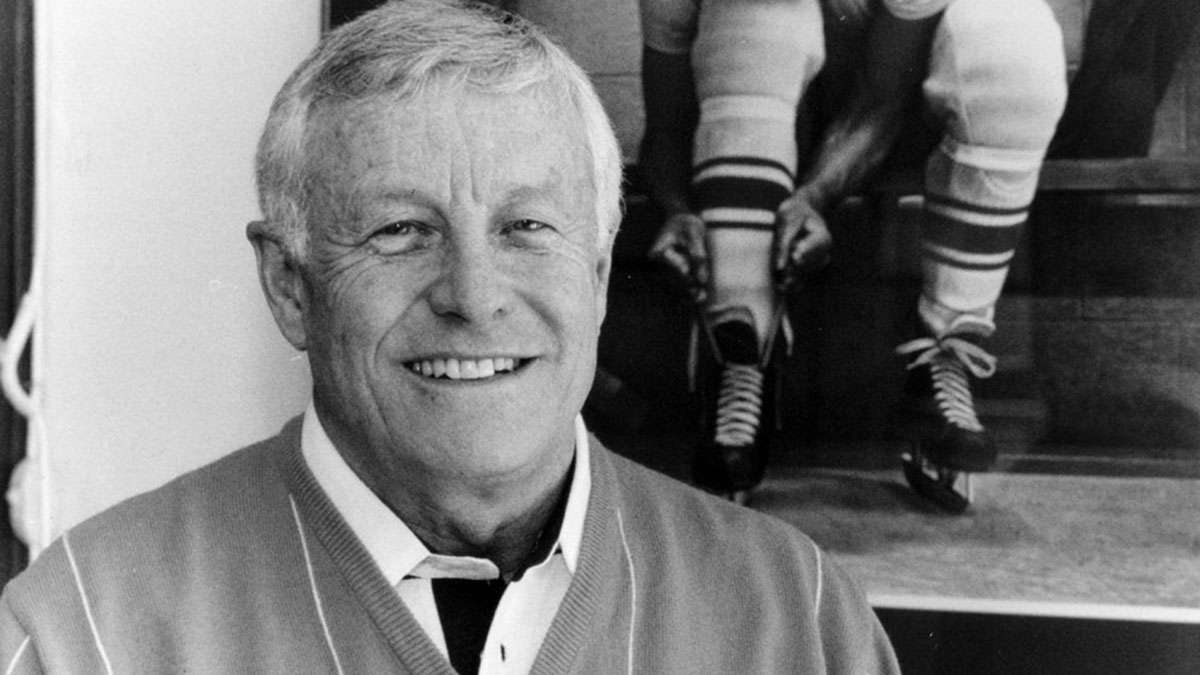 Nearly 700 people attended the the University of Alberta's celebration the life of Clare Drake, the former Golden Bears hockey coach who passed away last month.
Drake, who was 89 when he passed away on May 13, was the head coach of the Golden Bears hockey team for 31 years, making an impact on multiple generations of student-athletes while leading the team to six national championships. The event on June 14, which went from 1:30 p.m. to 3:00 p.m. at the Butterdome, saw a number of Drake's friends and family, as well as several Golden Bears hockey alumni who played with Drake, pay tribute to the man who many call a coaching legend.
Known as the winningest coach in university hockey, some of Drake's feats include a record of 697 wins over 28 seasons. Drake's achievements in coaching were recognized when he was inducted into the Hockey Hall of Fame in October 2017.
Darrell Zapernick, an Edmonton-based realtor who played for the Golden Bears hockey team in the 1970s, recalled how Drake gave him a second chance as he was let go from the team in 1976. But Drake got Zapernick to return that same year.
"At the end of the season, I get a message that coach Drake wanted to see me in his office," Zapernick said. "His eyes started to well up with tears, he looked at me and said 'Zap, I made a mistake when I cut you four years ago.' By this time my eyes were full of tears."
Grand Chief of the Confederacy of Treaty 6 First Nations and former Member of Parliament Willie Littlechild also paid tribute to Drake, whom he played hockey with at the U of A in the 1960s. Littlechild recalled how Drake would frequently forget his keys, leading to one of his players buying him a lanyard. But the week after, Drake asked Littlechild if he'd seen his keys and Littlechildd pointed out that they were on his neck.
"But there's one key he never lost, and that's the key to winning," Littlechild said. "To winning in hockey, yes. But also very importantly, it wasn't only about what you do when you have the puck, but what you do when you don't have the puck, so he taught us how to win in life."
After sharing his memories of Drake, Littlechild sang an honour song in Cree for Drake at the ceremony.
Towards the end of the program, Drake's daughter Jami took to the stage and spoke about her father's sense of humour and how he would've made a good entertainer if he didn't become a teacher. She choked up when she spoke about how caring Drake was towards his family.
"He loved his family, was a fun dad and grandpa, and a wonderful role model for his grandchildren, who have all become people he was immensely proud of," she said.
Jami Drake also said the story of her father wouldn't be complete without mentioning Dolly, his high school sweetheart, who he married in 1951 after he graduated from the University of British Columbia.
"He made a good draft pick back when they teamed up back in Yorkton, Saskatchewan more than 70 years ago," she said. "All of dad's former players will know she played a big supporting role in his success and was a large part of the heart of the teams throughout the years."