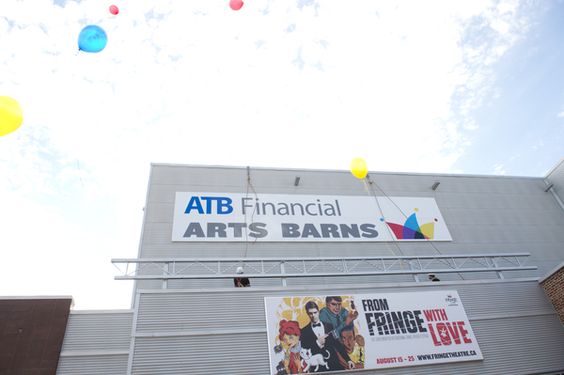 Edmonton theatre artists Richard Lee Hsi and Megan Dart announced the nominees for the 31st Annual Elizabeth Sterling Haynes Awards, Edmonton's theatre awards show, on Monday, June 4, 2018, in the lobby of the ATB Financial Arts Barn.
Named after a pioneer of the Edmonton theatre community, the Sterling Awards honour plays, musicals, theatre for young audiences (TYA), and Fringe productions. Sterling-nominated actor April Banigan also announced the recipients of three lifetime achievement awards. Sterling Juror Shannon Blanchet said the scope and quality of the nominations demonstrates Edmonton's importance in the national arts scene.
"We like to think of ourselves as a little town," Blanchet says. "But we're a significant part of Canadian theatre."
Citadel sweeps for musicals
In the musical categories, the Citadel received eight nominations for Hadestown and two nominations for Mamma Mia! Edmonton Opera's Les Feulettes received two nominations. Up against the larger houses is Plain Jane Theatre Company's Women on the Verge of a Nervous Breakdown, with nods in three categories.
"Musicals are expensive to produce!" Blanchet says. "You tend to see them on larger stages (like the Citadel), but the Janes (Plain Jane Theatre Company) sure do put on a hell of a show."
Large and small theatre companies strike balance for main season plays
In the mid-sized theatre camp, Theatre Network and One Little Indian Productions' co-production of Sheldon Elter's one-man show Métis Mutt received four nominations. Workshop West's production of Beth Graham's Pretty Goblins received six total nominations.
Indie companies also got their share of recognition. Edmonton Actors' Theatre's production of Collin Doyle's Terry and the Dog received six nominations. Cleave, a new work by recent U of A BA (Honours) Drama alumna Elena Belyea, received two nods.
The Citadel's productions of Shakespeare in Love received six nominations, and its Canadian premiere of The Humans received three. Its world premiere of U of A BFA Acting alumna Mieko Ouchi's new play The Silver Arrow: The Untold Story of Robin Hood received seven.
"Our jurors are really smart at noticing the artistic merits of a lot of people in the theatre community, not just people with big budgets," Sterling Juror Mat Hulsof says. "Talent isn't based on money in this city."
Ouchi also nabbed three nominations for her TYA play Consent, produced by Concrete Theatre. Capitol Theatre's Sleeping Beauty ties in the TYA categories with three nominations.
Emerging artists shine for Fringe
As for the Fringe, Bright Young Thing's production of Jean-Paul Sartre's existential drama No Exit received nominations in all Fringe categories except outstanding Fringe new work. (Since Sartre famously refused the Nobel Prize, I understand the Jury's reluctance to grant him a nomination. That, and he's been dead for decades.) Prophecy, a new work by U of A BFA Acting alumna Jessy Ardern, received four nods. U of A BA (Honors) Drama alumna Bevin Dooley's new play Slack Tide received two.
Rapid Fire Theatre General Manager Karen Brown Fournell will receive The Margaret Mooney Award for Outstanding Achievement in Administration. The Ross Hill Award for Outstanding Achievement in Production goes to Citadel Head of Electrics Sheila Cleasby. The Sterling Award for the Most Valuable Contribution to Theatre in Edmonton goes to legendary clown and acclaimed U of A Drama instructor Jan Henderson.
The 31st Annual Sterling Awards ceremony will take place on June 25, 2018, at The Mayfield Dinner Theatre, with dinner at 5 p.m. and the show at 6:30 p.m. Rachel Bowron and Hunter Cardinal will co-host. Tickets are $65 plus GST.
According to the Sterling Awards' Facebook page, the full list of nominees will be up on www.sterlingawards.com shortly.