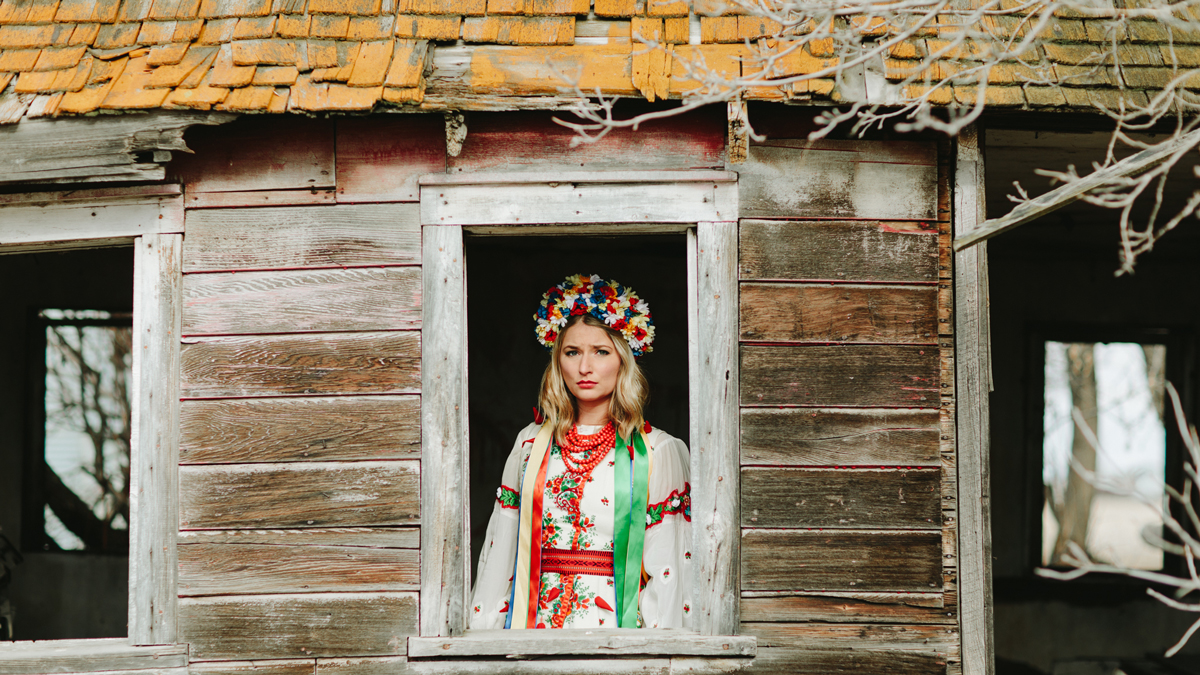 "My Baba has a secret," begins Hania, the protagonist of Pyretic Productions' Blood of Our Soil, playing in the Westbury Theatre until March 9, 2018. "Everyone knows she has this secret, but nobody knows what the secret is."
The play's writer and lead actor, Lianna Makuch, speaks these words at the top of Act I, as the lights rise to reveal a set of rough-hewn wooden walls crowned with crisscrossing clotheslines. Soon, ethereal projections of flowing handwriting wash over these walls, with a moving, singing, accordion-playing chorus orbiting Hania as she contemplates her Baba's life and Ukraine's struggle for sovereignty and peace.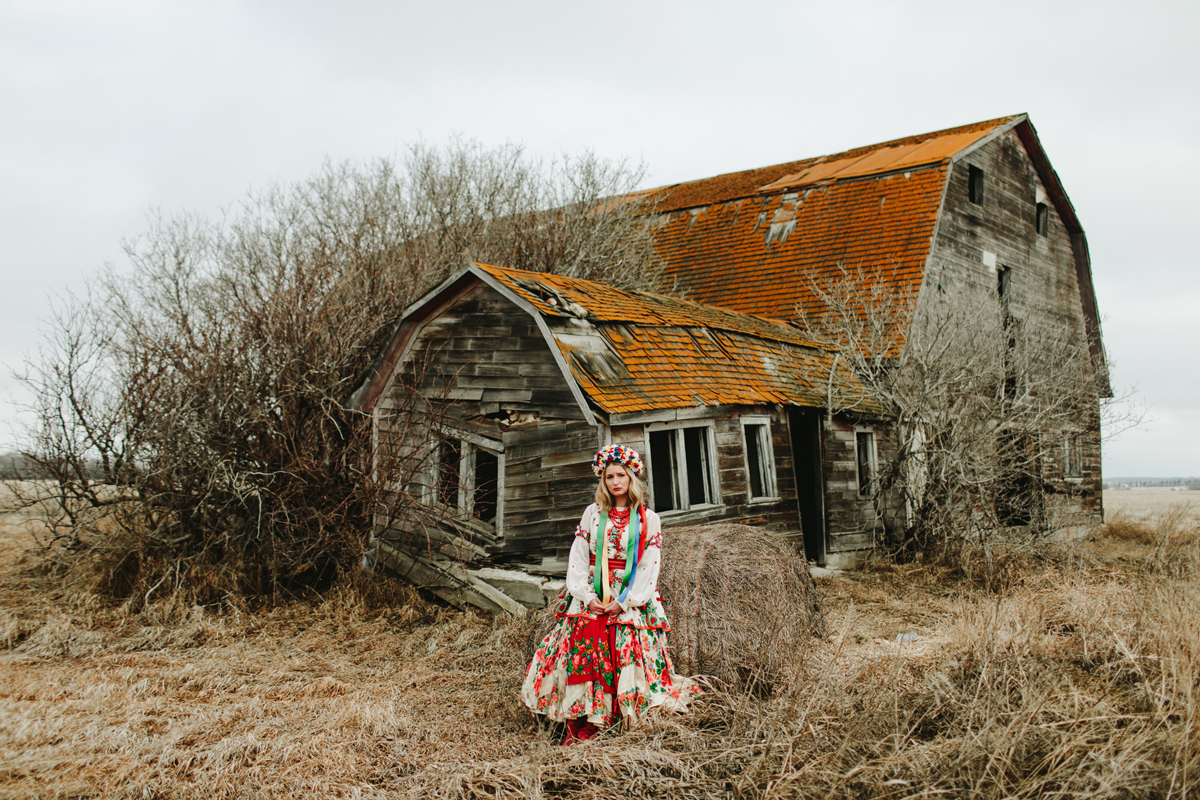 Dogged by the mystery of this secret, Hania fulfils her Baba's dying wish: to go back to Ukraine — to understand home. Inspired by Makuch's childhood with her own Baba and her research trip to Ukraine in October 2017, Blood of Our Soil weaves together stories of towns pockmarked with shrapnel and lives torn asunder by brutality.
"Almost everything (in the play) is based in truth," Makuch says. "Ultimately, it's a human story about this vast political mindfuck."
Makuch's husband Patrick Lundeen directed the two-act play. In the first act, Hania reflects on her Baba's stories — of picking meat out of animal carcasses burnt and buried by Soviet armies, of fleeing Ukraine between the Scylla and Charybdis of the USSR and Nazi Germany — and asks how she can understand her people's wounds of war. In the second act, Hania bears witness to the stories of Eastern Ukrainians internally displaced by the ravages of war.
"Ultimately, (Act II) is giving the audience a chance to catch up to where Hania/Lianna is at the present time," Lundeen says. "The audience gets to see the stories of the other people through Hania's lens."
Makuch's inspiration for the play came in 2012 after discovering her grandmother's journal from WWII. Makuch's grandmother had recently passed away, and as she reviewed her grandmother's belongings, one passage in particular resonated with her:
[perfectpullquote align="full" bordertop="false" cite="" link="" color="" class="" size=""]How can our land not but be fertile, when so much blood, both Ukrainian and foreign, has continually seeped into it? It shows that our enemies love our land more than we do, for they fight for it ceaselessly. Will we live to see that moment when our people join "the circle of free nations?"[/perfectpullquote]
In November 2013, the Euromaidan revolution began, which saw millions of Ukrainians protesting the pro-Russian government in the streets of Kiev. Russia invaded Crimea, and the war has escalated as coverage in the Canadian media has declined. As the conflict escalated, Makuch returned to her grandmother's question:
[perfectpullquote align="full" bordertop="false" cite="" link="" color="" class="" size=""]Will we live to see that moment when our people join "the circle of free nations?"[/perfectpullquote]
This question animated Makuch's original scriptwork, which culminated in a workshop production in March 2017. On their October 2017 research trip, Makuch, Lundeen, and dramaturge Matthew Mackenzie visited Makuch's ancestral home and interviewed internally displaced Ukrainians about the conflict.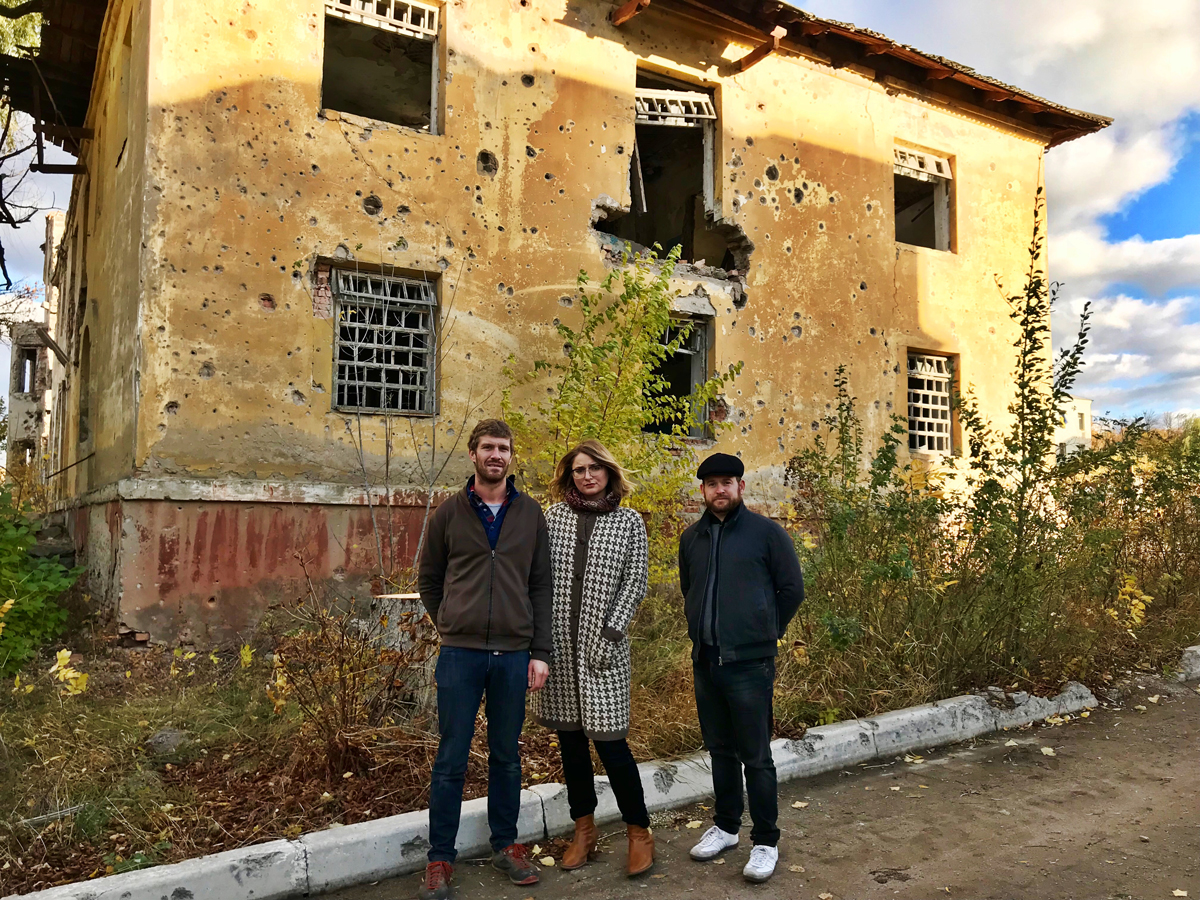 "It's one thing to see it on TV or read about it in the news, but to actually go talk to people — the real people — was a profoundly affecting experience," Makuch says. "Distilling these hundreds of stories that we heard into a play was very challenging — but we did it."
Ultimately, Makuch hopes to challenge audience members to expand their minds and open themselves up to the suffering of people on the other side of the globe.
There's a responsibility, I think, that we as humans need to recognize the humanity in these huge convoluted political issues," Makuch says. "(The play asks you,) 'Your predecessors, what were their stories, and how did that shape who you are?'"