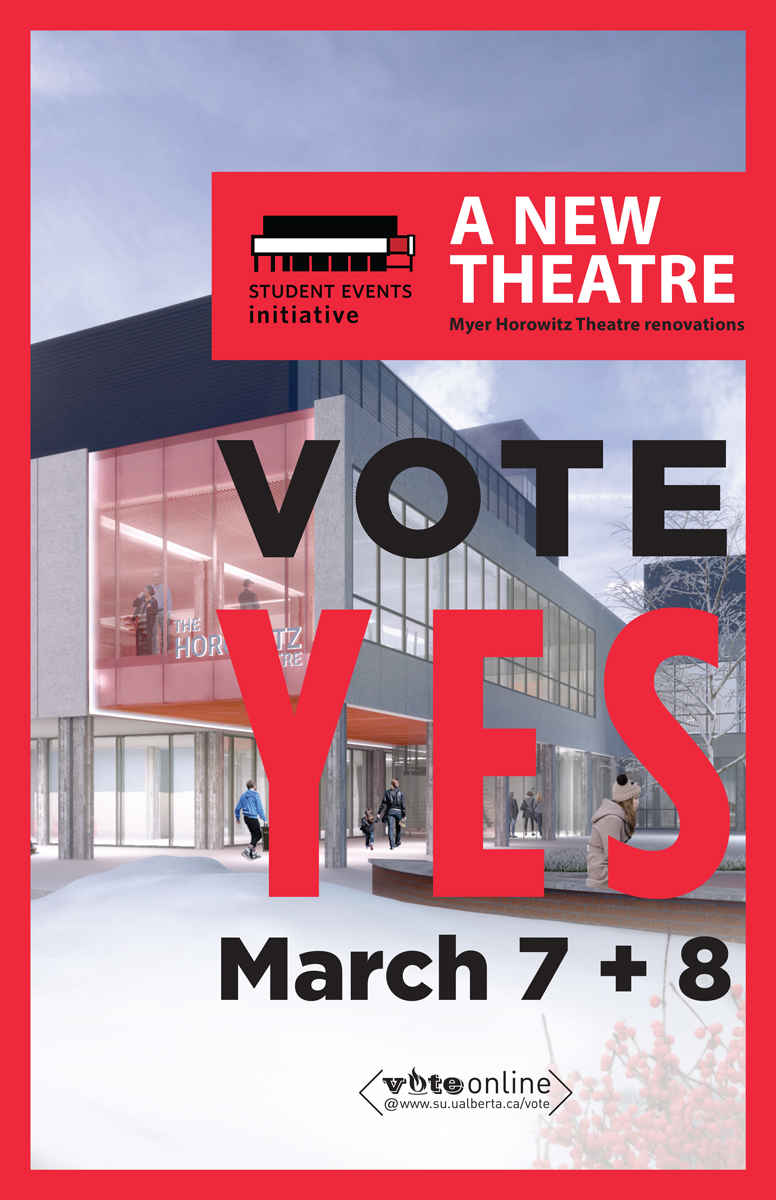 Update (March 5, 3:50 p.m.): The website was updated this afternoon to include the referendum question and proposed fee.
I think the Student Events Initiative (SEI) is a great proposal. I'm glad it was crafted with student feedback in mind. Until recently, I was confident that I was going to vote yes on this referendum. Maybe I still will.
But despite being full of good ideas, I have some gripes about the way the SEI is being sold to students — like the fact that it isn't being framed as a student fee at all.
First of all, the SEI is basically the student governance equivalent of an omnibus bill. Rather than asking students to vote for a fee to increase student group granting, or asking students to vote for a fee to renovate the Myer Horowitz, or asking students to vote on a fee to improve the entrance to SUB, the SEI rolls all three into one vote.
Like with an omnibus bill at any other level of government, cramming so many different projects into one initiative may seem efficient, but it also limits the amount of time people can spend dissecting it and debating its merits. This structure also means that any student who approves of one portion of the project but might have concerns about another is forced to make one all-encompassing decision when they choose which box to tick off. Improved student group granting is particularly alluring, and I think it's slimy to wrap that up in several other projects that students may not like as much.
When voting this week, most students probably won't even be entirely clear on everything the SEI project involves, but they will very likely be swayed by the effective marketing of "cheaper events, better theatre" that the campaign has boiled down to. But even if you don't have a problem with the all-in-one SEI project, you might be concerned to hear how little its advocates have been discussing the amount that students will actually pay if the referendum passes.
The representative for the SEI Yes campaign, Daria Nordell, is really good at explaining how the SEI will make campus better. What she isn't as good at, however, is discussing how much that will cost students. At the three forums the SEI Yes campaign has been present at so far, none of Nordell's introductory speeches have included the exact number that students will be paying per semester if the SEI is implemented. She has answered questions about the number when prompted, but I don't think that's enough. Any campaign that wants to charge students money should be very clear about that, and the SEI has not been. Nowhere on their website is the exact fee mentioned, and none of the posters feature any numbers at all.
If you vote yes on the SEI referendum, you are voting to implement an $8.25 fee per student per semester until 2020, and a $16.50 fee per student per semester after that. There are lots of good reasons to vote yes to that fee, but you should know that it's a fee. It's not just a cool project, it's a project you'll be paying for, and the SEI campaign should do a better job informing you of that.