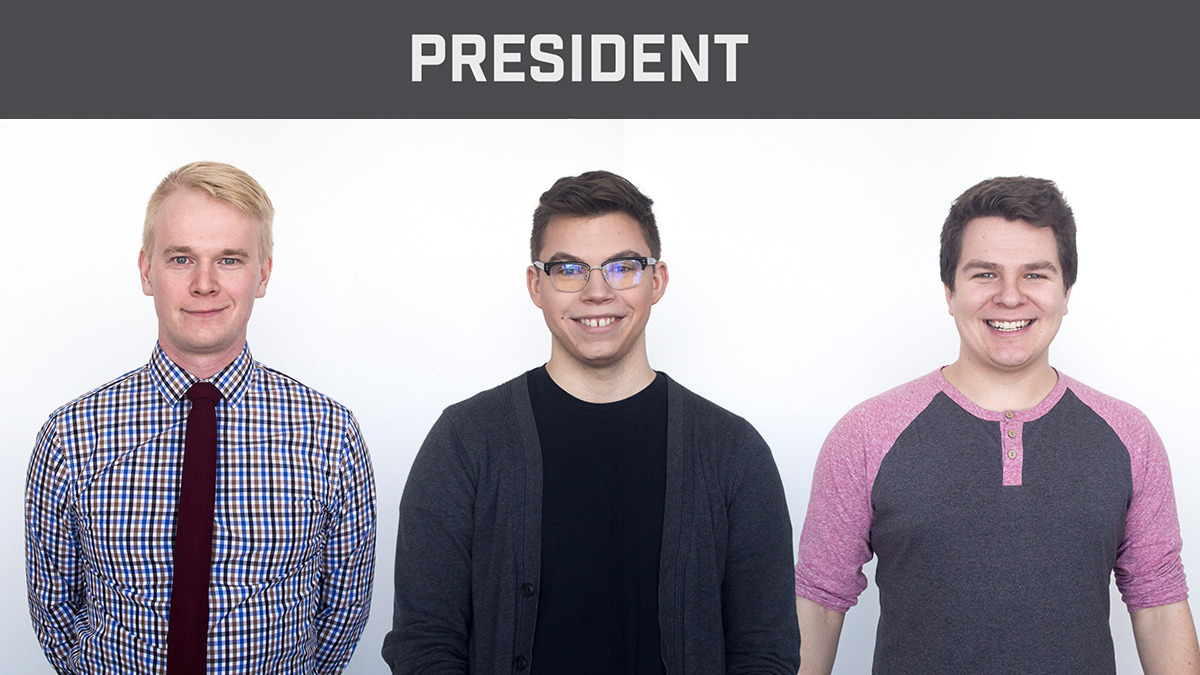 In an election cycle that only lasts a week and a half, it's difficult for candidates to have enough time to speak about every single aspect of their platform. Candidates produce dozens of pages of policy, and often only manage to touch on three or four overarching themes in the campaign, which makes it hard for students to truly get a sense of how presidential hopefuls will lead.
Here's a full breakdown of all three presidential platforms, organized by theme.
---
Student engagement/consultation
Ilya Ushakov
Progress report on 2015 strategic plan
Redesign the SU website
Create a Presidential advisory council
Strengthen "The Flame" brand
"Ensure student voice is being considered as an equal stakeholder" in discussions with government and the university
Of the three candidates, Ushakov's platform is the most focused on how the SU engages with students. He speaks in detail about modifying the SU's brand, from redesigning the website, to better branding SU businesses. Making the SU more visible to students isn't a bad idea, and maybe if students are more aware of the surface-level work of the SU, they will slowly become more aware of the more complex advocacy issues. Releasing a progress report on the university's 2015 strategic plan is also a good idea, and would be helpful to guide internal progress within the SU, despite the fact that the vast majority of students would never read it.
Largely, though, Ushakov's plans for student engagement will target the same small groups of students who are already engaged. A presidential advisory council — aside from being redundant, since we already have a Student Council whose job it is to keep the president accountable to students — would largely be comprised of students already in the governance bubble, and would be unlikely to bring any new perspectives.
"Ensure student voice is being considered as an equal stakeholder" is a point in Ushakov's platform, but without any mechanism as to how that will happen, it is essentially meaningless.
Shane Scott
Feedback from businesses
Campus Innovation Fund
Scott talks about gathering better information about how students are engaging with SU businesses but does little else to address general student engagement with the SU, student advocacy, or any student governance issues. I think Scott helps make up some lost ground here by addressing many specific marginalized groups and how he will engage them, but more focus on broader student engagement would have strengthened his platform a lot.
The one thing Scott does mention is a creating a Campus Innovation Fund, where students could apply for grant funding to pursue projects to improve campus. This is a really cool idea that I would like to see happen, but like many of Ushakov's initiatives, the Campus Innovation Fund is unlikely to reach a very wide student audience. It would be good to fund the projects of students who are already engaged on campus, but this initiative likely won't get any new students involved.
Reed Larsen
There is virtually nothing in Larsen's platform about engaging with students who don't know about the SU, or improving consultation. He talks a lot about advocating for students, and to be fair he clearly has a lot of knowledge about student issues already, but he does not mention how he will keep students involved in those processes, or how he will stay in tune with changing student priorities to make sure that advocacy is as effective as possible.
Larsen also talks about better engaging alumni, both for fundraising purposes and in order to build a larger campus community network, which is sort of related but still not really impactful in terms of increasing student engagement.
Student Rights
 Ilya Ushakov
Charter of Student Rights
Ushakov gives the standard response about continuing the work of the current SU President to enshrine student rights in a charter, where students can access information about the rights they currently have, which can be useful in appeals processes, or if students have concerns about fair treatment on campus. Ushakov doesn't do much, however, to build on that idea, or to address any of the rights that aren't already granted to students, but should be — such as tenants' rights.
Shane Scott
Central location for student rights
Increase capacity of Student Ombudsperson
Increase capacity of Office of Safe Disclosure and Human Rights
Interestingly, Scott is the only candidate who doesn't use the word "charter" when referring to student rights, instead saying that he will create a "central location" for students to access their rights. I honestly don't know enough to comment on what that distinction means exactly, but I would say that Scott's choice to diverge from the cookie-cutter response about creating a charter suggests he has really put some thought into the issue of student rights.
I really like Scott's approach to student rights as not just a document, but a process. Talking about the actual services students can use to exercise those rights, such as the Student Ombudsperson and the Office of Safe Disclosure and Human Rights, is really important and I commend Scott for doing so.
Reed Larsen
Charter of Student Rights
Tenants' Rights
Aside from also mentioning the creation of a Charter of Student Rights, Larsen is the only candidate to mention tenants' rights. I think lots of people would be shocked to hear that students living in residence aren't covered under the provincial Residential Tenancies Act, and so don't have lots of really critical residence rights, such as guaranteed deposits or privacy. Larsen advocated for new legislation to grant students these rights as vice-president (external) and I really appreciate that he is promising to continue that work if he is elected president.
Helping vulnerable students
Ilya Ushakov
Large-scale mental health strategy
Ushakov doesn't really mention any specific groups of marginalized students in his platform, aside from some discussion of rising international student tuition, but he does talk about creating a much bigger-picture plan for addressing mental health services. This is a really good idea, especially when students are so often confused about which services to access when many seem to overlap, and when so many mental health resources would be more effective as part of a larger network of services. Ushakov has made some progress on this in his time as vice-president (student life) so I do believe he would be able to help structure this overall strategy.
However, it's a little disappointing that this is the closest Ushakov gets to addressing the needs of vulnerable students, leaving many out entirely.
Shane Scott
Aboriginal cultural events and art in SUB
Create a council of aboriginal groups
Continue the work of the SU Cultural Group
Equity, Diversity, and Inclusion training for SU staff
Make STRIDE more inclusive of people who don't identify as women
Public events around racism and colonialism
Research/report on racism on campus
Improve Student Accessibility Services, work with the Dean of Students
Increased grants for students with disabilities
This is definitely the area in which Scott is the most thorough. He provides many concrete ideas for engaging Indigenous students, better serving students with disabilities, and helping to inform the broader campus community about issues like racism and colonialism. I really like that he wants to expand STRIDE to be more inclusive of various gender identities (such as trans men or non-binary people) who also face challenges getting involved with traditional governance structures.
I also think that Scott has by far been the most vocal about helping Indigenous students, throughout the campaign but also throughout his time as vice-president (academic). He was loudly opposed to Bill 5, and he continues to reflect on the failures of the SU to adequately respond to the needs of Indigenous communities on campus. That's really important.
The only marginalized group Scott does not address as thoroughly is international students. All three candidates speak about rising international student tuition, but none of them go into detail about other issues that face international students, like culture shock or inaccessible services.
Reed Larsen
All gender washrooms
Up-front grants
Employment opportunities for international students
Larsen really shows his VPX background in this category, as his platform is much more focused on external advocacy than on internal changes. He does talk about building all gender washrooms in all buildings on campus, which is a really important step in making students feel safe no matter what their gender identity is. He spends more time, however, on issues like advocating the provincial government to provide up-front grants instead of tax credits, and making it easier for international students to qualify for co-op terms, internships, and better working hours. All of those things are great ideas, but Larsen also says nothing about Indigenous students, or students with disabilities.
Big projects
 Student Events Initiative (SEI)
All three candidates talk quite a bit about the SEI, mostly referring to it as though it has already been approved. I appreciate Scott saying he wants to add dedicated funding for aboriginal student groups within the project, but I also think it's problematic for the candidates to just assume that students are going to approve of the project. Particularly since the SEI is such a multifaceted project all rolled up into one referendum vote, I'm also curious how the presidential candidates plan on getting student feedback as the project moves forward, since they all are so strongly in support of it, but won't really know if students are voting in favour of the entire project or just certain elements of it.
Deferred Maintenance
I'm glad to see that this is a priority for all three presidential candidates, and that they all mention it in their platforms. Going forward, I think whoever is elected president will need to continue to emphasize this throughout the year. The whole point of deferred maintenance is that it has already been put off — deferred maintenance projects specifically refer to renovations or upkeep that should have been done years ago. Since those projects have already been put on the backburner, it will require consistent, persistent advocacy to ensure that they get done.
TLDR: What are you looking for in a President?
An evaluation of each presidential platform in this race largely depends on what you believe the president's main focus should be. Larsen's platform is more externally focused, with emphasis on continuing his work as VPX in advocating governments for changes in funding structures and granting programs. Scott's platform is more internally focused, looking at specific groups on campus and projects that will largely operate within the SU, as opposed to relying on government support. Ushakov's platform is more focused on strategic planning, creating guiding documents for the SU, and building long-term, internal frameworks.
Students will have to decide which of those focuses are going to be most important for the upcoming year, which of these initiatives will do the most to improve quality of life for students, and what direction they want the SU to go in. I still haven't made my mind up yet. But I do know that while none of these candidates will be apocalyptically bad for the SU, and while they so share some fairly similar ideas on many issues, each of them has a very different vision for how they want to lead, and that vision will shape the future of the SU in some pretty major ways.