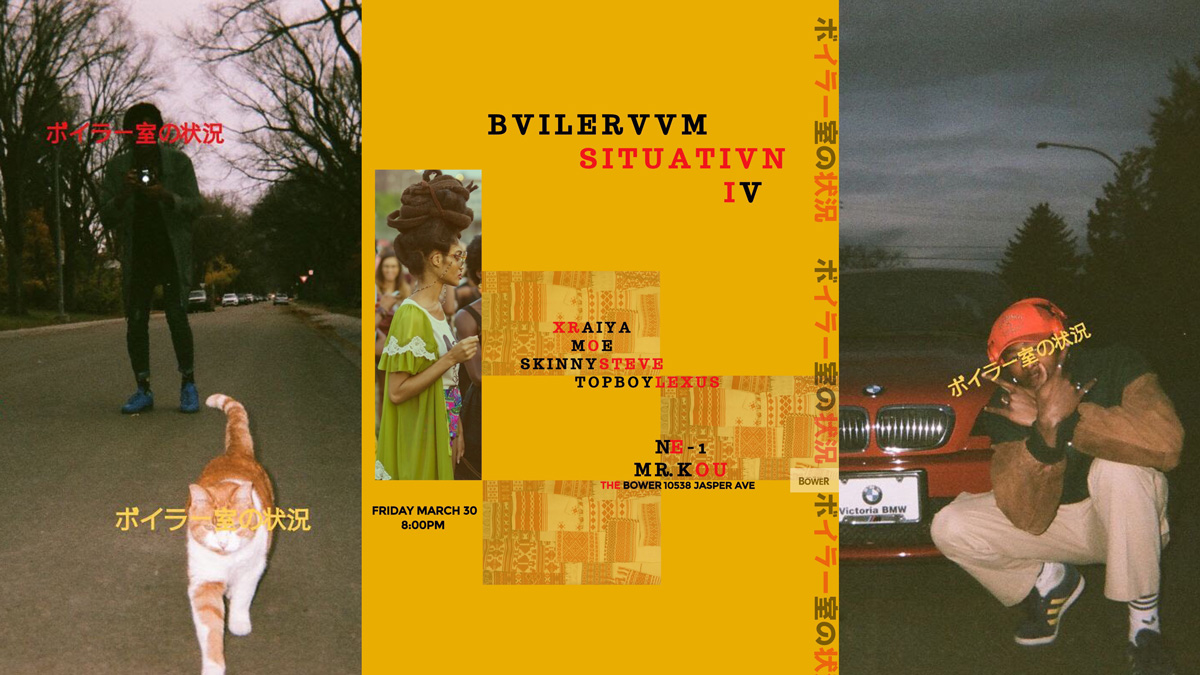 What: BVILER RVVM SITVATION
Where: The Bower
When: March 30, 2018 at 8:00 p.m.
More info: https://www.facebook.com/events/2000063320317848/
---
We're taking a trip to YEG's underground on March 30 for BVILER RVVM SITVATIVN, a live showcase of up-and-coming musicians. Since last summer, U of A students Floyd Robert-Maduekwe and Mahad Omar have been bringing young Black artists together in a collaborative and lively space to share their voices and passion. We chatted with with them about the fourth installment of an event that is enriching Edmonton's hip-hop scene like no other.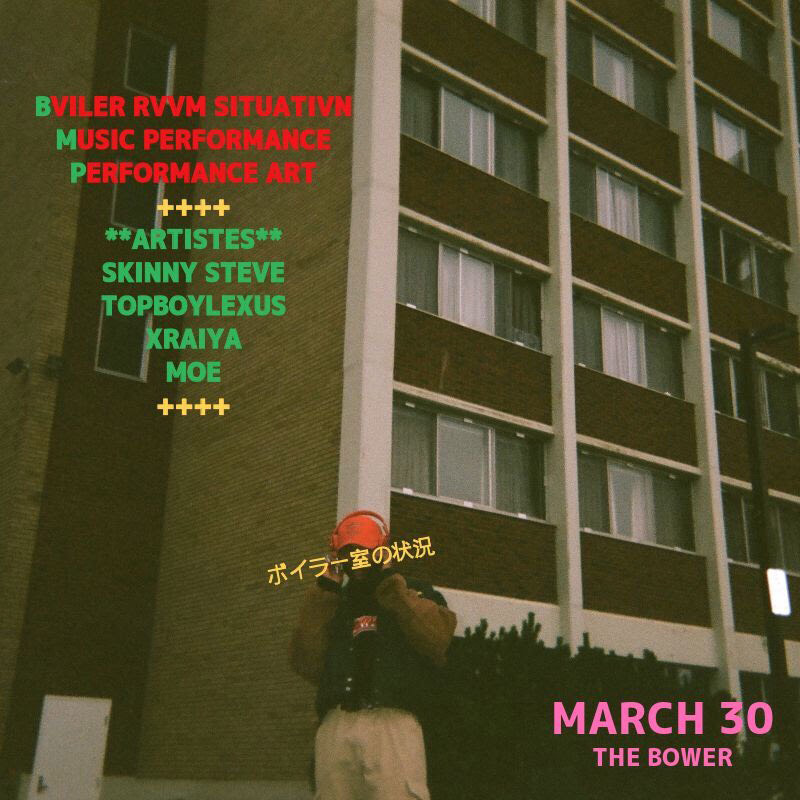 The Gateway: How did the idea for the event come about?
Floyd Robert-Maduekwe: I used to do all types of performance. Mahad wrote a lot of poetry, but he had never performed up until the first Boiler Room Situation. I was doing a photo project and I was trying to get portraits of people I found interesting, and Mahad was one of them. We started talking about how when we go to events in the city, we don't really see ourselves there.
Mahad Omar: We wanted to do something big for the city, and we noticed there wasn't really any infrastructure in place for us to enact our creative vision. I think that's what took it from the level of "we just wanna have a party" — 'cause it was just gonna be a block party at my place — to what we have now.
What can I expect to see at the Boiler Room?
Robert-Maduekwe: Creativity and a lot of fun. A lot of adrenaline. A lot of people building their craft, because that's how I see it. We tell the artists, "This is an opportunity for you to practice in an event-based setting among your peers and your family." Every time we've done this it feels like a family. Everyone is supportive. The crowd is performing with you. That's how Boiler Room is.
Omar: We're giving a voice to a lot of young Black artists for making hip-hop music that you probably wouldn't see performed at Churchill. So many of my friends go over to Toronto or Montreal because Edmonton has never really been a destination for artists. And if we can change that perception a bit more and retain more of the creativity here in Edmonton, that would make me so happy.
What was a memorable moment from a past Boiler Room Situation?
Robert-Maduekwe: The first Boiler Room was held at the Underdog (the basement of The Black Dog Freehouse). The venue was so small so it was really packed. We didn't plan it, but before every act went up, the crowd would chant their name continuously. It was loud; it shook the room, it was so intense. The bouncers just let it happen because these kids were not doing anything wrong. Yes, they were going wild, but it was positive.
Which artists inspire you the most?
Robert-Maduekwe: Mos Def. I wanna see him live one day. There's no live performance of his that hasn't blown me away. He's just a natural, bless his soul. He's also a big reason why I started doing music.
Omar: They've all been featured in our shows. One is OG Jonah. That's because he's very professional, driven, and he's always working hard and releasing new music. Another one would be Simba. He's super passionate — he's possessed by rap. We'll be at Century Park and he'll stop in front of people and just freestyle. He puts so much love into his craft.
For people who went to previous shows, is there something new to look forward to?
Robert-Maduekwe: Definitely. For starters, the performers are all brand-new. The format is refined, the venue is new, and everything is designed with concentration on the music. One performer is planning to release his EP that day. And The Bower is a different spot with a different vibe. They have their crowd, and we're bringing ours to merge them together. I can't wait to see the connection between the two.
How would you want me to feel after leaving the event?
Robert-Maduekwe: Happy. I want you to feel connected, especially if you're an artist. I want you to feel inspired, like you can reach out to anybody to collaborate. I want it to be like a family reunion, but like, where nothing bad happened. Peaceful, calm, serene.