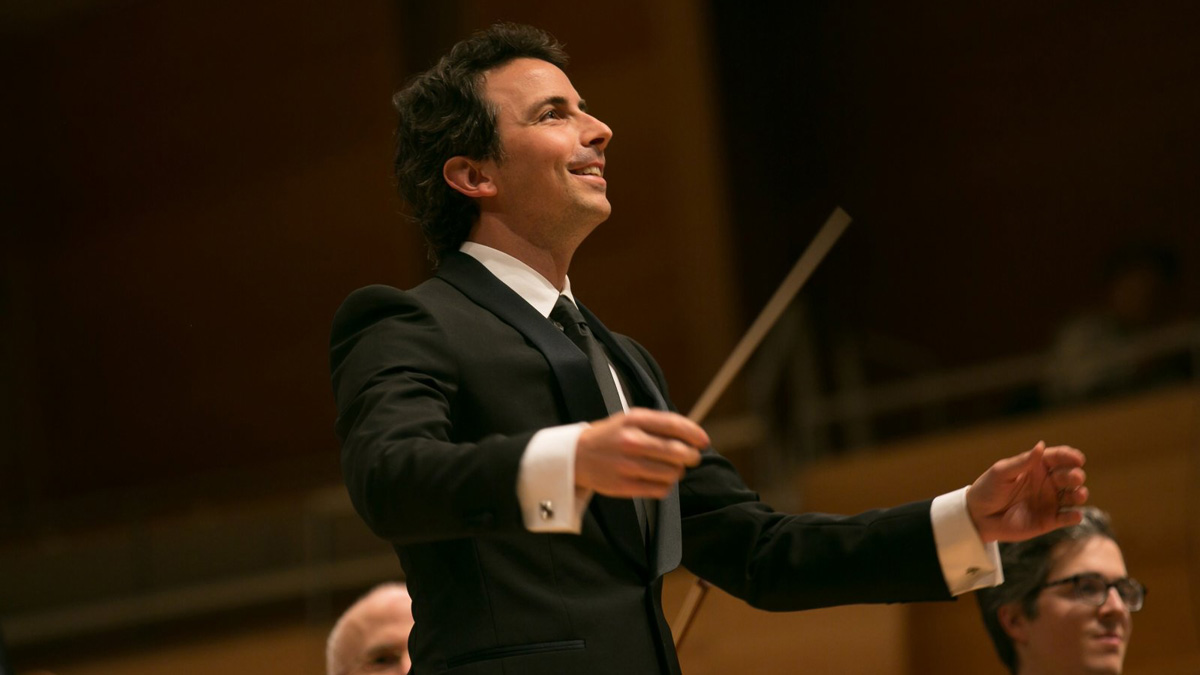 From conducting some of Canada's greatest orchestras to collaborating with rock stars, Adam Johnson is proving himself one of the country's best talents of orchestral conducting.
A University of Alberta alum, Johnson is currently serving as the Assistant Conductor for the Orchestre Symphonique de Montréal (OSM) under Maestro Kent Lagano. Recently, Johnson came back to Edmonton to guest conduct a program revolving around the music of Czech composer Antonin Dvorak in February.  
"It's very special for me to be able to work with the Edmonton Symphony Orchestra, because it is in a way my hometown orchestra," says Johnson, who was born in Hinton but moved to Edmonton for university at 18. "It's special because it's the orchestra that started it all for me."
Johnson attributes two events that began his passion for classical music that lead to his career now: listening to a recording of Russian-American Piano virtuoso Vladimir Horowitz, and seeing the ESO performing an outreach concert in Hinton in his youth.
But while these events kick-started his interest, Johnson said conducting for the OSM was "beyond anything I'd have ever dreamed of."
"It's one thing to dream about being a conductor and quite another to become one and work with some of the best ensembles in the country," he says.
In addition to conducting for the OSM, ESO, and the Calgary Philharmonic, where he served as Associate Conductor prior to his current position, Johnson worked with Indie Rockers Half Moon Run for a collaborative show they did with the OSM last September.
"With Half Moon Run, we had to adjust their music into a classical format, so it was an adjustment for them as well, because some of the pieces, instead of playing their instruments, they just sang the orchestral backup, and others they were playing, and the orchestra was backing them up," Johnson says. "But what we wanted to do was overall just blend the personalities of everybody."
"There's always going to be differences in language, and differences in experience of being on stage, but ultimately you find points you have in common, and everyone's there to create the best show possible, so it's a really fun process to find how to make different types of music speak."
Johnson revealed future collaborations with Half Moon Run are in the works.
Talking on his experience at the U of A, Johnson described it as "a really exciting time, full of discoveries."
"The level of teaching was very inspiring for me, from all the teachers, and made lots of friends there that I'm still friends with today," he says.  
Returning to the Winspear for his second time of the season in February, Johnson also has a history with the famous concert hall. "I was an usher at the Winspear just when it opened as a new hall in 1997," Johnson says, "so it's a fun thing from working in the hall to working on the stage with a great orchestra."