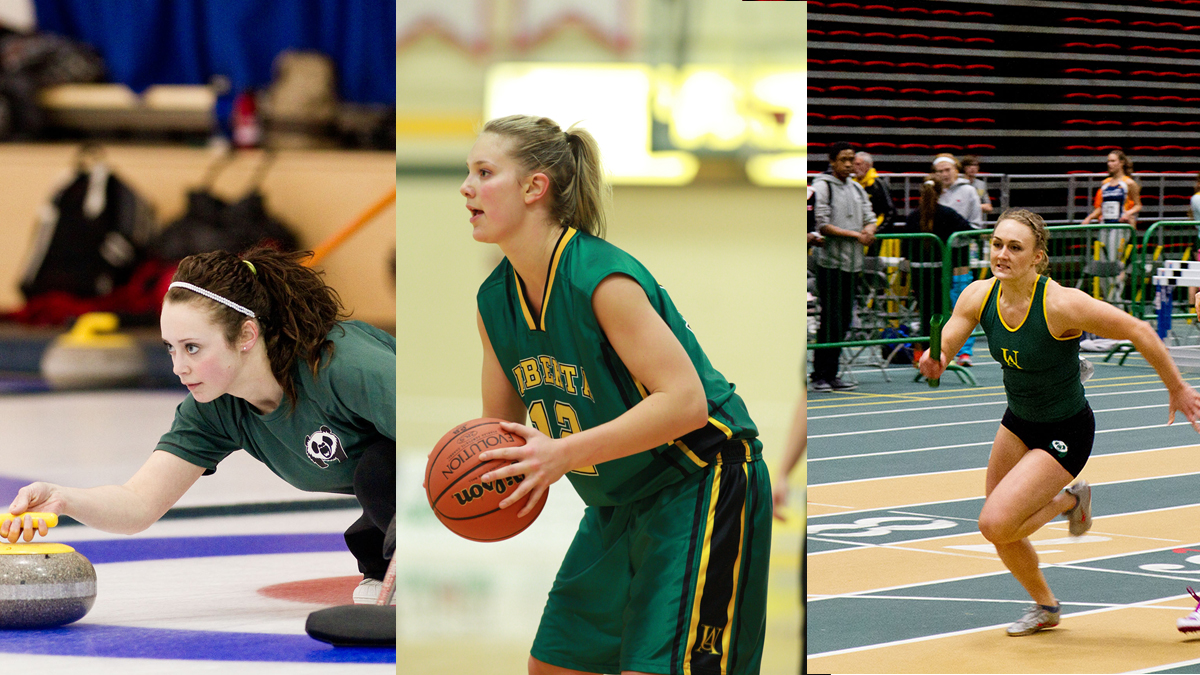 Six University of Alberta alumni are among the 225 athletes representing Canada at the Pyeongchang 2018 Winter Olympics.
Bryan Barnett, Christine De Bruin, Joanne Courtney, Melissa Lotholz, and Neville Wright are all former Golden Bears and Pandas athletes. This entourage will be representing not only Canada but also the U of A during bobsleigh and curling events at the olympic games.
Curling
Courtney is a Panda Curling alumni who continued to pursue the sport after completing her nursing degree. She has won gold and silver medals at international curling championships. Not only putting her university curling experience to work, Courtney is also employed as a registered nurse.
Courtney is currently the second on the Canadian women's curling team and they will be playing their remaining matches from February 16 – 21.
Women's Bobsleigh
De Bruin and Lotholz are former Panda track athletes who are now pursuing bobsleigh. While running with the Pandas, both De Bruin and Lotholz won medals in 4×200 metre relays. De Bruin also won a conference medal in 4×400 metre.   
De Bruin and Lotholz have both put their degrees on hold to focus on bobsleigh. De Bruin was completing a degree in physical education while Lotholz started her degree in nutrition and food science before their bobsleigh careers took off.  
It was actually De Bruin who introduced Lotholz to bobsleigh and the pair will continue to be teammates as they compete with De Bruin as pilot and Lotholz as brakeman.
Rissling attended the U of A with a dual scholarship for basketball and track and field. She played five seasons as a forward for the Pandas basketball team, winning silver and bronze medals. After finishing her undergrad in kinesiology, Rissling found her passion for bobsleigh. She will compete as pilot with fellow Canadian Heather Moyse as brakeman.
Watch them in action as official women's bobsleigh heats begin February 20.
Men's Bobsleigh
Bryan Barnett and Neville Wright are golden bear track and field alumni who also made the transition from track to ice.
During his time with the Golden Bears, Wright had a successful career, winning two gold medals in 4×200 meter among other multiple medals and titles. Wright graduated from U of A with a bachelors in physical education.
After being unable to qualify for the Beijing 2008 Summer Olympics, Wright decided to pursue bobsleigh. Since this decision, Wright has competed in both the Vancouver and Sochi Winter Olympics, making this his third Olympic games. He will be competing in both two and four-man bobsleigh.
Representing Canada at the 2008 Beijing and at the Sochi Olympics, Barnett has had the best of both worlds. After competing in the 200-metre sprint in the 2008 Summer Olympics, Barnett made the switch and competed in both two and four-man bobsleigh in the 2014 Winter Olympics. Also attending his third olympic games, Barnett will be joining Wright in representing Canada in four-man bobsleigh.
Catch Men's two and four-man bobsleigh heats  from February 18 – 25.