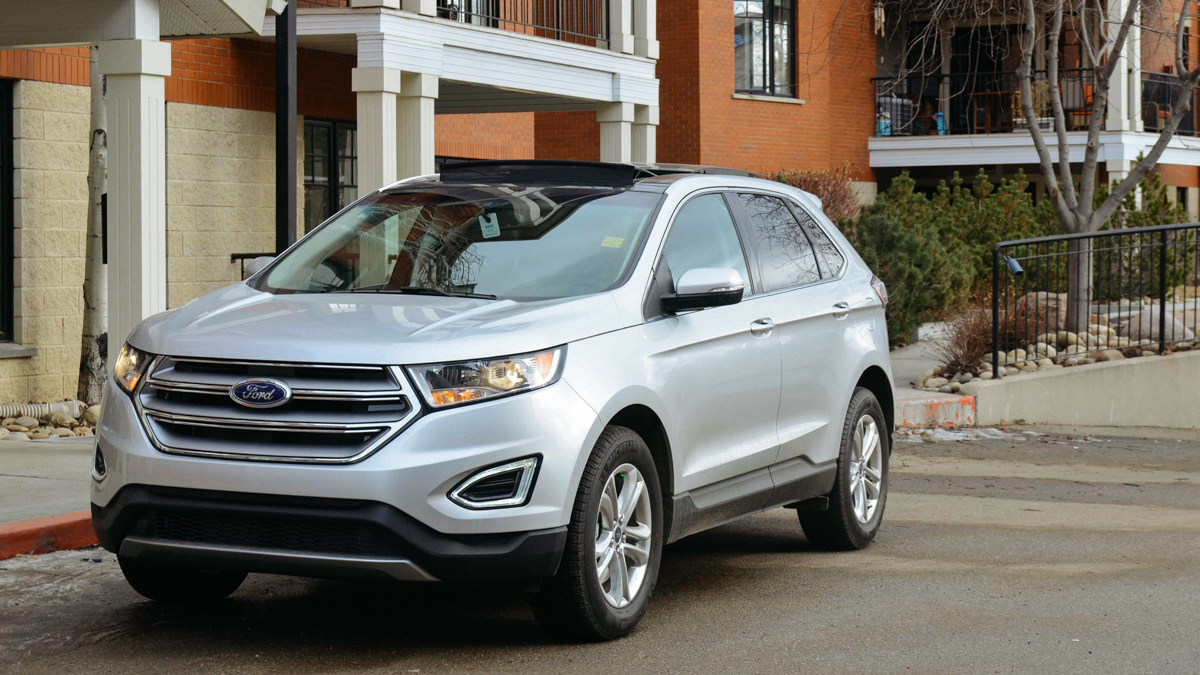 The Ford Edge is a forgotten vehicle. Especially when put up against competitors like the Hyundai Santa Fe, Toyota Highlander, Honda Pilot, and Kia Sorrento. Against these, it's easy to see how the Edge tends to descend out of a buyer's general consciousness — kind of like a midterm as soon as it's done. Despite this, the Edge should not be relegated to the dustbin; In my opinion, it's one of the most underrated vehicles in its class. The car has good build quality (100 per cent Made in Canada, FYI), an upscale feel, strong real-world fuel economy and impressive snow handling capabilities. Couple the Edge's classy interior aesthetic with the fact that all Ford Edges have 5 star NHTSA safety scores in all categories (except rollover, which has four stars) make this a vehicle that won't disappoint.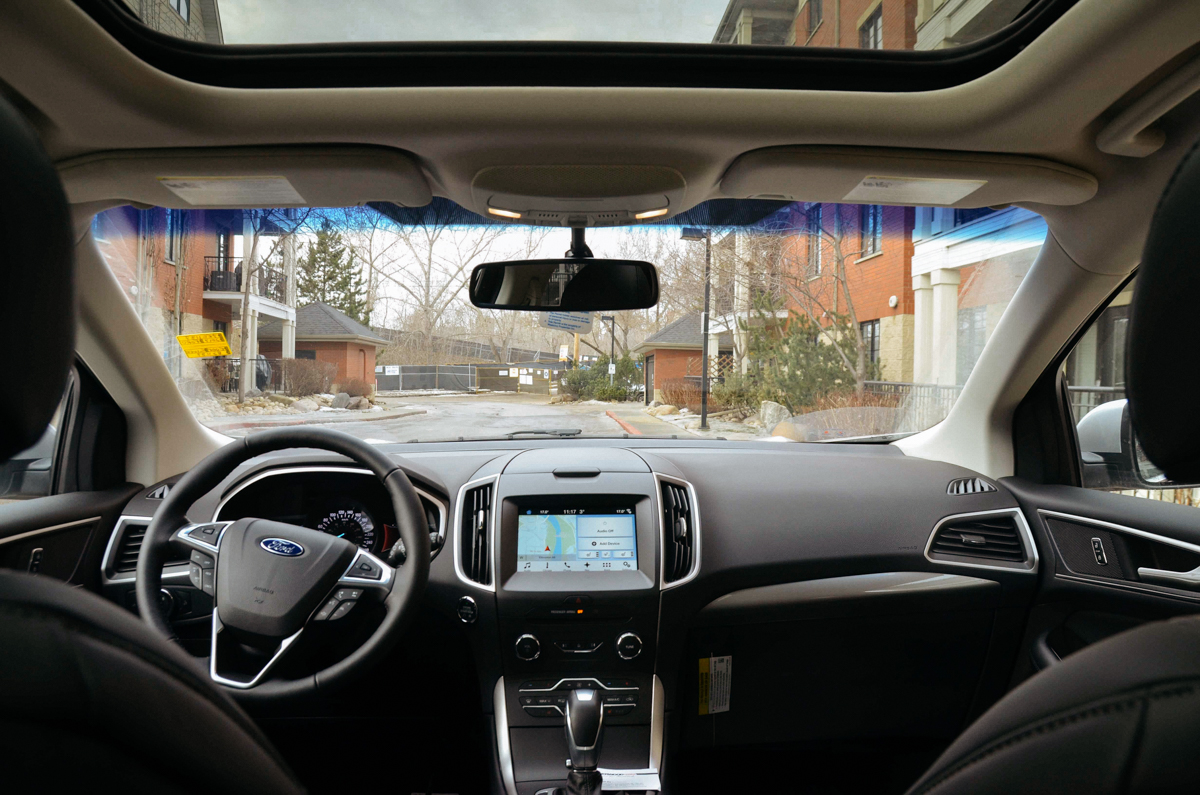 Firstly, the Ford Edge is a good looking vehicle — especially after its 2016 refresh. Inside, the vehicle is clean and streamlined with an upscale feel and look. Build quality is good with seating that is well padded and generally comfortable. Ford's inclusion of its dual-screen dash behind the steering wheel is as clever as it is effective; the ability to display car information on top of radio or navigation features is useful in real life driving. In addition to dual screens, the Edge's "push-to-start" and keyless entry system provided seamless convenience on par with any system provided by Mercedes-Benz, Audi or BMW. To unlock the doors, just place your hand in the gap between the door and the handle. To lock the Edge, tap the door's handle. Once you get used to it, going back to pressing a key fob feels archaic. 
Continuing with the interior, the leather-wrapped steering wheel is well appointed with a good feel. Although robustness is lacking, compared to wheels from VW, and German car manufacturers. Still, the Ford makes up for this in its roominess, something which makes it stand out from the others. Headroom and legroom is ample and the cabin feels cavernous. Because the vehicle only seats five, the engineers at Ford were able to stretch out the interior so that passengers in the rear seats are as comfy as those in the front. The Edge is so roomy, it feels like driving the LRT. Perhaps the one downside of the roominess however, is the lack of an elbow resting place as the doors were pressed out as for out as possible. Still, not a dealbreaker.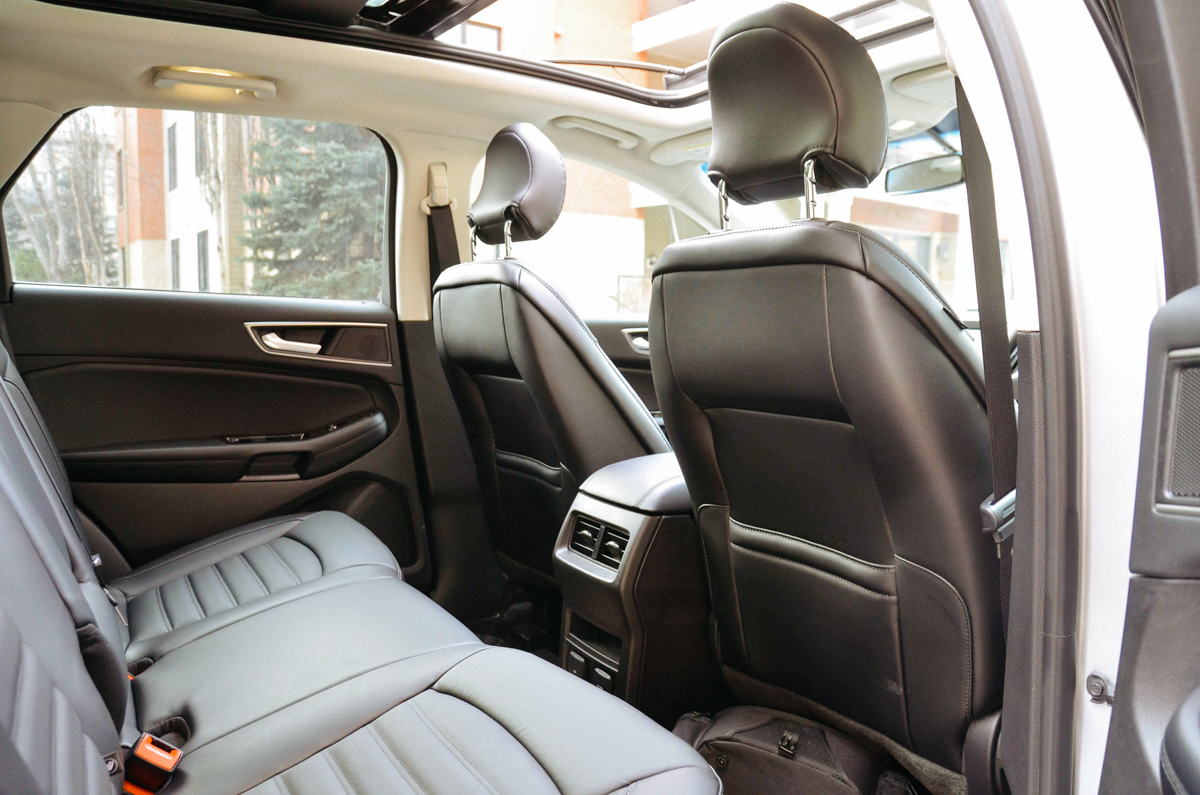 On the road, the vehicle performs well but not mind-blowingly well. Remember this is no Porsche Cayenne or Acura MDX. Steering is weighted naturally and road feel is good although there is some vagueness toward the center. In normal drive mode, power is enough for daily driving and highway passing as the 2.0L Inline 4 EcoBoost engine (turbo lag was absolutely absent) put out 245HP and 275 ft-lb of torque while mated to a six-speed AWD transmission. To get more power and sharper handling, a sport mode is available at the expense of fuel economy. 
After nearly a week with the vehicle, I have found the fuel economy to be strong (as long as you drive conservatively). On the highway, I managed to muster 8.5L/100KM at 100KPH and in the city I received a respectable 10.8L/100KM. The best part of the vehicle though, single-handedly, is its outstanding snow performance. When I visited Elk Island National Park in February, right after a nightfall of snow, driving over steep blanketed hills was effortless; there was no traction loss whatsoever.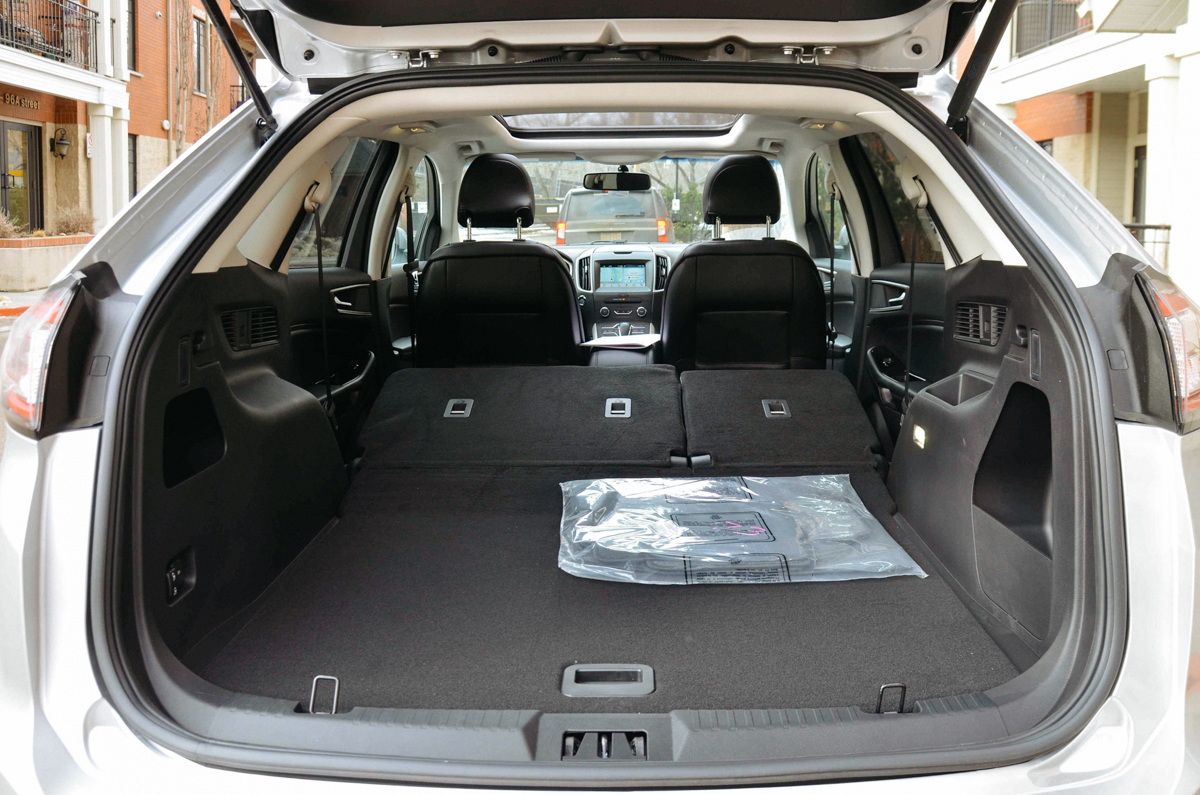 Unfortunately, the Edge did have four major downsides: firstly, (and the largest one) was the Edge's stiffer suspension as chosen by the Ford Engineers (Probably UBC Engineering grads). The firmer suspension was evidently not optimal over Edmonton's potholed and uneven roads. Second, was the Edge's vulnerability to wind noise and road noise resulting in higher than desired cabin noise at highway speeds. Thirdly, the Edge's inability to have the back seats fold down completely flat makes sleeping in the backless comfortable (I tried it for real). Lastly, the onboard GPS's penchant for wanting me to take illegal U-turns in the middle of highways and intersections was, to say the least, a major bother. Couple that with the GPS missing swaths of map data in Edmonton, and you have a recipe for an irritable driver.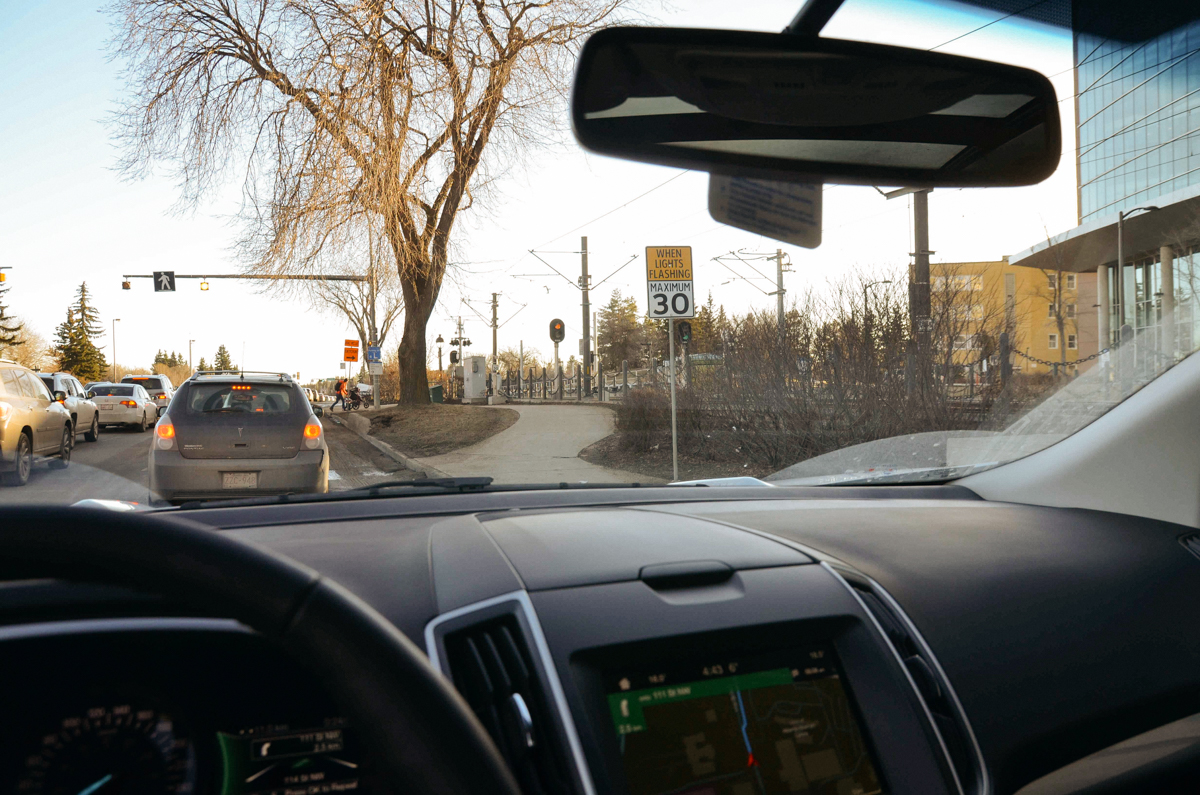 Despite these issues, the Ford Edge remains a strong competitor in the full-size SUV category. While it may be forgotten, its upscale feel and quality attributes, such as good fuel efficiency, loads of room, safety ratings and excellent snow performance overshadow its downsides. Consider the Ford Edge if you are in the market for a full-size SUV. You will not be disappointed.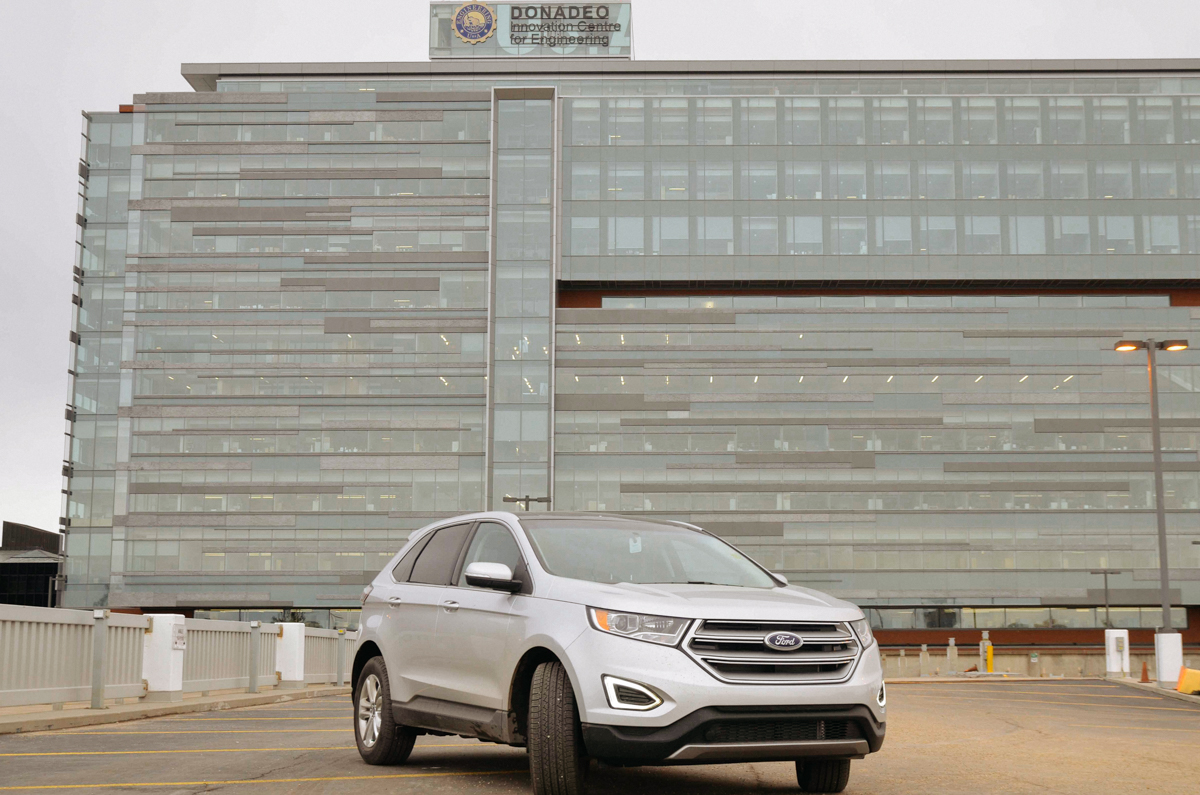 Final Score: A-
Exterior: A-
It's definitely not an ugly car.
Interior: A-
It's clean and upscale with comfortable seating and lots of room. Can't ask for more.
Handling: B+
The car generally rides a little too harsh for more tastes and the steering, while sporty, remains vague at center. Darn UBC Engineers!
Value: B+
Ford Edges, like generally any other American vehicle, tends to depreciate quickly. A New Ford Edge sold for $46,000 can easily lose $10,000 by the new year.
Safety: A
The Ford Edge received 5 star NHTSA safety ratings for everything except in rollover testing (four stars). The Ford Edge also received good ratings from the IIHS in all areas except "Small overlap frontal offset" testing (acceptable score).
Conclusion:
Comfy, upscale, fuel efficient, safe and killer in the snow. If you don't mind taking U-turns in the middle of the Anthony Henday and feeling ever bump from here to Calgary, the Ford Edge is for you. Kidding aside it's a great vehicle if you're in the market for a full-size SUV.