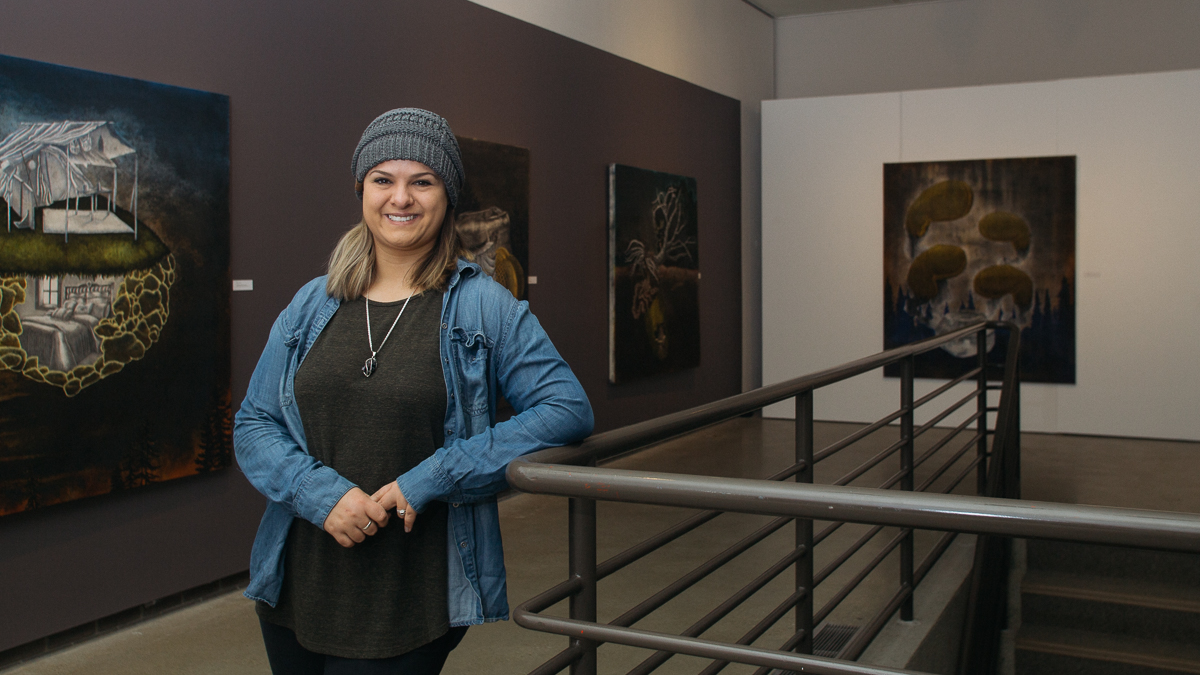 What: The Light Through The Window by Noemi de Bruijn
Where: FAB Gallery, University of Alberta
When: December 19-23, 2017 and January 2-13, 2018
---
"We are in a field. It is dark outside and the only sounds are of the trees and grass rustling in the wind. A vigilant light is visible from a house window. It stands out in the darkness…"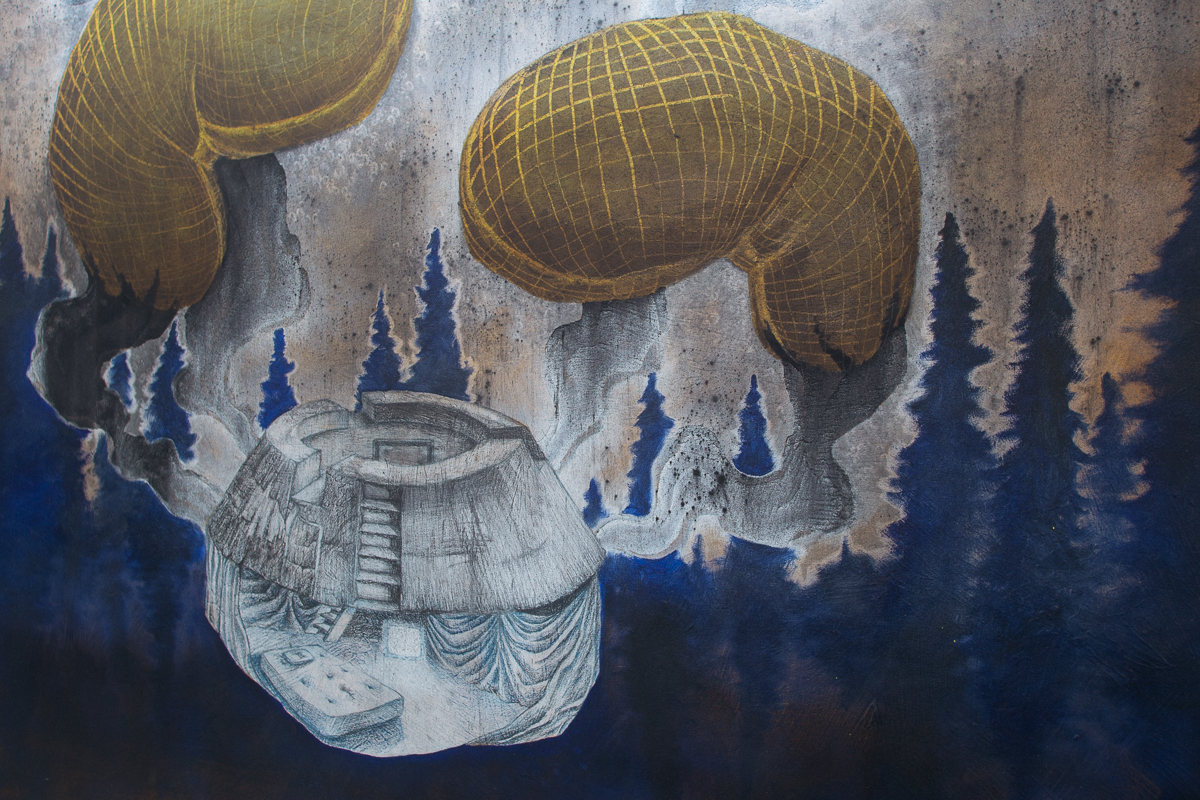 Artist Noemi de Bruijn invites us to explore the idea of belonging and displacement through a series of imaginative and emotionally evocative paintings. Through portraying houses, bunkers and shelters, as well as looking at themes of war, immigration, and safety, Bruijn questions what it means to feel at home. She creates scenes that appear dark and melancholic — yet peaceful — at the same time.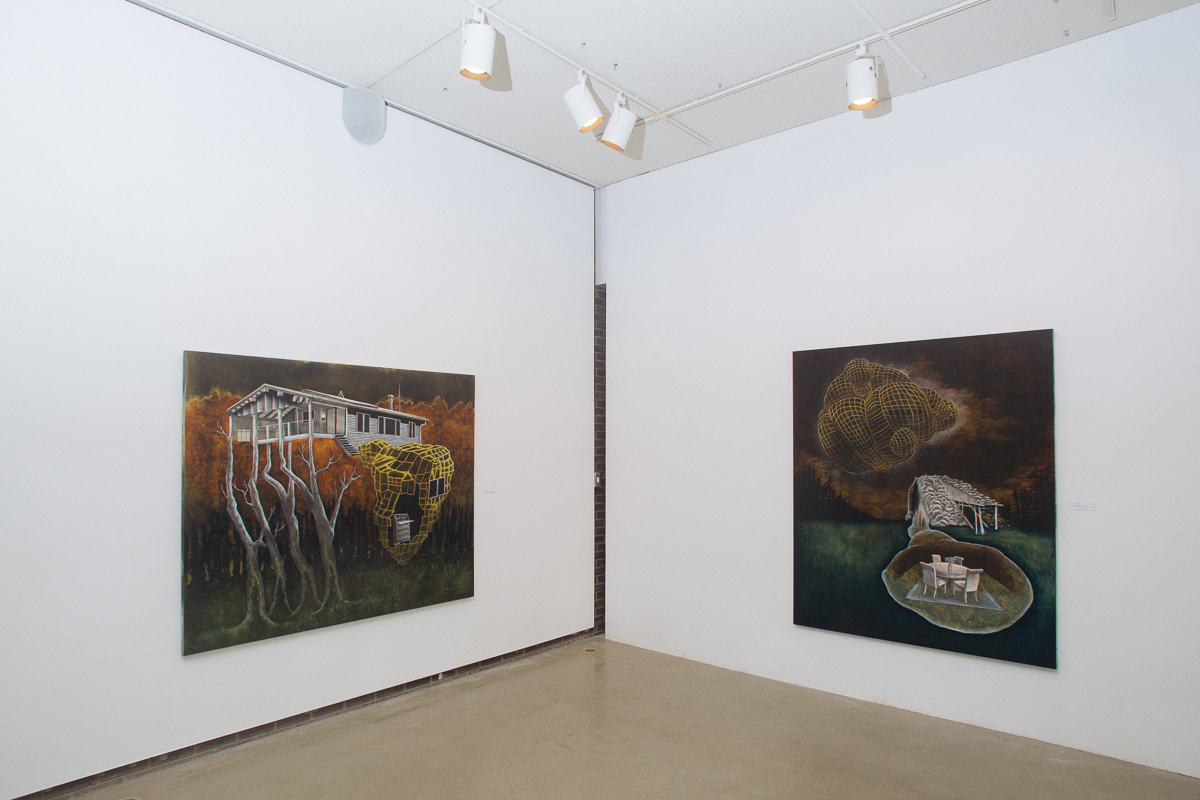 As a Mexican Canadian, Bruijn understands the inner conflicts that come with being bicultural and aims to express the complex, contradictory feeling of simultaneously feeling foreign and at home. The theme of duality plays out throughout her paintings; she contrasts rooms with vast open field landscapes. Similarly, she sets the concrete next to the abstract: real houses are surrounded by big glands that symbolize sensory experiences, indicating that the idea of home is closely tied to memory of what we have heard, seen, or touched.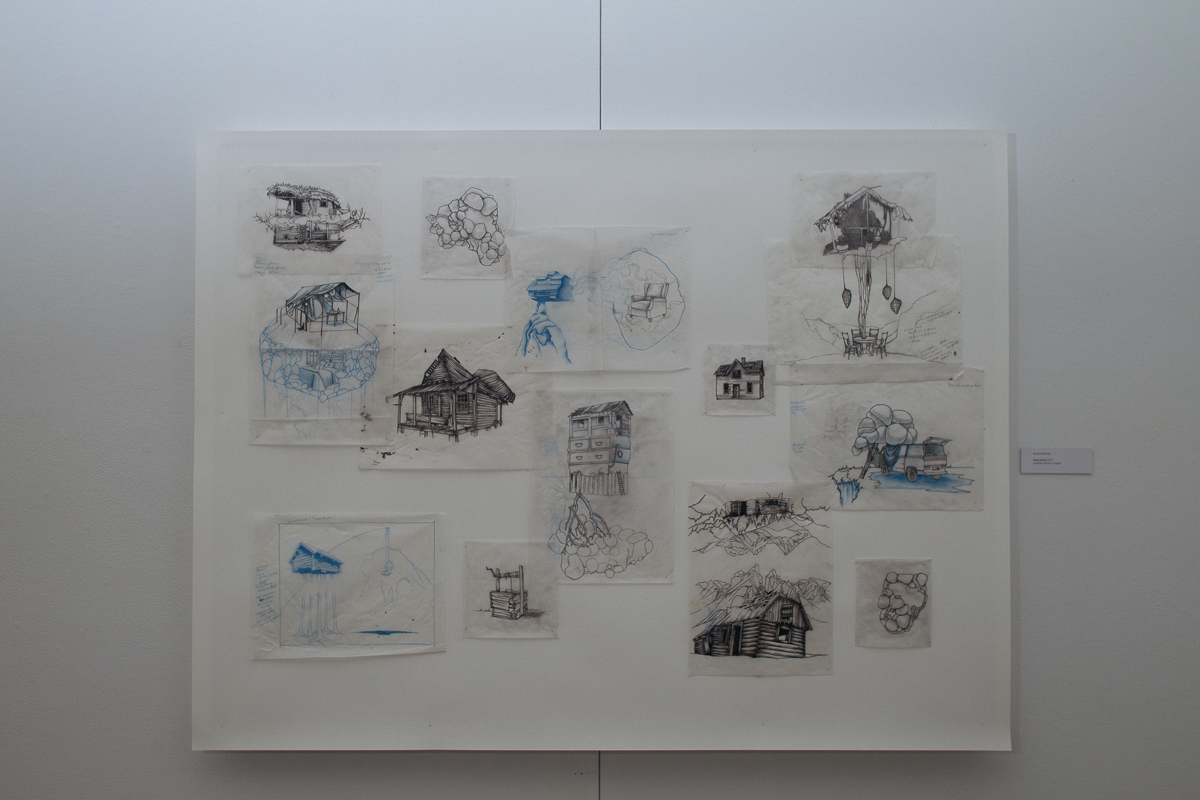 Her piece "I would miss my bed the most" shows a simple shelter standing on a piece of the ground floating in midair. Underground is a bedroom with a double bed and a window. Using the window as a metaphor, Bruijn suggests her bedroom as her own interior world of comfort where she can safely hide. On the other hand, the shelter above might symbolize the simple but necessary home one has to build if they were to move. She explains the crucial difference between the familiar and comfortable with the strange and unknown.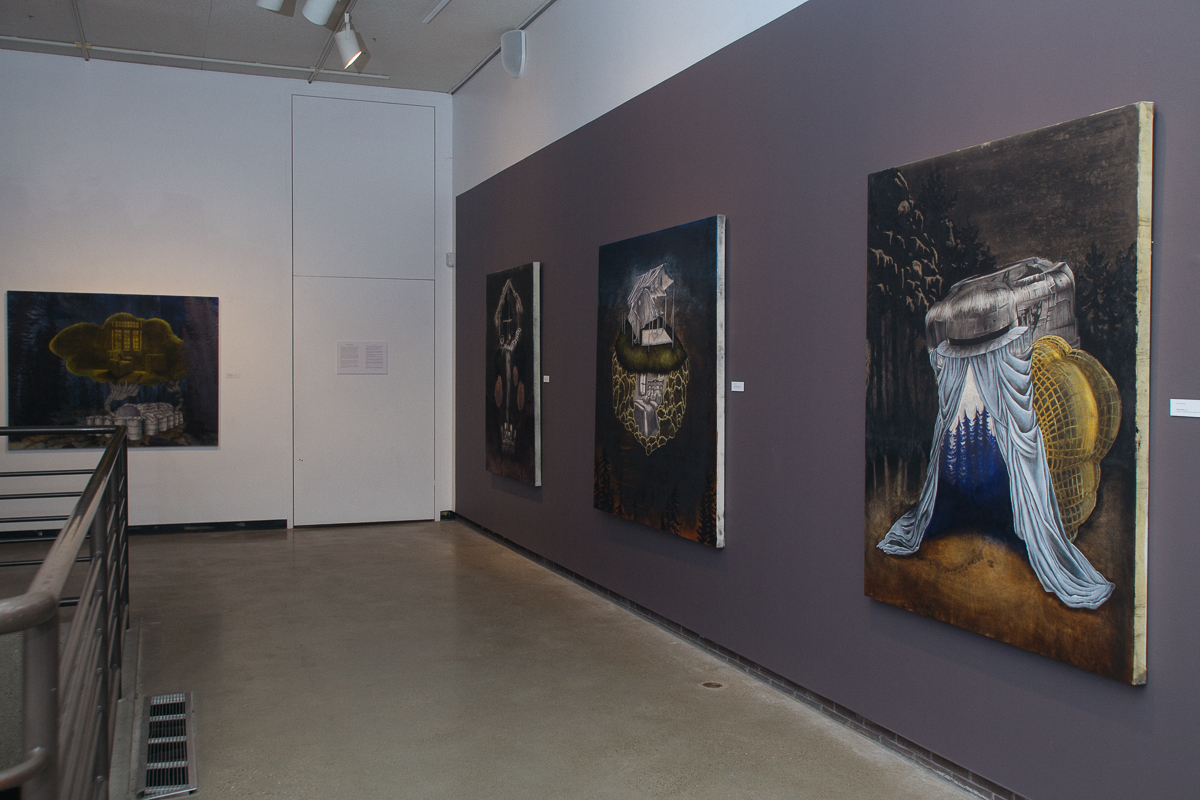 "Grandpa's chair" is a piece touching on family and war. An underground bunker from which a big yellow cloud holds an armchair, suggests Bruijn's memory of her grandfather. The exhibit ends with two side by side sketches: one shows a house in midair, and the other shows the same house upside down. These two pieces could be interpreted as another expression of duality: the first house appears stable, implying that the experience is positive. In another light, the upside-down house seems to be falling — this evokes strong anxiety associated with the feeling of I don't feel at home, but I should.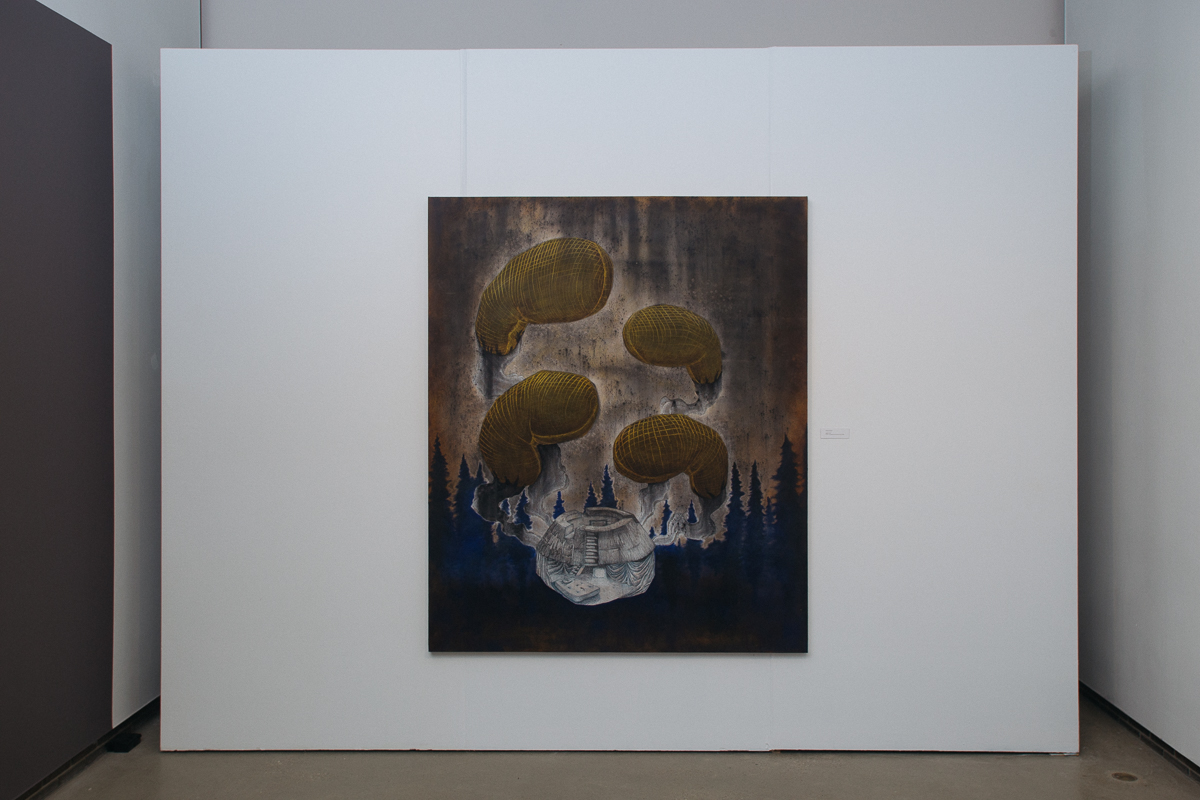 Personally, I didn't expect this exhibit to resonate with me on so many levels. Being a Czech-Canadian that moved from Prague to Canada, I was taken aback by how Bruijn's work spoke to me. I felt both the comfort of feeling at home and the inexplicable confusion of feeling like a foreigner in a country where my family lives. However, I found the purple colour and the trees soothing, and the whimsicalness and fantasy of the paintings put a smile on my face. I would highly recommend this to anyone looking for a relaxing break from school, work, or whatever other life stress they might be experiencing.