Photography
The Student Driver: 2017 Mazda MX-5 RF 6-Speed Manual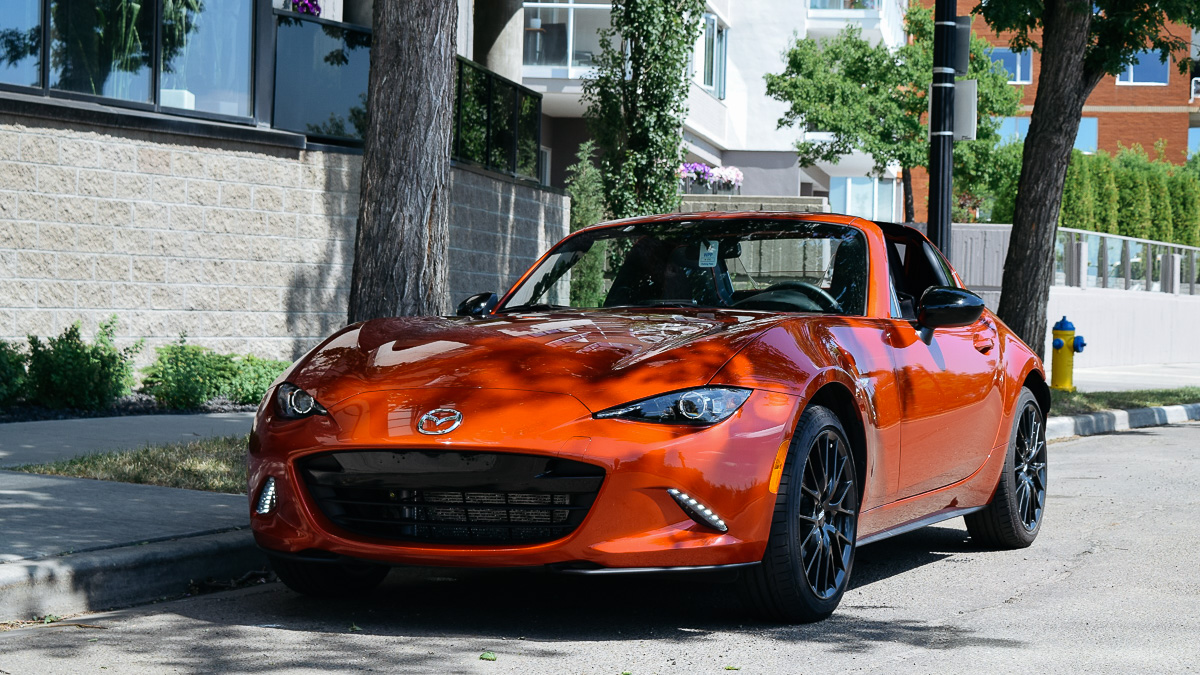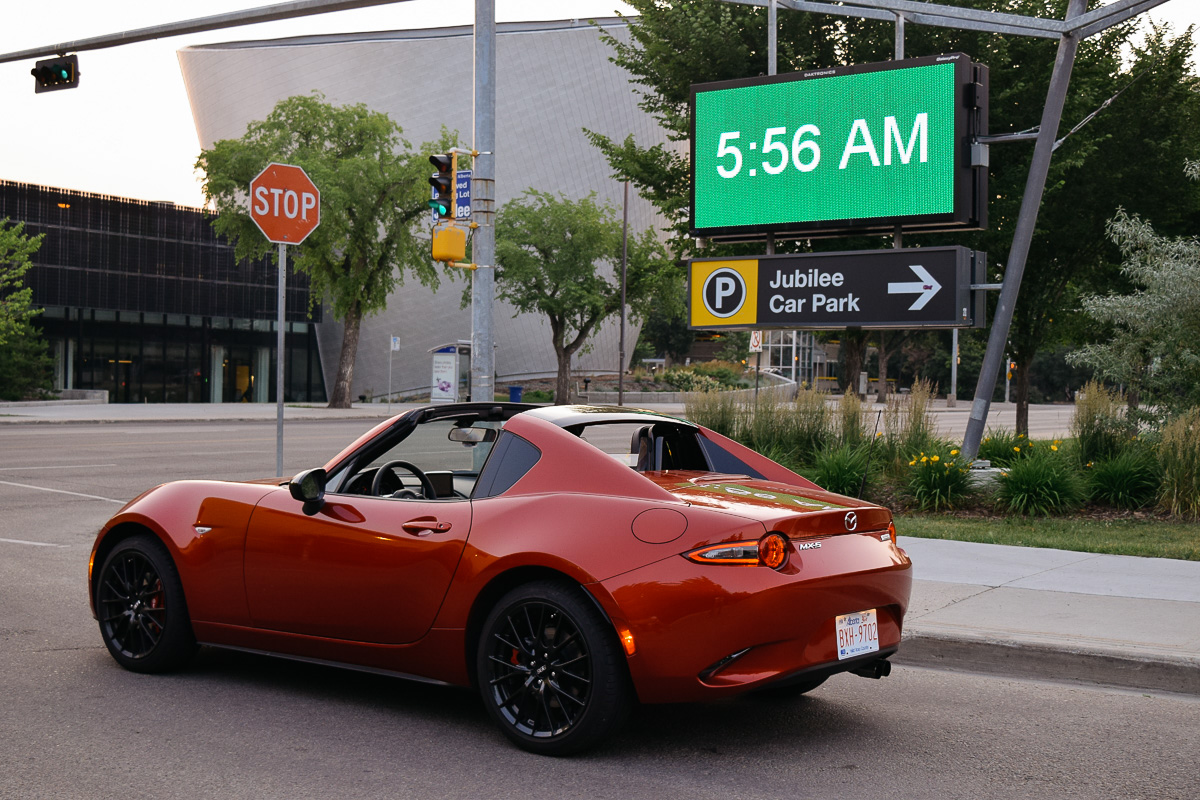 I have never had so much fun driving the speed limit. In the world of photo radar and the beloved Motor Vehicle Act, fun and speeding go together like crime and punishment. That's where the new 2017 Mazda MX-5 or "Miata" comes in. The pint sized two seat roadster is an absolute blast to drive, even within the speed limit. My review vehicle was provided with a retractable hard top roof (convertible) which breaks apart and disappears into the trunk, allowing sunlight and a 360 breeze to fill the entire cabin. Nearly everything in this vehicle ranged from excellent to absolutely outstanding. From its seductive aesthetic to the first-rate handling, this vehicle is truly a remarkable car.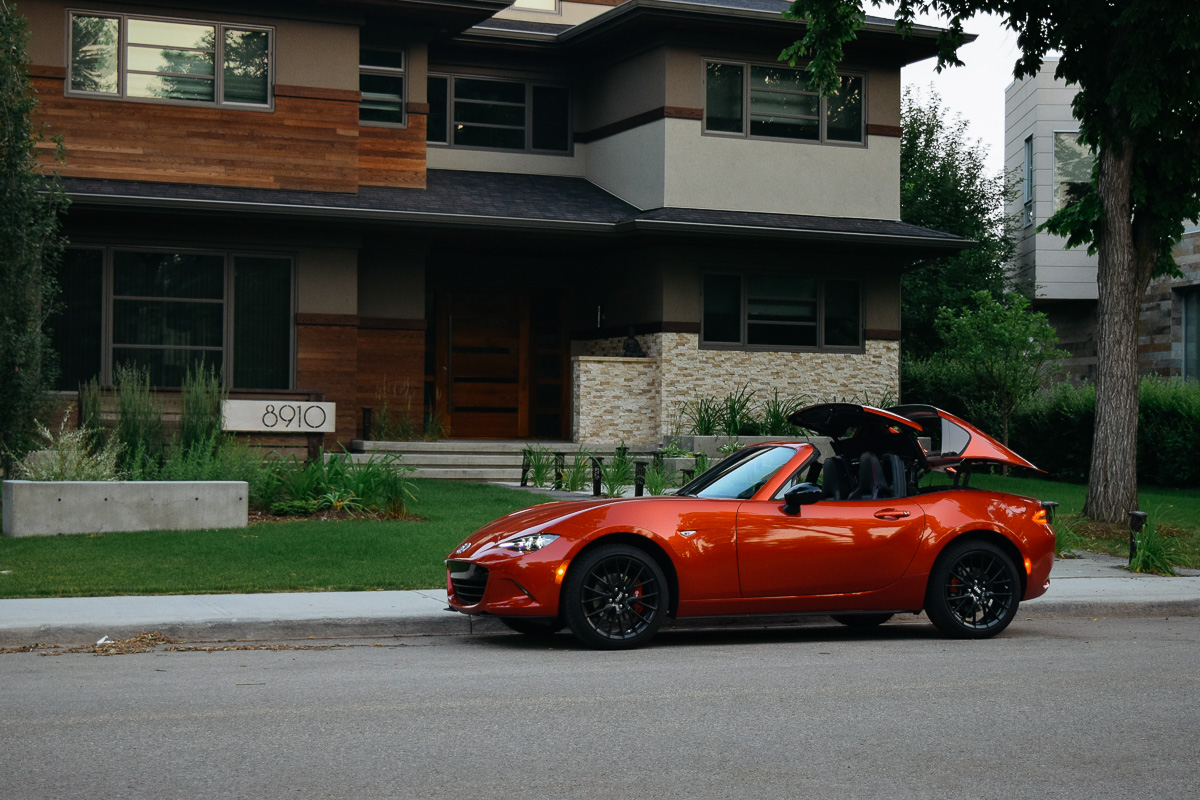 On the outside, the MX-5 is a tiny thing. It sits so low it makes you wonder how it is humanly possible for two human beings to even fit inside, let alone be comfortable. While it's an absolute nightmare to get into, (I look like a fool every time) once you're inside, it's actually quite agreeable. While headroom is obviously a bit tight, legroom is ample and the MX-5's cockpit feels a lot airier that you would think. You're also greeted with a very upscale interior. The Recaro sport seats are remarkably comfortable even over long drives, and are sculpted to provide good lateral and back support. The steering wheel is leather wrapped and feels great to the touch. Everything about the car seems well executed and intuitive to use with strong build quality except for one tiny oversight: the Multimedia selector buttons between the seats felt like they were made from cheap plastic and I would've preferred them to be metal.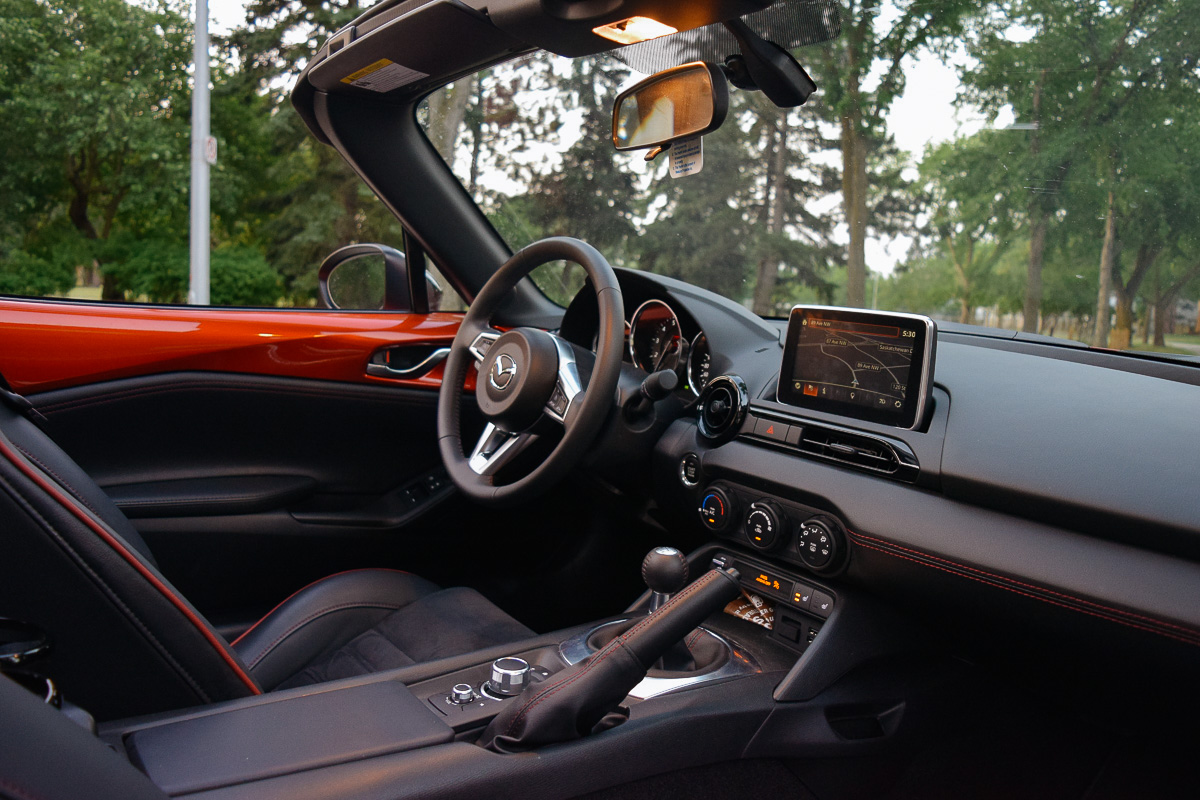 Like the interior, the infotainment system is also excellent. The navigation software is probably one of my favourites due to its excellent graphics and overall presentation. It will even warn you if you accidentally go over the speed limit. A CD player comes standard and stock speakers provide powerful, clean tones with enough base (and treble) to keep you happy for days. They are also well placed, so that you can listen to music with no problems even with the top down.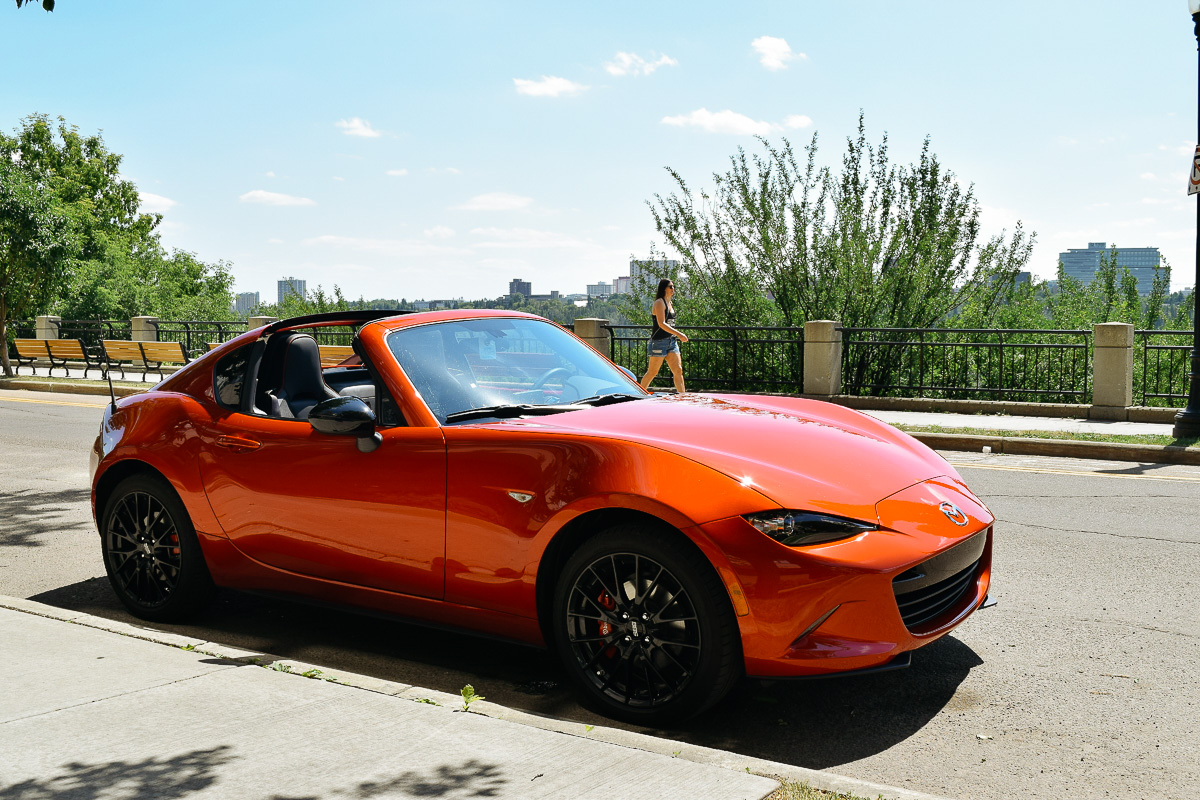 When it comes to the driving, the MX-5 outdoes itself again. Imagine driving on a cloud through heaven. It drives that smooth and is nearly that quiet at highway speed. The MX-5 is powered by a 155 HP 4-cylinder SkyActive naturally aspirated motor that shakes hands with a 6-speed manual, rear wheel drive transmission. The shifts are short and very precise (a Mazda specialty) and the short travel clutch allows almost instantaneous gear shifts. The steering is precise and balanced with neither understeer nor oversteer thanks to it being rear wheel drive. If there is one reason to learn stick, the MX-5 is it.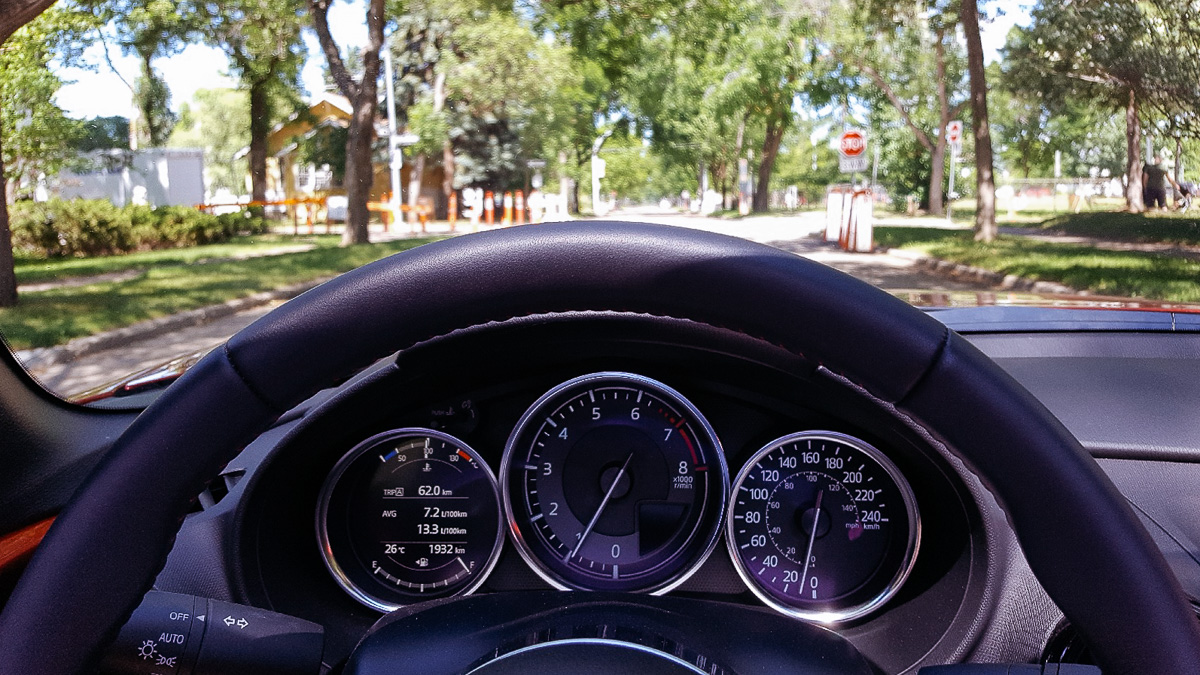 The MX-5 is nimble (and very light at 2500 pounds) and its low ride height eliminates body roll to keep it planted through the bends. When you step on the gas, it belches out an exhaust note that sounds closer to a 400HP M-Series BMW's exhaust than that of a stereotypical Mazda. It also provides no shortage of power despite only putting out 155 HP. A friend of mine (riding shotgun) reckoned the car must have had at least 250HP. He was further impressed when I told him it got a real world fuel economy of around 7.5L/100KM.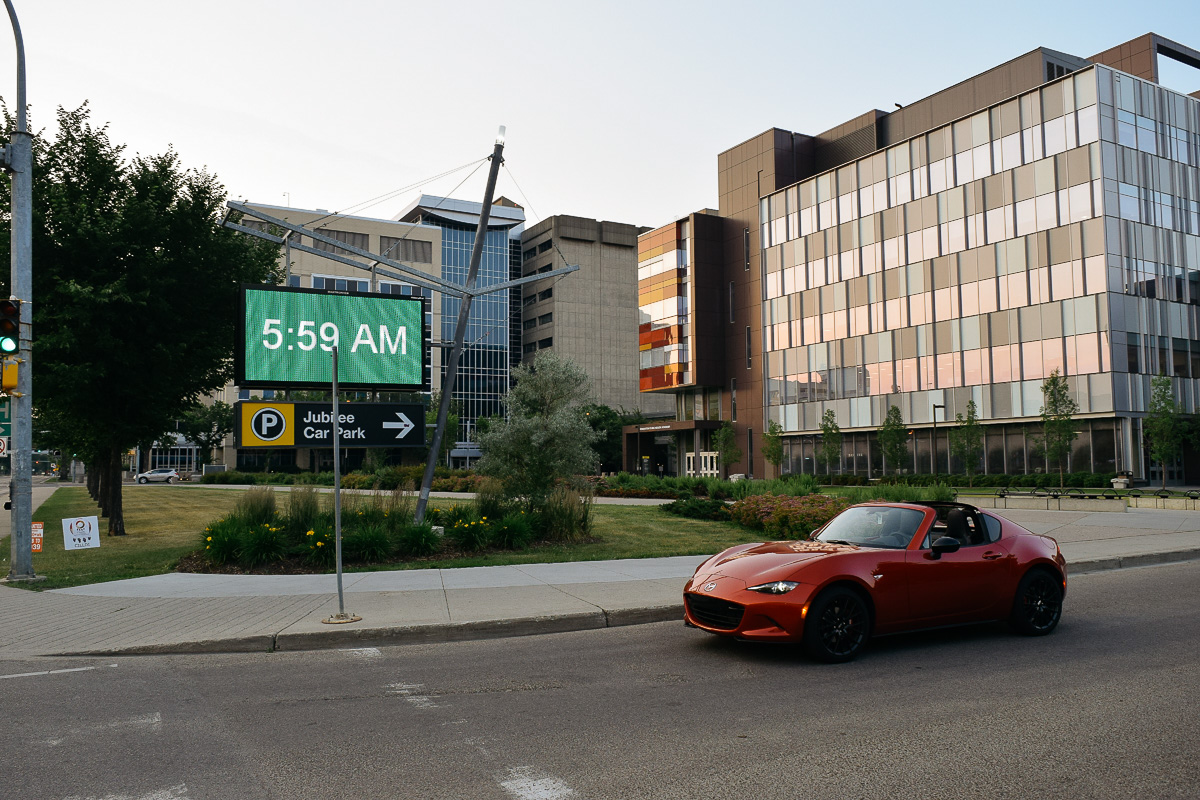 The last thing about this vehicle is the included retractable roof. As long as you're driving under 10KM/H, your roof can be opened (or closed) in no more than 15 seconds—with just a button press. Driving the MX-5 with the roof down has been one of the most fun experiences I've had as a car reviewer. Having the sun in your face and the fresh air in your lungs is a truly awesome experience that solidifies the Miata's position as one of the most fun cars you could possibly own. Unfortunately, no car can be perfect. The biggest issue with the Miata is its obvious lack of space. The trunk is ridiculously tiny and can carry no more than a few grocery bags. The MX-5 also has no centre console or glove compartment, meaning purses or other things will need to find a new home. Case in point: my license and registration had to go in the trunk. Try explaining that to a police officer when you get pulled over. The Mazda MX-5 does what is was designed to: Be a fun car to drive. It makes you want to hit the road every time the sun peeks out from behind the clouds. This car does its job, and it does it well. At the end of the day, what more can you ask for?
Final Score: A+ "Hall of Fame" Vehicle
Acknowledgements made to Mazda Canada for providing the review vehicle and specifically Chuck Reimer, Senior Specialist for Public Relations. Further appreciation goes to Patricia Pegg for getting the vehicle in from Calgary. Content was not subject to approval.