News
Residences
Lister launches commuter study hostel for $35 per night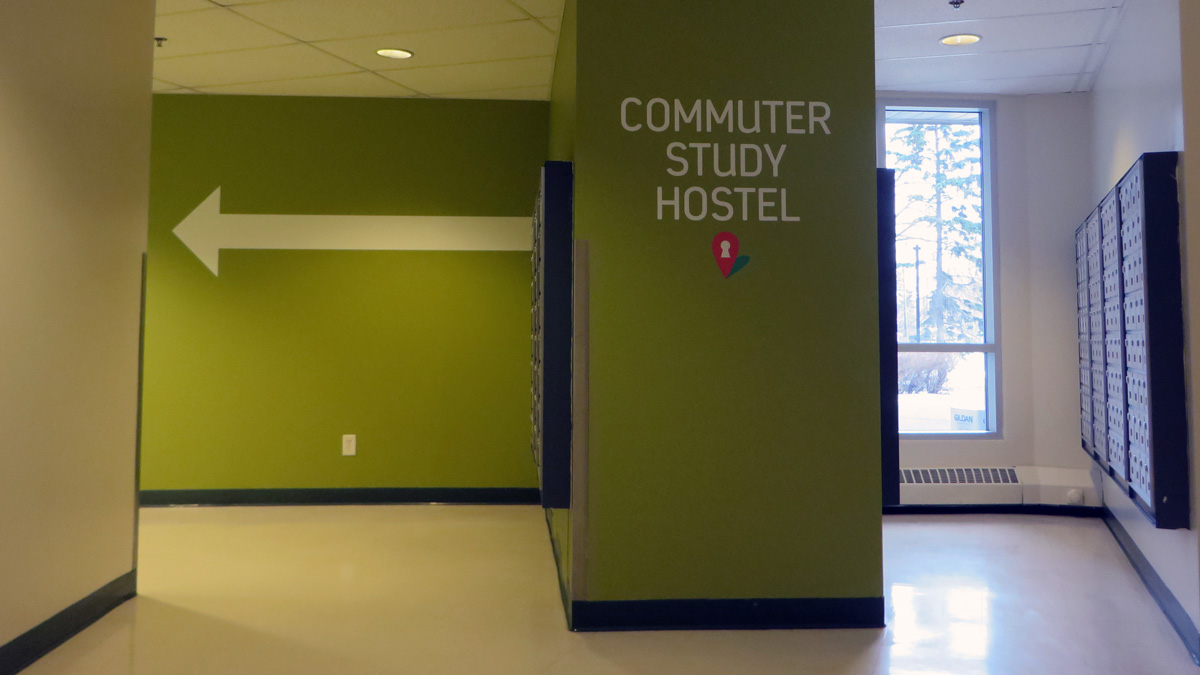 With the new commuter study hostel in Lister, students wanting to stay late on campus can do so without having to settle for a couch in SUB.
Located at Schäffer Hall in Lister, rooms in the hostel are $35 a night and come with a single bed and desk so students can stay the night and study. The rooms also come with bedding and toiletries, and guests are free to use the kitchen and television in the shared communal space. Students can rent the rooms for three nights in a row and up to nine nights a month. Bookings can be done online at the hostel's website.
Meghan Reiser, the supervisor of residence life for Lister, said the initiative was launched because they saw a need for the service, with students staying late in spaces on campus that are open 24 hours a day such as the Students Union Building or Cameron Library.
"We've talked to campus partners, we've looked at some of the situations that are going on on campus, and we do think there's a need for it," she said.
Residence Services looked at other universities with a commuter hostel service, such as Ryerson University, and used it as a model for creating their own.
Reiser said there are other reasons for students to use the service besides living far from campus. For example, she said the hostel is ideal for students wanting to stay safe overnight during extreme weather conditions, or if they have an exam early the next morning.
"There were lots of driving factors that made us think that this looks like a really good option," she said.
Currently there are 14 rooms available for students to rent. Reiser said the rooms were regular residence rooms so no renovations were needed. Reiser also said the hostel doesn't impact the number of rooms they're able to offer in residence.
Residence Services launched the hostel at the end of September, but held off advertising it until late November so the staff had time to adjust and make sure things were running smoothly. Reiser said students were booking rooms before the advertising push, but they've seen an uptake in bookings and expect more students to use the service with the exam season.
While the focus of the service is on academics, Reiser understands there's a risk students will use the hostel as a "party room." So far, Reiser said they haven't experienced that, but they hope to deter people from misusing the service by stressing the academic purposes of the hostel.
"It is a pilot program right now so if we were ever to have issues coming up, of course we'd address it as we go. But at this point we're pretty optimistic that students are taking advantage of it as an academic support," she said.
Price is too high, say some students
The hostel has generated critical reactions from some students. In an article from CBC news, Alisha Whissell, a fourth-year psychology student, called it a "waste of space" and was critical of the price — saying that it's too high for students like herself who live off money made from summer jobs and what's left from student loans.
"Thirty-five dollars is a large amount you can use for food," she said.
Ilya Ushakov, vice-president (student life) of the Students' Union, said that the hostel aligns with their goal of getting students to spend more time on campus. Ushakov also said he doesn't believe that the hostel is a "cash grab" by the university, and that $35 is significantly cheaper than most hotels.
"I think it's a resource that doesn't do harm," he said. "I think students will utilize it if they need it and it's good that the option to have it is there."
According to Brittany Hurlburt, the Marketing and Communications Supervisor for Ancillary Services, the university isn't expected to generate a large amount of revenue from the program due to it's small size.
While Reiser understands that some students will feel the hostel isn't worth the cost, she hopes the service still fills the need for a large number of students.
"We know it won't be for every single student on campus," she said. "We have such a diverse student population on campus and there's no way that one single program is going to be applicable to every single person."