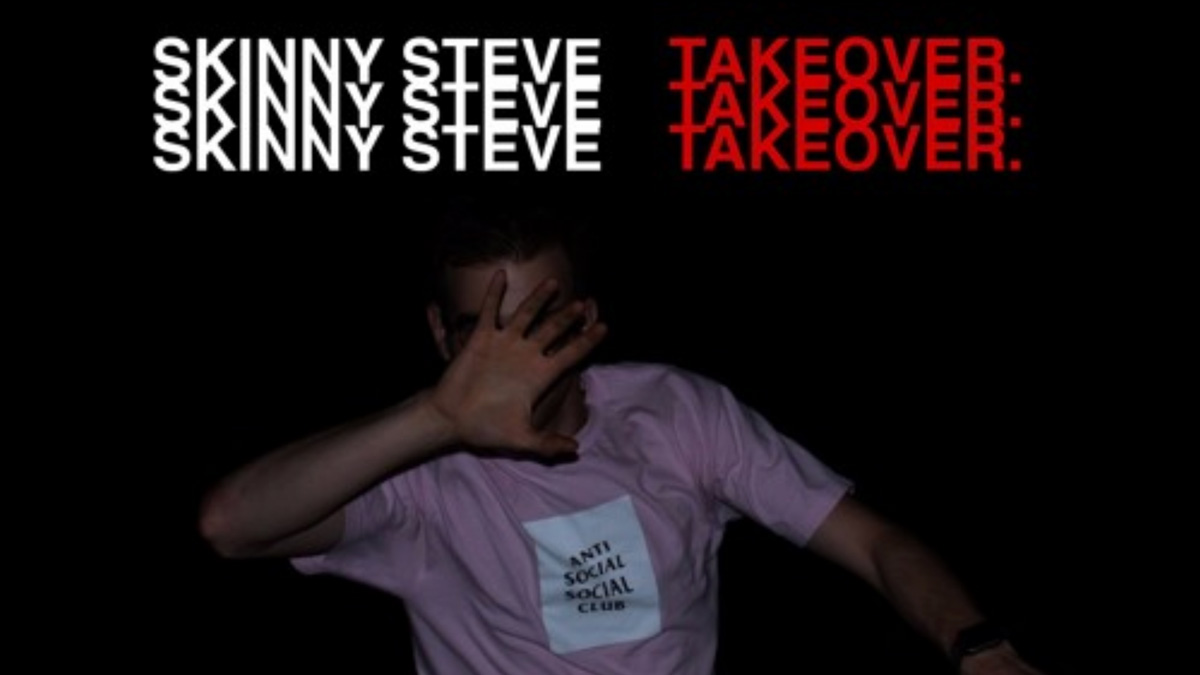 Takeover
Produced by Stefan "Skinny Steve" Spasojevic
Featuring nmills, DXMA, Cabral, Axel Muco, The Slight Brains, Ryley Smith, Dirty Dev, Og Jonah, Tobiasthehomie, and more
---
Our dear city of Edmonton is home to a plethora of incredibly uniquely talented artists, even though we are often more interested in spending dollars to support foreign performers. For those of us who are interested in digesting and supporting local acts, the collaborative album Takeover, produced by Edmonton resident Stefan Spasojevic — professionally known as "Skinny Steve" — presents a perfect opportunity.
Comprising of ten tracks with performances by a host of local artists — nmills, DXMA, Cabral, Axel Muco, The Slight Brains, Ryley Smith, Dirty Dev, Og Jonah, Tobiasthehomie, and Stefan himself — the project is excellently curated.
With the introductory track stating the themes of the project — "loss, death, loneliness and depression" — the production expertly sticks to the sonic parameters of these themes but manages to do this  without descending into the repetitiveness found in most concept albums. Spasojevic's production is filled with unique, diverse sounds — house, jazz elements, R&B, lo-fi hip-hop and the likes — that improve on themselves as you progress further on the album.
Take "Jagged Views," for instance, where every new verse is preceded by a dim in the music signaling the supposed end of the track — only to come back to life with the next artists' verse. Another standout track with regards to production is "Intimate / Heartbroken," where both house and R&B musical genres are merged.
With this project being a collaborative effort, the common fear of "too many cooks in the kitchen" — underwhelming performances destroying the quality of certain tracks — nagged at me as I digested the record, and while there were obvious standout performances, my fears were proved wrong as there weren't any bad eggs or mediocre performances from the bunch. Spasojevic's performance on both the introductory track and interlude was a delight; his masterful command of the combination of prose and poetry in a performance format is evident here. All three performers on "Heat" are impressive as they deftly trade bars over the raw, menacing beat.
On "Intimate / Heartbroken," Tobiasthehomie provides a catchy hook about looking for love — "Milly rock up in my grave, smoke a pack everyday" — while rhyming about his romantic prowess and self-destructive tendencies. The soulful performance by The Slight Brains embody the framework of the track. Cabral's sing-rap delivery provides a different perspective and is definitely the icing on the cake.
Takeover is a decent offering from a developing producer with obvious potential who is light years ahead of his peers. If the promise shown on this album is any indication, there is a lot more we can expect from Spasojevic.