News
'It's okay to be white' posters, offensive pumpkin found on campus
For two days in a row this week, Faculty of Native Studies members have found posters and a pumpkin at their doorstep, which the university is denouncing as "racist."
On the morning of October 31, the Dean of Native Studies Chris Andersen discovered a sheet of paper taped to the front doors of Pembina Hall with "It's ok to be white" printed on it in comic sans. Similar posters were discovered at various locations across campus. This follows a related incident the day before where Chelsea Vowel, a native studies graduate student, said she passed a carved pumpkin placed near the alumni circle caricaturing Indigenous peoples. The university has responded to both incidents, calling them "inappropriate and racist."
"All I could think was, after the pumpkin yesterday, this is awesome, this is all we need," Andersen said. "So I was irritated, and the fact that it was comic sans font was super super annoying to me."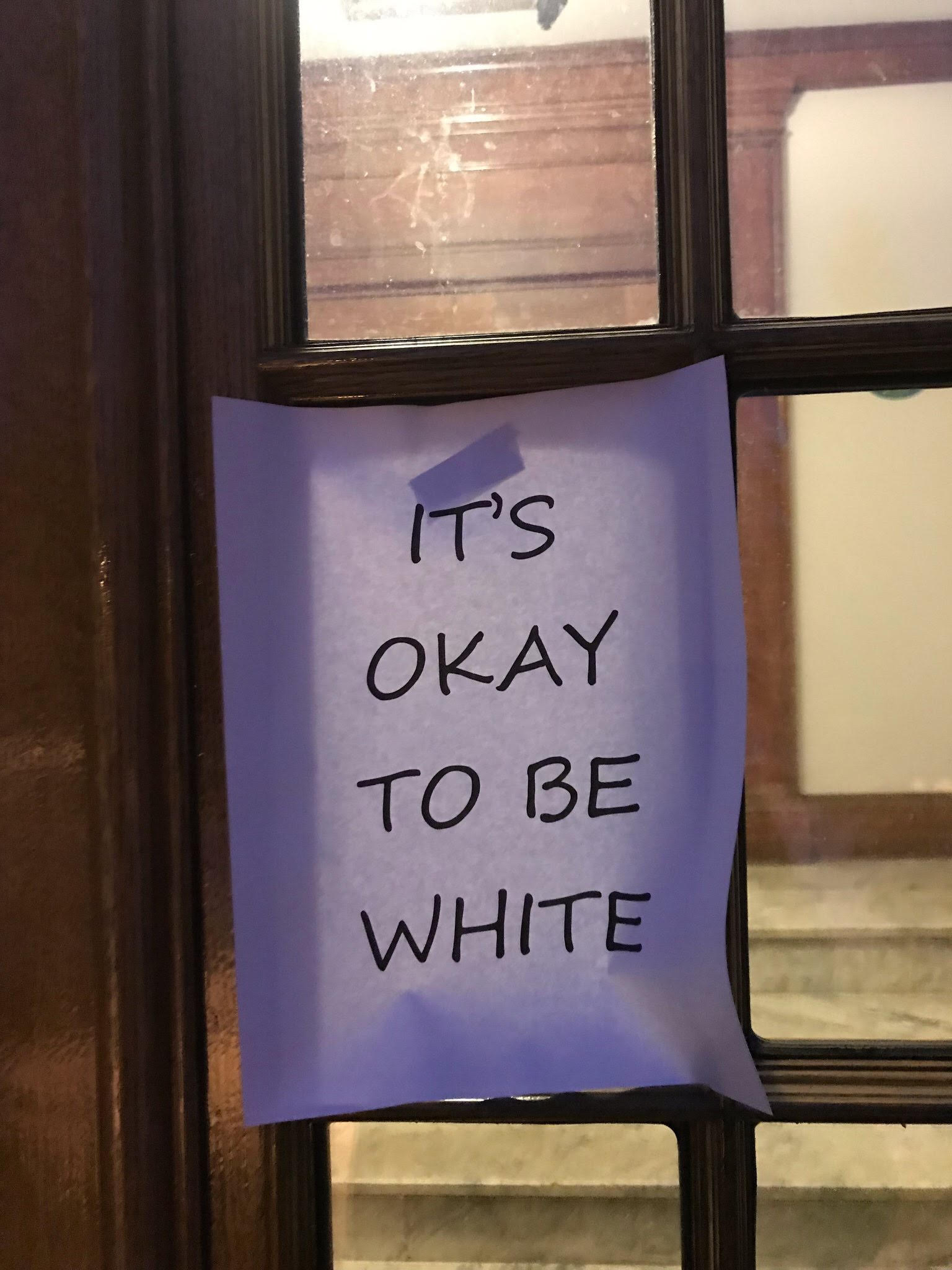 Andersen tweeted a photo of the poster before taking the poster down. The tweet gained the attention of the university community and others. Robert Jago, a Montreal-based blogger who works for an education services firm, responded to Andersen's tweet, linking it to a discussion on an online discussion board where people planned to post "It's okay to be white" posters on Halloween. Jago included a screenshot from the post that said the intention of the posters was so the "anti-white media" would react negatively, and to rally support for "pro-white activism."
"When I first saw the sign, my first reaction was to make a joke about it… for someone to say that it's okay to be white is like 'Yeah, don't we know it's okay to be white, for sure!'" Andersen said. "The single best thing you can do for yourself in order to get ahead is be white."
According to an email from James Elkow, an inspector with U of A Protective Services (UAPS), while they didn't keep count of the total number of posters, they were found everywhere from Humanities to Lister. UAPS is now investigating both incidents, and is encouraging students to report to them if they see anything similar.
The posters found all over campus and in front of Pembina Hall come a day after a pumpkin caricaturing Indigenous peoples was found by Vowel. The carving featured misaligned eyes, and neon-coloured feathers stuck onto the top mimicking a headdress. The carving prompted Vowel to put a sheet of paper beside it calling it racist.
"This looks like something that someone who didn't know anything about Indigenous communities might think a ceremonial headdress might look like," Andersen said.
"I tweeted it and people were like 'What the hell,' and I was like 'Yeah what the hell,'" Vowel said.
Shortly after the pumpkin was brought to the university's attention, Andersen took the carving and put it in the garbage.
"I kind of made a snap decision. Like, what are we going to do? Are we going to leave that out there for people to see?" he said. "Chelsea had already seen it, one of her kids had seen it, so I just thought no one needs to see that."
Following the discovery of the posters, the university updated its statement regarding the pumpkin. The statement, signed by President David Turpin, said the U of A strives to be a "space that is safe and inclusive for all people," and that "displays that target or marginalize any individuals or groups will not be tolerated."
Vowel praised the university's response, saying she is doubting herself less now that others have affirmed her reaction to the carving, and they're not just dismissing it as a joke that shouldn't be taken so seriously.
"You want to know if something like this happens or if it escalates that the university has your back, that they're not just going to tell you it's no big deal, just put up with it," she said.
"The racist pumpkin and (the posters) do the same kinds of work, which is to reduce the complexity of Indigenous peoples," Andersen said. " And really these kinds of things diminish us."