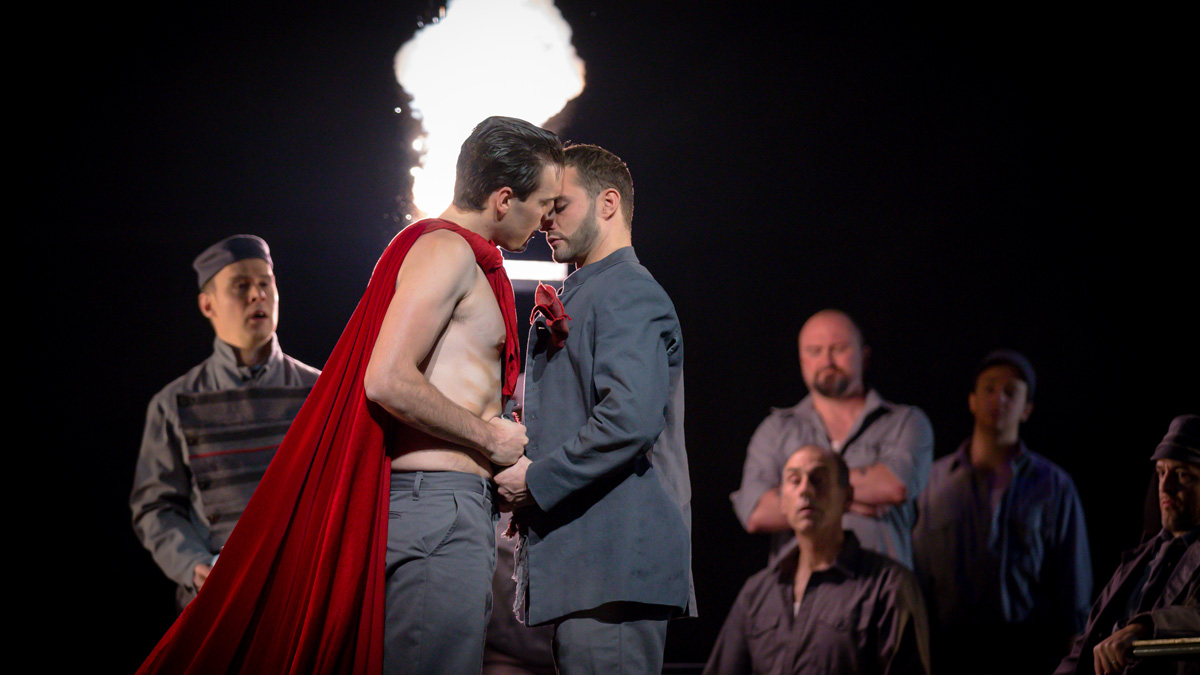 Before Québec playwright Michel Marc Bouchard's Lilies (Les Feluettes) premiered at Opéra de Montréal in 2016, his work was a play that was first performed in 1987 and then as a 1996 film screened at Sundance. Lilies, the opera, made its Alberta premiere at the Northern Jubilee Auditorium last week, and its vision was cinematic — its effects, enthralling.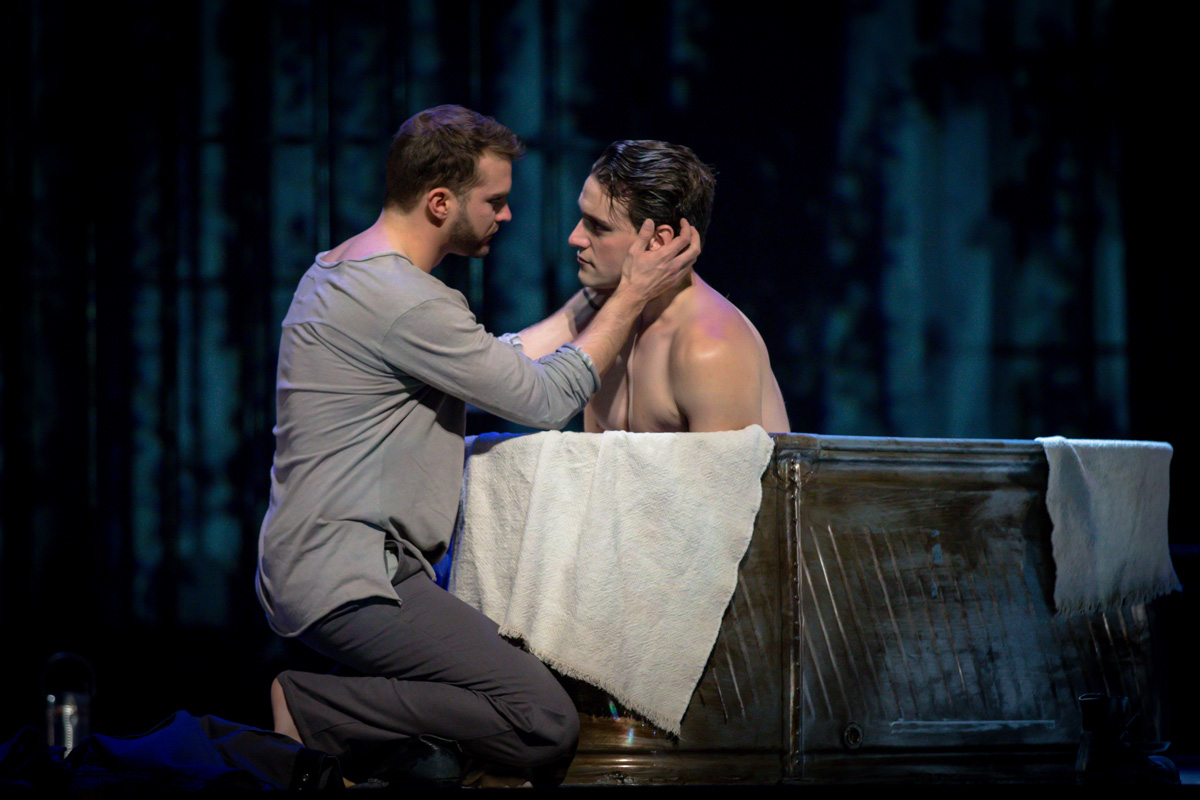 Regarded as the Canadian Romeo and Juliet, Bouchard's renowned work tells the story of a forbidden love between two men in a prison, set in the early 1900s between Québec and France. The first scene introduces us to tenor Bishop Bilodeau (Gordon Gietz) who arrives at the prison to hear the aging Simon's (Gino Quilico) confession, which he professes in a powerful baritone register. However, Simon and fellow inmates take the reigns and perform a play for the Bishop which depict the events leading up to Simon's incarceration.
Evoking Hamlet's mousetrap, his play-within-a-play, which he leverages to expose Claudius' guilt ("The play's the thing wherein I'll catch the conscience of the king," Hamlet tells us), young Simon's (Zachary Read) reenactment of his illicit love with the handsome Count Vallier de Tilly (Jean-Michel Richer) reveals that the young and jealous Bilodeau is culpable for Simon's 40-year imprisonment. Like Hamlet, Simon is able to mete out the truth by putting distance between himself and his story.
But Shakespeare's Hamlet and Romeo and Juliet aren't the only texts that Lilies borrows from or builds upon. Despite the clandestine and everlasting love between Simon and Vallier that recalls both the lack of fussiness of Brokeback Mountain and the triumph and tragedy of Angels in America; despite the lovers' tenderness which evokes the tenderness of Xavier Dolan's Mommy (another Québécois filmmaker); and despite the shimmering mise-en-scene of the café scene in Paris that looks like an animated Renoir painting (particularly Bal de Moulin de la Galette), Lilies is wholly original. It's an opera that uses the gay canon to its benefit as much as it becomes a part of it. But it also doesn't view that canon like a pastiche of the greatest gay hits: it's a seamless work of art which believes love can be performed to the same magnitude that it can be lived and experienced.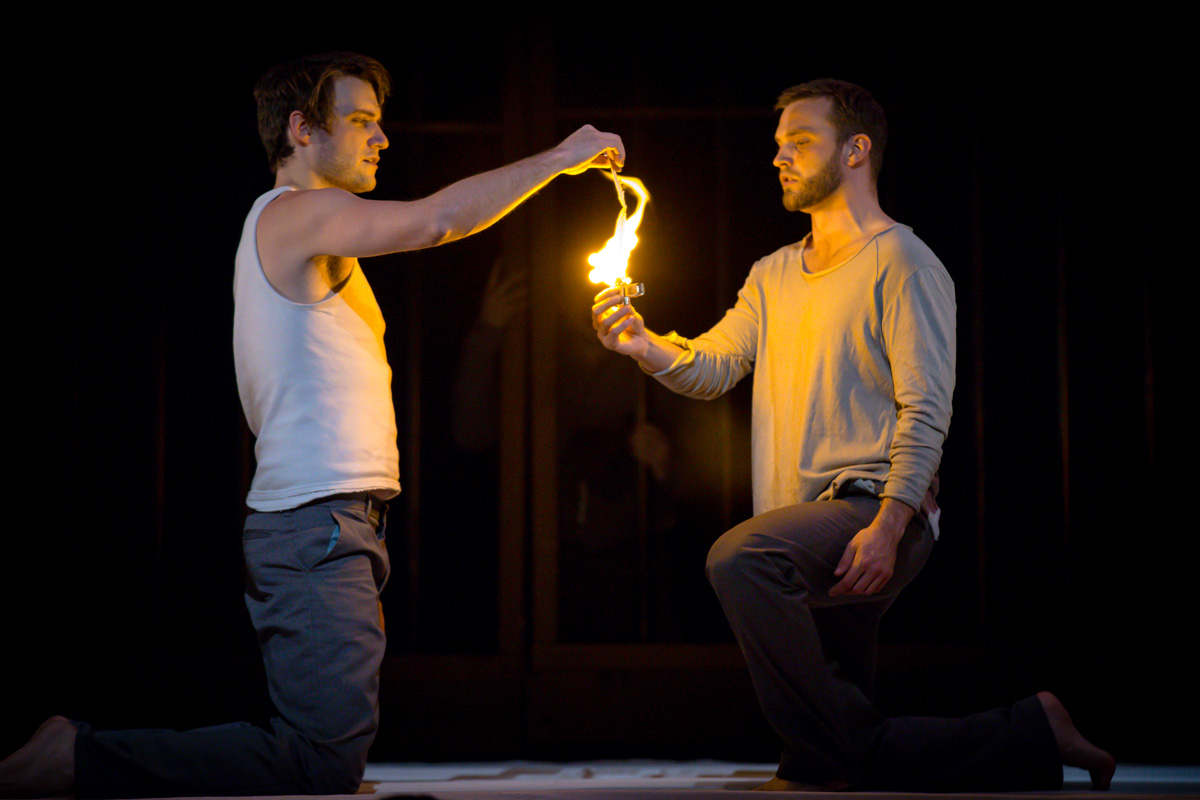 Which brings me to the music — when Friedrich Nietzsche wrote "Without music life would be a mistake," he may as well have said without love life would be a mistake. The best music, like love, dissuades us from the possibility that there is any other music (or person) in the world. This process is by all means realized by composer Kevin March's beautifully lush score which draws upon a myriad of genres and periods. From traditional Québécois folk music to French cabaret tunes to romantic waltzes, the stylistic allusions are as sprawling as they are convincing to the idea that Lilies could be told no other way.
At the top of the second act, Vallier writes a love letter to Simon from which the last two lines become the show's chorus, "I compose you, I create you. I let you live, and I kill you, I resuscitate you." The entanglement of life and death that is so central to opera — that's to be expected. But the coming and going of worlds by way of song ventures from the merely poetic and into the metaphysical. Lilies stands as a love letter to those worlds which have come and to those which have gone.