News
The Political Science Undergraduate Association executives are all women this year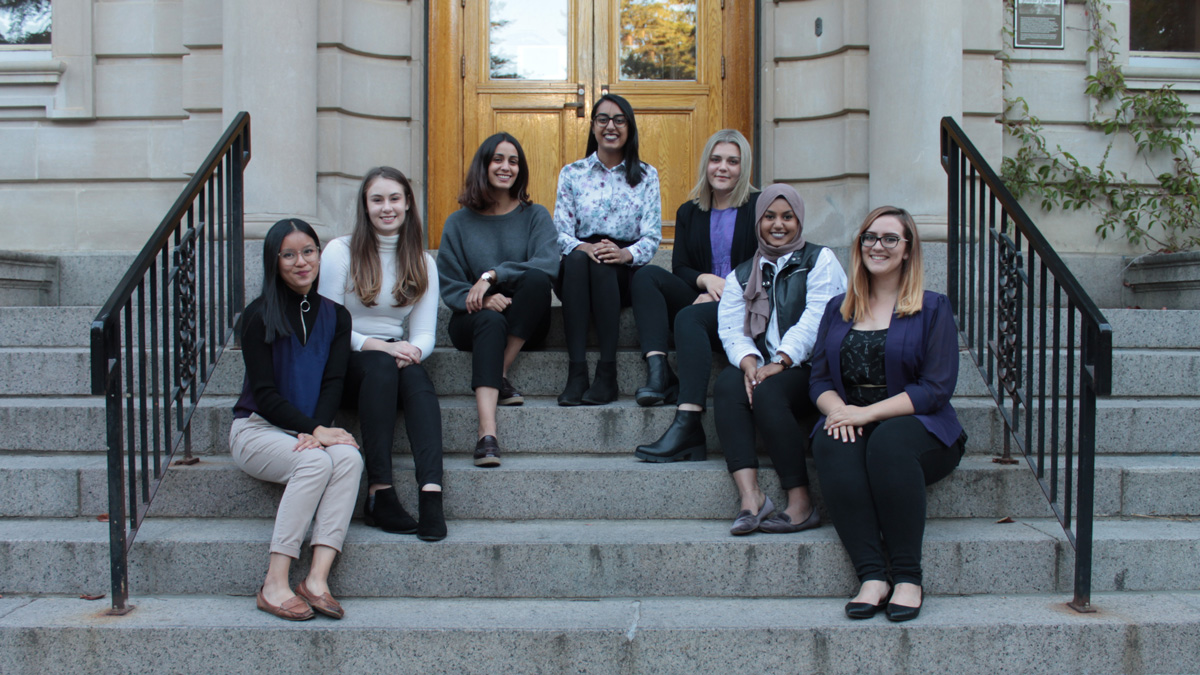 The majority of Student's Union executives and Edmonton city councillors may be men, but in the political science departmental association this year, every executive is a woman.
The Political Science Undergraduate Association (PSUA) represents undergraduate political science students at the University of Alberta. This year, all eight of the executives are female including Navneet Gidda, a fourth-year political sciences student and the president of the PSUA.
"Usually when you think political science, or politics in general, you don't think women," she said. "And that's a problem."
Gidda said it's exciting that not only are all of the PSUA executives women, but also that five of the eight are women of colour.
"We're just glad that there's not only women but intersectionality," Gidda added. "That's something we've been learning about in our classes, and now we're seeing it in practice which is super cool."
Micah Leonida, a third-year Honours Political Science and French student is the vice-president (events) of the PSUA. Both Gidda and Leonida have noticed that more diverse groups of students have been getting involved in the political science department in recent years. Nine of the 11 candidates in the PSUA's March executive elections were female. At this year's Annual General Meeting on September 27, another woman, Leah Naicken won the by-election for the vice-president (communications) role.
"There were a lot of women who showed up at the annual general meeting last year as well, which is different than the first AGM that I went to," Leonida said. "I almost felt like I was only Asian person at the first one I went to."
Gidda hopes that this year's PSUA executive can be an inspiration to all political science students, but especially to females within the department.
"I think symbolically it's super important for younger women to see in their department association all these women that cannot only represent them, but relate to them," Gidda said. "It's super empowering."
The PSUA executives are hopeful that the tone set by their all women team will have an effect on the experience of women in political science classrooms.
"I would hope more women are now speaking out in classes," Gidda said. "Hopefully we can empower women to speak in class, after seeing that we're their representatives and we're women too."
Gidda and Leonida both think having an all-female executive elected this year will increase female participation in the PSUA in future years.
"At Club's Fair this year everyone that approached me was a woman," Gidda said. "Compared to last year when we didn't have as many women on the exec… there's been a significant difference in the number of women that were coming up and asking about it."
Leonida hopes that better female representation at the department level is a step towards more women representatives at all levels of governance.
"I hope that the push for women for council, not only department level councils, continues at the higher levels as well," Leonida said. "To have more arts councillors, or people running for other roles as women would be fabulous, I'd love to see that in the future."
Gidda, Leonida, and the entire PSUA executive are excited to work together to represent political science students in the year ahead.
"Our main goal is just to reach Poli Sci students regardless of gender, sex, or age" Leonida said. "We're just really excited to be on campus and be with people who are like-minded and to go the direction we're going."