Magazine
Academic Journeys: Brayden Lyons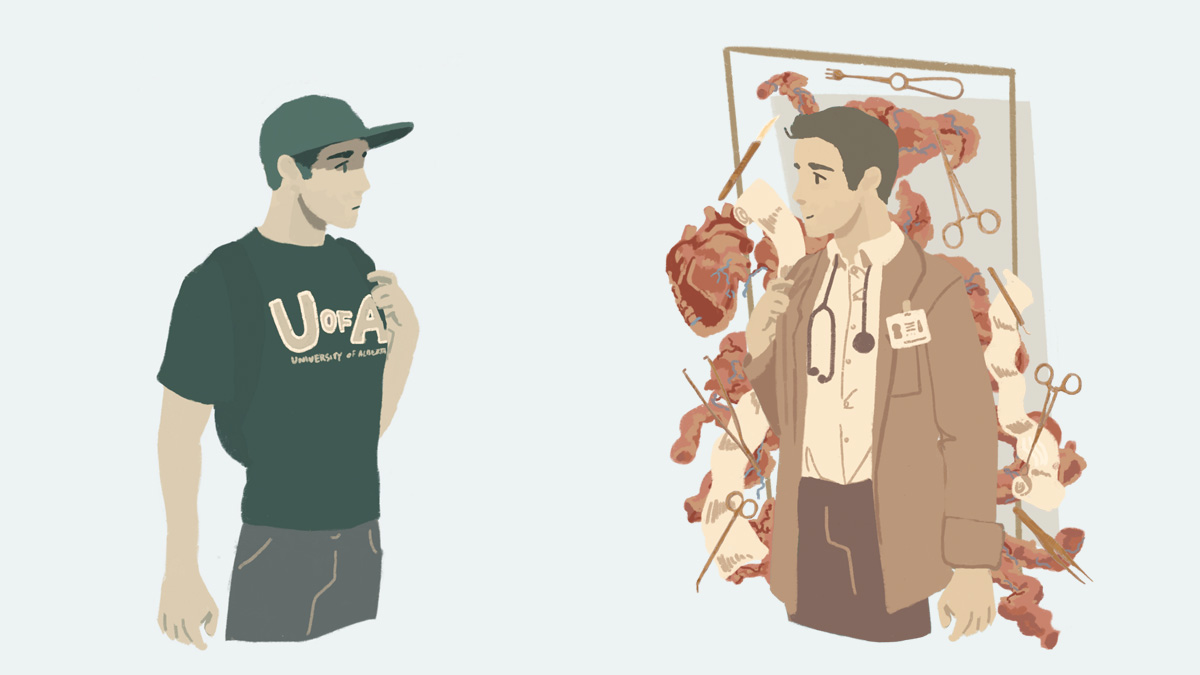 The following is part of a series about academic journeys through the U of A.
Lyons always knew that a career in academia was in his future. From an early age, he was intrigued by the sciences, biology in particular. Upon completion of high school, he pursued a Bachelor of Science majoring in biology at the University of Alberta. Wanting to help others overcome illness and injury, Lyons aspired to one day go to medical school.
Coming from Morinville, Alberta, Edmonton and its large university were novel and intimidating for Lyons.
Lyons thought he knew what to expect of university, but like many students do, severely underestimated the workload awaiting him. During his first midterm in PHYS 114, he blanked. "A blanket of black" clouded his mind, his pulse quickened, and his palms began to sweat. The end result: Lyons scored 40 per cent on his first midterm. The results made him withdraw from the course, and consider dropping out of university altogether.
"In moments of weakness, I had a decision to make: I would either let this failure define me, or I would identify the root of the problem to prevent it from repeating itself," Lyons says.
Lyons began going out less, spent more time with his textbooks, and set a minimum of 20 hours aside to study for each final exam. Using this strategy, he completed his degree and opted for graduate school. After writing the MCAT, Lyons applied to the U of A's medical school. He was granted an interview, but was denied admission.
Lyons took this rejection as an opportunity to diversify his skillset and study the development of lifesaving technologies through a Master's of Science in surgery (not to be confused with a medical doctorate, or MD), which would cover surgical issues such as tissue engineering, stem cell biology, and organ transplantation from an academic and research point of view.
During the Master's program, Lyons found SURG 555 (Microvascular Surgery) to be a particularly enriching course. Lyons and his classmates had to connect two major blood carrying vessels of a live rat. On blood vessels that reached only about two to three millimeters in diameter, students had to place eight square surgical knots — a challenging task for even human-sized vessels. Lyons performed well — to the extent that the course coordinator asked to use images of Lyons' first and last surgeries as the standard for incoming plastic surgical residents. For Lyons, this was a milestone that affirmed the direction of his career.
Now two years into his Master's, Lyons continues to research tissue engineering to improve surgical technique. He aims to apply to a number of medical school across North America upon graduation.
Overall, Lyons notes the importance of failure in his academic journey. With dedication and personal growth on his part, he learned to grow from his mistakes in first year and use them to launch his academic career. Lyons credits supportive friends and a commitment to a consistent lifestyle with his success as an academic.
"During this voyage, scattered with many highs and lows, I realized how important consistency is to get the results you desire. Be it working out, grinding for that A, relationships with others, having a good diet, or trying to get into medicine, consistency is fundamental," Lyons says.