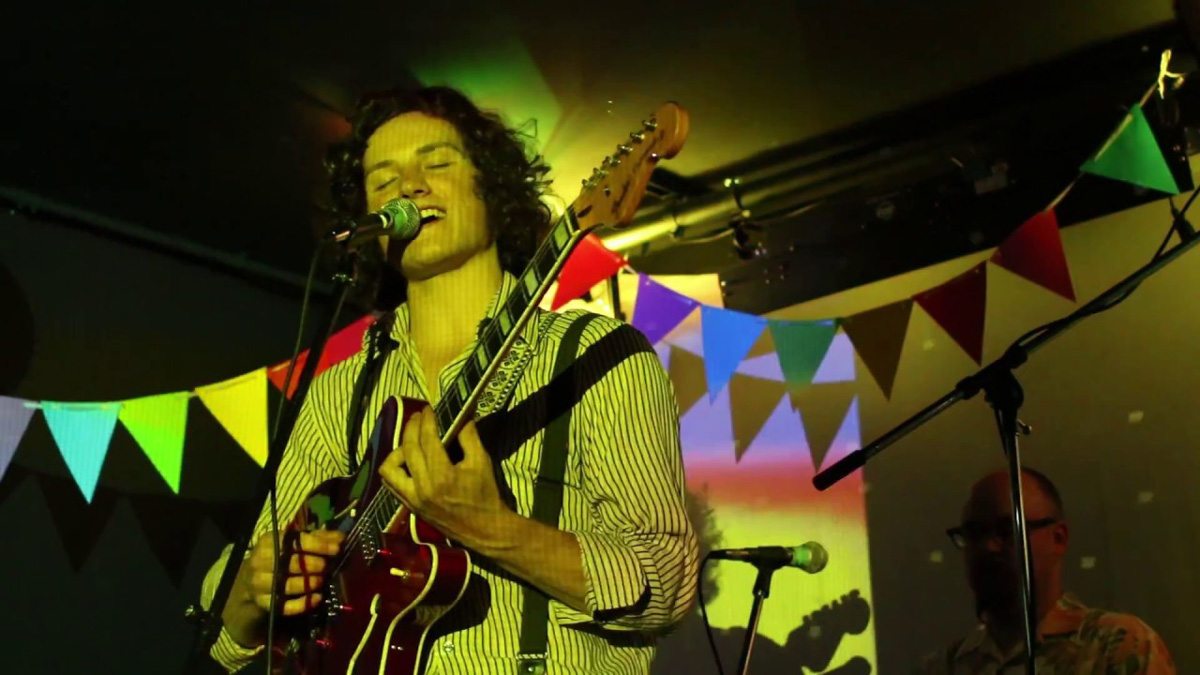 This Thanksgiving, many people went home to stuff themselves with turkey, while many music fans found themselves giving thanks for Edmonton's quickest-growing music festival.
This year's installment of UP+DT has come and gone, and with it, the festival brought a diverse ensemble of artists from around the world through our city. While every year UP+DT partners with venues throughout the city from newer venues like The Needle Vinyl Tavern and 9910, this year both my tickets held entry to the historic Starlite Room.
Friday night saw modern shoegazers DIIV headline with support from Vancouver's Summering and local acts Provincial Archives and Tropic Harbour. Saturday's bill saw psychedelic dance wizard Dan Deacon headline with support from Edmonton's own Borys, Archaics, and Whitsundays.
My 2017 UP+DT experience was kicked-off by local indie rockers Tropic Harbour, whose beachy dream pop was a light but danceable prelude to the night.
Second on the night's bill was Summering, a fully bearded sextet from Vancouver, who blended indie sensibilities with cataclysmic post rock.  Any band with three guitarists will sound huge, but Summering's guitarists created massive walls of feedback without even touching their guitars.
Edmontonian power trio Provincial Archives performed the penultimate show, hyping the crowd with their combination of 1990's alternative rock energy and pop sensibilities.
Finally DIIV hit the stage, and instantly the five-piece band from New York oozed coolness. When Starlite's video screen did not function, singer Zachary Cole Smith brought his laptop on to the stage to play the visuals — a resilient solution, but one that proved difficult to observe, even from the front. Despite the technical difficulties, the band was unfazed, and coolly continued on like it was nothing.
Intertwining jangly guitar lines and distant vocal melodies characterized their fan-favourites from their albums Oshin and Is the Is Are, with Smith setting the year before starting each track with an air of nostalgia.
Returning on Saturday, Starlite's atmosphere was not markedly different except for a notable lack of AGD Tallboys that the crowd at DIIV had sipped upon the night before. However, once the bands hit the stage, things got weirder in the best possible way.
Recently-reunited Whitsundays, an Edmonton supergroup headed by singer/bassist Paul Arnusch, kicked off the Saturday, bringing together an ensemble of talented singers and instrumentalists whose harmony-heavy indie-pop jumped across a wide variety of sounds from piano-driven blues rock to noisy psychedelia.
Edmonton-based Archaics were second on the night's bill, performing with a cool demeanour and even cooler tunes. The group combined the garage rock aesthetic of The Strokes with a psychedelic edge.
Edmontonian electronic musician Borys was a definite change of pace for the night – oddly enough performing from the sound desk at the back of the dance floor. Borys started off his set with a slow drone of oscillations and feedback, finally exploding into a full-blown dance beat with skittering drums breaks.
The main stage's curtains were drawn shortly after Borys left the stage, foretelling the arrival of Dan Deacon — an action that was a personal request, he tells the audience in his greeting-spiel turned stand-up routine about his affinity toward curtains and tour riders filled with cheese. Dan Deacon's psychedelic team-building dance camp contained near-maximum crowd interaction, including synchronized dance-offs, human tunnels that spilled outside Starlite and out onto the sidewalk, and the wall of life — a wholesome, high-five orientated version of the metal staple. Deacon's frenetic yet whimsical electronic pop was the perfect soundtrack to the most off-the-wall dance event I've ever participated in. The cherry on top was the ever-genuine Deacon meeting and greeting fans after the show, seemingly enjoying each conversation as much as the fans did.
After stumbling my way into the official afterparty and consuming free pizza and horrible beer, I realized just how late the night had gotten — each night's sets finished around 1:30 a.m., keeping the tunes going strong into the night. While my temporary reprieve from studying had turned into the weekend's main event, UP+DT once again proved to be an excellent weekend filled with diverse range of music from a talent-heavy local scene to groups from around the world.