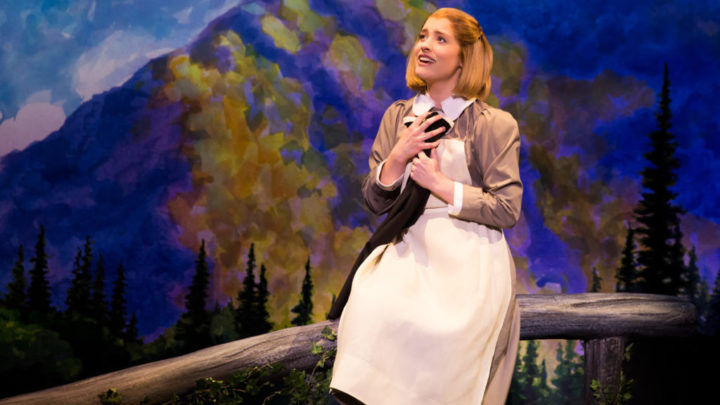 What: The Sound of Music
Where: Northern Alberta Jubilee Auditorium
When: September 19th – September 24th
---
From raindrops on roses and whiskers on kittens to captivating classic tunes, Rogers and Hammerstein's The Sound of Music whisked the Jubilee away into the Austrian hills for the opening performance.   
Rogers and  Hammerstein's The Sound of Music is an iconic work, and many people are aware of the story or can sing a portion of the score. Based on the true story of Maria von Trapp, a postulant at an Abby turned governess to seven children and, eventually, wife to their father, this musical incarnation finds its base in the Lindsay and Crusoe book. The musical follows Maria's journey of love and life in a time just before WWII. Most are familiar with Maria's plight from watching the 1965 film starring Julie Andrews.
As Maria, Jill-Christine Wiley enchanted the von Trapp family and audience members alike with her boundless energy and zest. Wiley has a crisp and bright voice that embodies the spirit of Maria and has a definitive power from the very first soulful cry of, "The hills are alive!" Her charming physicality played up Maria's energy, from large flights of sweeping dance to a simple twirl of her sunny dress.
Mike McLean was a delight to watch as love interest Captain Georg von Trapp; from strict head of the home with commanding whistles abound to softened father, his evolution was wrought with the judicious use of warmth as the musical progressed. McLean had innate chemistry with Wiley's Maria and the pair fostered an easy love that was steady and believable.
What makes The Sound of Music such an iconic musical is the stick-in-your-head sing-a-long score. From the playful and energetic "Sixteen Going On Seventeen" to revelation that is "Something Good," the teasing interplay of voices brought a sense of magic to the production. With a vocally strong cast, a true standout was found in the voice of The Mother Abbess, Lauren Kidwell, whose strength and soul reverberating through "Climb Ev'ry Mountain" was show stealing.
The cast approached heart-wrenching scenes with skill that showcased the nuance of each character and the subtle physicality of the family. Even youngest von Trapps' dejected shoulder shrugs were delightful in their detail.
Clever set design brought an unexpected but pleasant depth to those famous mountains to life and really served as a beautiful backdrop from which the von Trapp Family — and yes, the hills — became alive again with The Sound of Music.
Judging by the standing ovation the von Trapp family received on opening night, Edmontonians will be sure to count this musical as one of their Favourite Things.