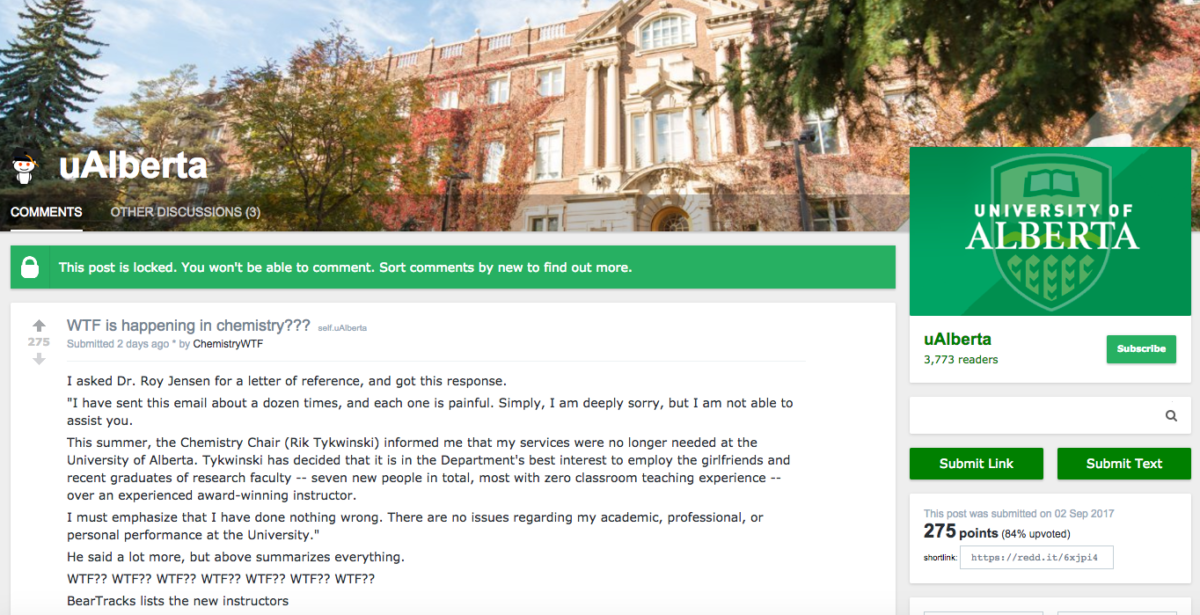 Roy Jensen, who taught as a contract chemistry instructor for five years at the University of Alberta but was not renewed for the upcoming academic year, is questioning the hiring of new instructors in his department.
Jensen, who usually teaches CHEM 10X courses, was informed via email on July 25 that his services wouldn't be needed this academic year. He now claims that the chair of the chemistry department, Rik Tykwinski, "has decided that it is in the Department's best interest to employ the girlfriends and recent graduates of research faculty over an experienced award-winning instructor," referring to the seven new instructors, all of whom are female, who have been contracted for this academic year.
This accusation, which he said is being investigated by the Provost's Office, was included in an email sent out by Jensen, including to students asking him for reference letters. A post referencing the accusation has since become popular on the uAlberta Reddit and Overheard at the University of Alberta Facebook page.
Jensen also wrote that the new instructors don't have experience teaching large first-year classes and shouldn't have been hired over him based on merit.
The Gateway reached out to Tykwinski for a response. He was not immediately available for an interview – but provided the following statement:
"As you would expect, I would like to set the record straight, but I cannot. This is a private, personnel issue that cannot be discussed publically. It would be the same, for example, if you asked me to discuss why a particular student had failed a course in Chemistry.
As far as I understand, a complaint from Dr. Jensen is working its way through the formal channels at the University, which have been set up to address issues such as this when they arise. I have every reason to trust these procedures and the people that are associated with them. The Department of Chemistry is one of the top in Canada, and in the top 50–100 internationally. We hire the best people we can to our department based on merit – period."
Many social media users have commented on the Reddit and Facebook posts, saying that Jensen's letter is unprofessional and misogynistic. Some allegations as to why Jensen may have been let go have been made on Reddit. Others have dug up Jensen's private website, which includes a formal complaint against Superstore, and an anonymous blog made at the time of Jensen being let go from MacEwan that alleges abuse from the university's administrators, which many users on Reddit say they believe is his.
In response to those allegations, Jensen said he was "bullied" out of MacEwan.
"It's not something that I like to discuss because I was very depressed for several years, and I'm probably never going to completely recover from the abuse I received from the administrators at MacEwan," he said. "But one of the most hurtful ways of attacking someone is to claim that they are sexist or biased. And the easiest way to get rid of a male teacher is for a female to say he was making sexual advances and that sort of stuff."
Jensen says the "real victims" in the situation are the seven new professors who are "coming into the university with an absolute cloud over them now as per their teaching ability and how they got the job."
Jensen adds there was no open competition for the positions and he believes the hiring decisions were not based on merit. All of the new hires, however, have PhDs and therefore meet the base-level qualification for a sessional teaching appointment.
"I have five years of experience at the U of A, and I have exemplary and very high student and chair evaluations," he said. "I should have been offered the courses before they were given to new instructors, just based on that."
Jensen has filed complaints with the Provost's Office alleging that Tykwinski's hiring decisions violated the university's Recruitment Policy. He claims that the new instructors are "associated individuals," which the policy defines as "an individual whose employment by a staff member would have the appearance of being a conflict of interest including consensual personal relationships and business relationships." However, the policy also states that "family members or associated individuals may apply for positions but the staff member involved will not be included in the recruitment process or decision."
Jensen is currently working with the Association of Academic Staff University of Alberta, because he believes the hiring decisions go against the university's collective agreement with academic staff which states that a department chair should first notify current university staff of open positions, let them indicate their interest, and consider their applications based on their qualifications and length of service.