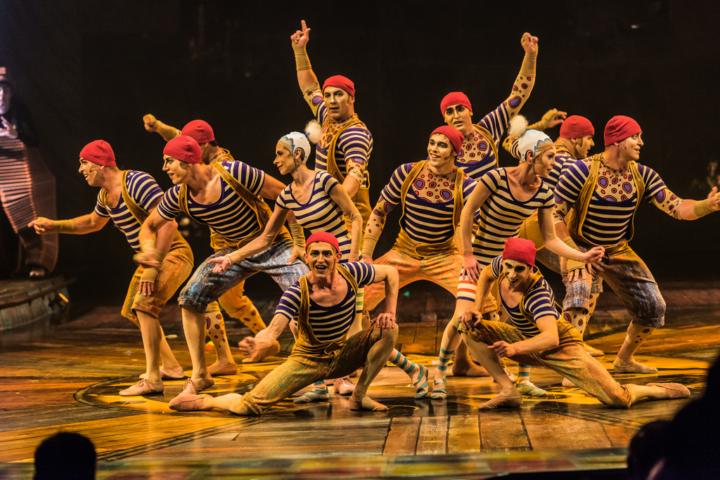 KURIOS – Cabinet of Curiosities by Cirque du Soleil
Written and directed by Michel Laprise
Where: Big Top at Northlands
When: July 20-August 13, 2017
Tickets: Regular — starting at $49; purchasable online 
https://www.cirquedusoleil.com/kurios
---
Beneath the iconic blue and yellow canvas of Cirque du Soleil's Grand Chapiteau, the steampunk marvel Kurios: Cabinet of Curiosities transports viewers away to a delightfully unique atmosphere full of 19th century elements and matchless curiosities.   
Under the big top, intricate gear work surrounds a stage alight with glittering incandescent bulbs while melodious gramophones meander across tiny train tracks. Bodies contort in dizzying harmony, and a dinner party toasts the opening night upside down at 30 feet above the heads of gaping audience members. In this dazzling night of showmanship and spectacle, the performers brought the creation of Charles Laprise to life.
Kurios follows the adventure of the Seeker, a scientist whose invention transports him to a world of imagination as an array of curiosities are animated around him. With an aura of playful mischief, the talented clowns, musicians, dancers, and acrobats of the Cirque whisk audiences up in dynamic costumes and even more enrapturing personalities. From Klara, a "telegrapher of the invisible," to the serious Mr. Microcosmos and Nico the Accordion Man, the cast of Kurios is an endearing treat.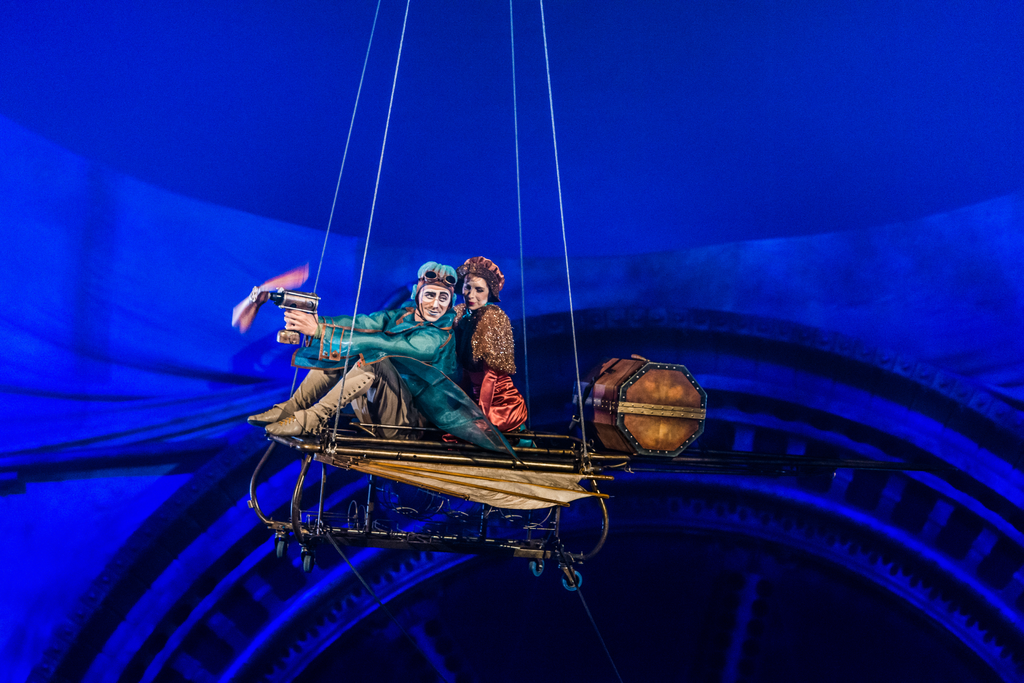 The show has a natural flow from bouts of clowning and mirth to stunning acrobatic acts. The pacing keeps audiences engaged in the bustling atmosphere with each second, suspended in this ethereal time with a hazy daydream of whirring parts and clicking gears. Bursts of audience interaction throughout the show bring the energy offstage and spread infectious laughter to entire sections. Infamous Edmonton weather and a bout of heavy rain and thunder lead to a brief pause in the performance, but with quick direction and only a slight delay, the acts were cleared to be completed in full.
Aside from the thematic novelty of entering a world of altered realities, the athleticism of the performers themselves was otherworldly and the strength, flexibility, and overall exuberance were a delight to watch. With childlike glee, a group of brightly-leotarded and finned performers-turned-fish flew nearly to the roof of the tent propelled by each other's weight and the Cirque's novel acronet, a contraption similar to a trampoline spread across the stage. An incredible group of acrobats closed off the show with a routine of breathtaking backflips and blind leaps.
What makes the Cirque such an enduring company — and Kurios such a successful show — is the patent artistic twist the direction brings. Whether it be the new acrobatic apparatus of the aerial bike or performances done in parallel as performers balance from the ceiling mirroring the show in the ground, this escapist delight is just the right amount of strange and the atmosphere of Kurios makes it a trip like no other. Audiences of all ages can enjoy this playful romp through a world of imagination and the stunning atmosphere under the Grand Chapiteau at Northlands.