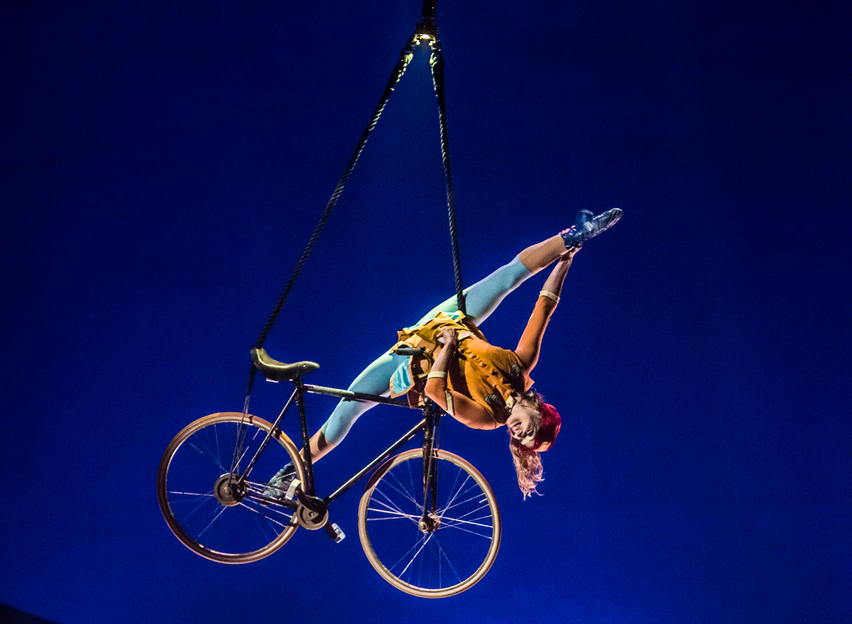 KURIOS – Cabinet of Curiosities by Cirque du Soleil
Written and directed by Michel Laprise
Where: Big Top at Northlands
When: July 20-August 13, 2017
Tickets: Regular — starting at $49; purchasable online
---
The Circus is in town! Or the Cirque, to be exact.
From July 20, 2017 – August 13, 2017, Cirque du Soleil's talented performers will be under the Big Top at Northlands with Kurios: Cabinet of Curiosities. This steampunk spectacle promises to dazzle with an eclectic cast and unparalleled acrobatics. Before opening night, performers Andrii Bondarenko and Anne Weissbecker took the time to share what they love about their unique jobs and what audiences can look forward to.
Weissbecker loved performing from a young age and trained at the National Circus School of Montreal, specializing in rope. Kurios is Weissbecker's second Cirque show — each performance, she'll share her unique aerial bike act, which took six months to develop.
Bondarenko, on the other hand, comes from ten years in acrosport and performed in Europe before coming to work for Cirque. In past years, he was a Banquine flyer with a large group of acrobats; recently he transitioned to a solo act: balancing his whole body weight on his hands while elevated on chairs.
Kurios is filled with work that puts a spin on classic acts. This is the first time an aerial bike will make an appearance in a Cirque show, which means there are no precedents. Without set tricks, "You have to find everything — the tricks and the choreography and what (works)," Weissbecker says. The bicycle, which has not been adapted for acrobatic maneuvers, has spinning pedals and wheels; Weissbecker must pay attention to the positioning of every aspect of the apparatus right down to the constantly turning handlebars.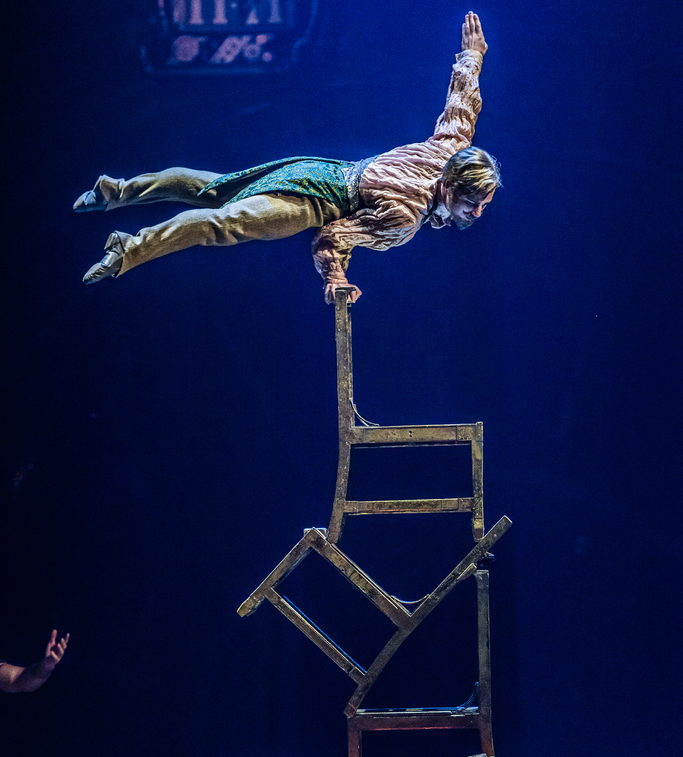 Bondarenko's hand balancing comes with its own novel twist: at the peak of his act, he balances atop a grand total of six chairs stacked above the stage. "If you don't put the chair on right spot, they're all going to shake each time when you climb up higher and higher. You have to be really careful with the first three chairs (especially), because (if they're off-balance), you'll have trouble," Bondarenko says.
While each act has its own tone, something the pair appreciates about Kurios as a whole is how it transcends age and makes for an inclusive show. According to Weissbecker and Bondarenko, the atmosphere of Kurios — from its antique vibe to its gramophone decorations — is sure to be exciting for audiences and performers alike. Aside from the show's unique acts, the sheer intricacy of the entire performance is something Bondarenko says will have audience members coming back.
"You know, so many people (come) to see (the show) a few times, because from one (viewing), you can't see all the details," Bondarenko says. "Many things are going on onstage, and they're great acts, and sometimes it's even better to go and see from different seats. From different angles, the show looks different."