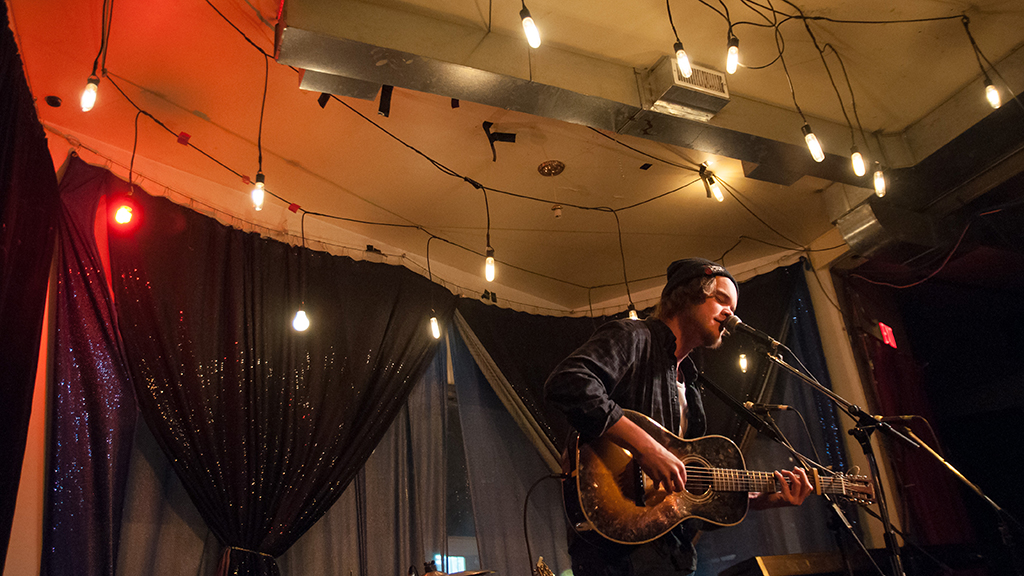 Music venues shape a city's sound and personality, not only giving artists a stage to perform on, but a place where a community can come together, have a brew, and appreciate the local culture. However, music venues face significant challenges — something abundantly clear for many smaller ones in Edmonton, including the recently opened The Forge on Whyte.
"We've lost too many venues," says owner and manager of The Forge, Dale Weran. "Too many have tried to only help out bands and we've lost them because of it. If we're not doing things right, we're going to be in the same boat."
As an experienced promoter in Edmonton, Weran isn't a newcomer to music scene challenges. He's been putting on local shows for years at places like the Starlite Room, Brixx, and Rendezvous Pub. Now, he will be doing the same at his own venue.
The Forge, which sits inside the Whyte and 105 St. space of the former iconic venue, The Pawn Shop, lives and breathes music, even when it's silent. Stage lights dangle above a vast stage, which sits across from a gargantuan mixing desk — a seemingly perfect platform to host a wide spectrum of bands. The Forge has everything a venue needs to succeed, but Weran and his team need to navigate the issues that face the small venues throughout Edmonton, and one of importance is developing local talent to fill their stages.
"You need to support small bands, so they can turn into large bands," Weran says. "If you have a brand new band that brings out 50 people, most of them are friends and family who aren't going out to a show again, and only 20 to 30 per cent (of the total crowd) are actually coming out to a show. I don't care if (the small band) makes money (for the venue), we're gonna need to put them on stage, (so one day they become) a band that will be the draw and make the money."
While The Forge, and other similar venues, hope to support smaller acts in order to foster a larger music scene, there is more on the business-end of the spectrum that creates obstacles to survival. In a rather brief period of time, The Pawn Shop, Bohemia (which has since reopened), and Wunderbar all closed, leaving Edmonton's music scene in dire straits. While the community is back on the rise, venues must look first to other sources, besides music, for income.
"When you have a bar like ours that brings in live music, most of the money comes from the bar (not tickets)," Weran says. "People need to drink, unfortunately, and that's the biggest obstacle."
Looking first to liquor sales to sustain the music side of their business creates a strange situation for venues like The Forge. While owners are happy to see people come out to a show, they can still be nervous if those people don't drink.
"I don't want to advocate getting sloshed," Weran says. "But people having a few drinks, enjoying themselves, being safe, while ultimately enjoying their time gives (the venue) money to keep things running." It's a trade-off venues have to make.
Another difficult factor Weran notes is the policies for businesses around all-ages events. For example, venues need a restaurant or kitchen in order to have an all-ages license, which creates further complications.
"For someone like me to get an all-ages show, I have to kill my liquor license for a whole day, not just for the whole show," says Weran. "For me to do that on a Saturday night, that would hurt."
The result of this is many younger music fans can't participate in the music scene until their 18th birthday. For venues that rely on the liquor sales to support the music, these policies make it hard to foster a younger generation of music fans. Some venues, however, such as the Sewing Machine Factory, are inclusive of all-ages, and as a result, see a loyal youth turnout to their shows. Despite this, Weran says the city "doesn't have enough all-ages venues to get younger people out for music," meaning local music remains out of reach for many younger music aficionados.
Even with its difficulties, Weran believes Edmonton and its collection of venues have potential. While being a part of this community comes at a financial cost and with many risks, Weran represents an optimism from those in the business, who are prepared to do what it takes to keep smaller venues, the heart of Edmonton's music scene, alive and kicking.
"We don't have lack of people, or artists," Weran says. "We just have a few little challenges we have to get over."
---
Venue round-up
For music fans that want to familiarize themselves with the Edmonton music scene  or even just want to catch a local show, these are some of the venues throughout YEG to check out.
Starlite staple
Starlite Room (10030 102 St. NW) is a venue tentpole. Its beaten and worn-in brick and wood aesthetic is lived-in, but having been built in 1925, it isn't without history. Bands including Nirvana and Green Day graced Starlite's stage before they were household names. This musical landmark now sees more high-profile touring acts, but is known to host smaller battle-of-the-band nights and album release parties as well.
Make it Mercury
It may not exclusively host Queen cover bands, but the Mercury Room (10575 114 St. NW) is still a fantastic spot to catch local acts and more. With its every-man atmosphere, anyone and everyone is welcome to enjoy a show on any night — just don't expect to find the same genre playing twice in a row. The Mercury Room owns the "pub-stage" aesthetic, from the tea-lights on the ceiling to its particle board floor.
Don't count out cafés

Unassuming venues, such as Cha Island (10332 81 Ave) and The Clever Rabbit (10722 124 St.) are great to catch tiny, living-room-esque shows. Both are inconspicuous during the day — Cha Island is a tropical café/lounge with killer waffles and fruit smoothies, and The Clever Rabbit is a cat-obsessed vegetarian café — but both can be transformed into intimate space at night. Hosting many first-time acts, across a multitude of genres, bands of all types can hone their craft in these quaint cafés.
The list doesn't stop there. Spots like the aforementioned The Forge on Whyte, The Aviary, and Sewing Machine Factory also provide spaces in our city to make  concert memories.