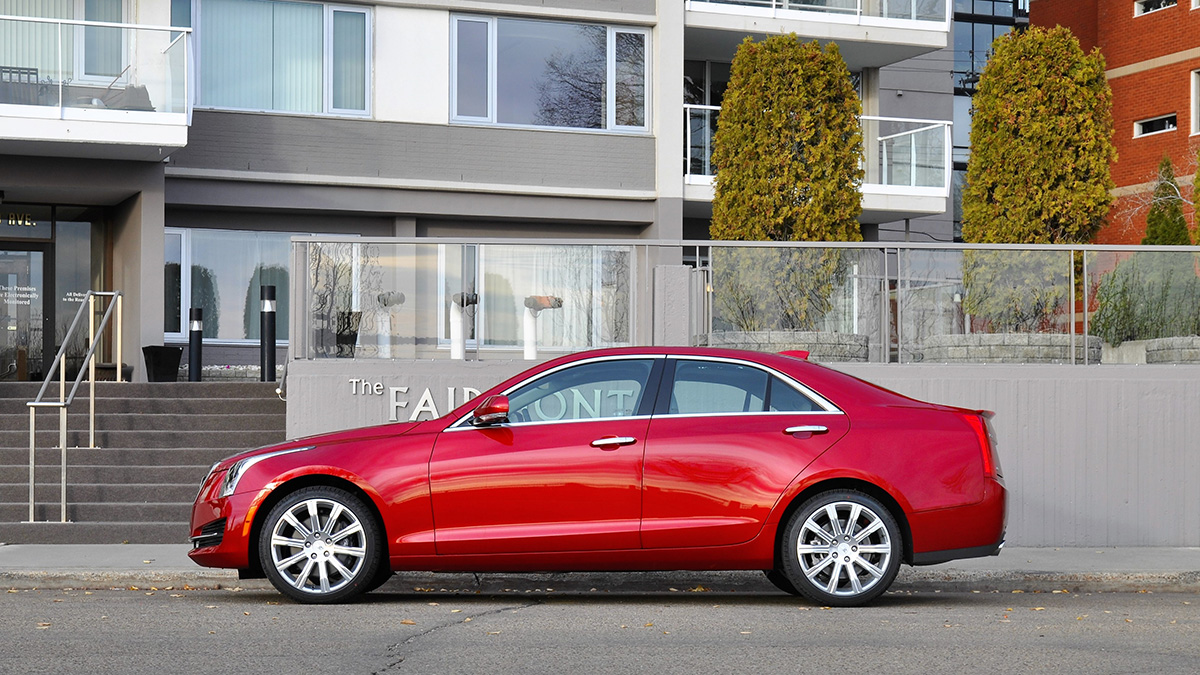 "Fighter jet on wheels" certainly isn't the stereotypical description of Cadillac handling. However, decades of the make building land yachts have all been undone by the 2017 ATS.
Let me say it now: this is one of the best handling cars I have ever driven.
Changing drive modes from "tour" to "sport/track" is like transforming from a pudgy overweight middle-aged man into an Olympic gymnast.
Driving the Cadillac is loads of fun. When you match a 2.0L turbocharged 4 cylinder engine (I know, not stereotypical Cadillac) which produces 272HP and 295 ft/lb of torque with a 7 speed transmission with magnetic-ride control and all-wheel drive, the magic begins.
Driving the ATS feels like doing open heart surgery. If the scalpel is your steering wheel, the road is your patient. Like a surgeon making precise cuts, the ATS is nimble and precise. The steering is weighted properly and handles with oversteer. Throttle response, steering and suspension stiffen up tremendously in sport mode giving the car a tight, racy feel. At highway speed, steering is smooth and precise. There was not an ounce of body roll and at no time did I feel like I was even remotely out of control. Though it doesn't have nearly the speed as similar cars coming out of Germany (read: BMW 340i and Audi A4), the car is impeccable through turns.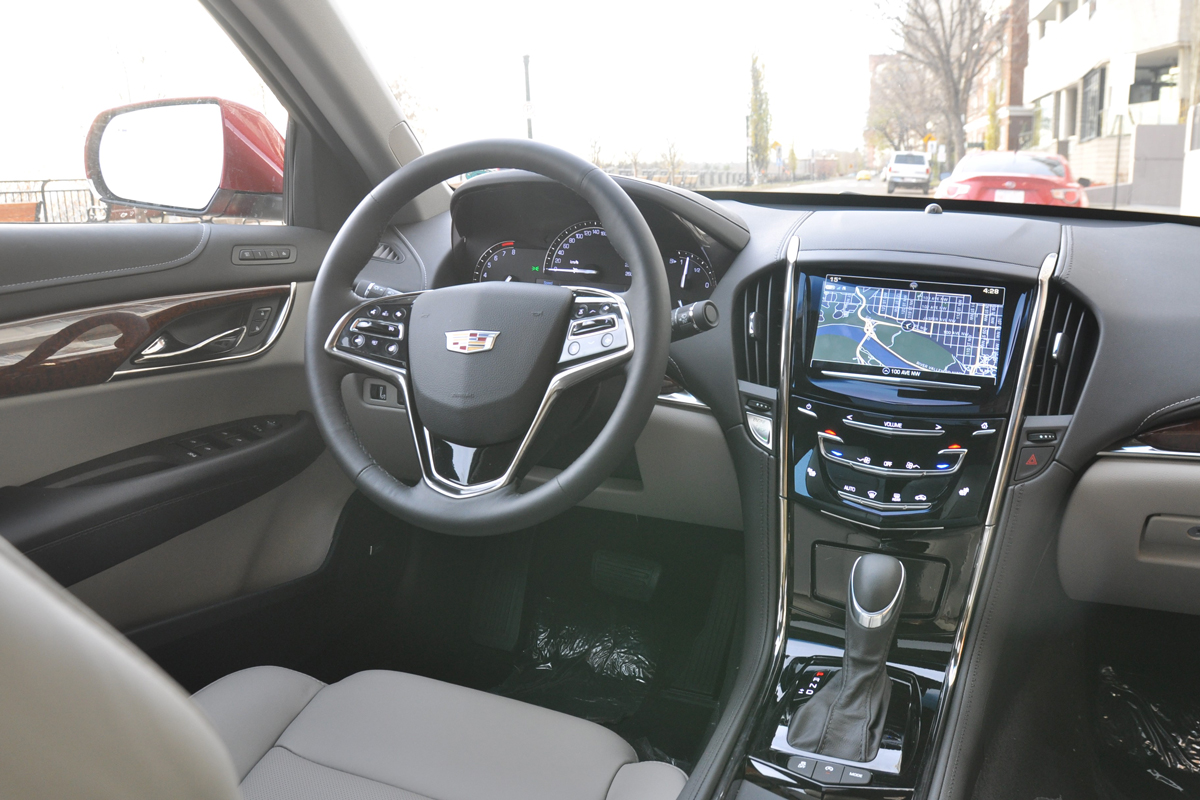 Though Cadillac has more than caught up to Europe in the handling department, their interiors lag behind. At a glance the cabin looks inviting, but build quality is a little lower than I'd like for a car costing $55,000. Criticizing the buttons on the steering wheel might seem like nitpicking, but the hard plastics could have easily been metal, and easily be made to click in a more satisfying way. Also, while the CUE infotainment system (which supports Android Auto and Apple Car Play) is easy to learn, I found it a bit laggy at times. Voice commands were also sometimes misinterpreted.  Instead of traditional buttons, Cadillac went with capacitive touch buttons for the main console. This can make the console look like a boring mass of black plastic that gets caked in fingerprints. This was irritating, as sometimes as I would need to push two or three times to get the fan on.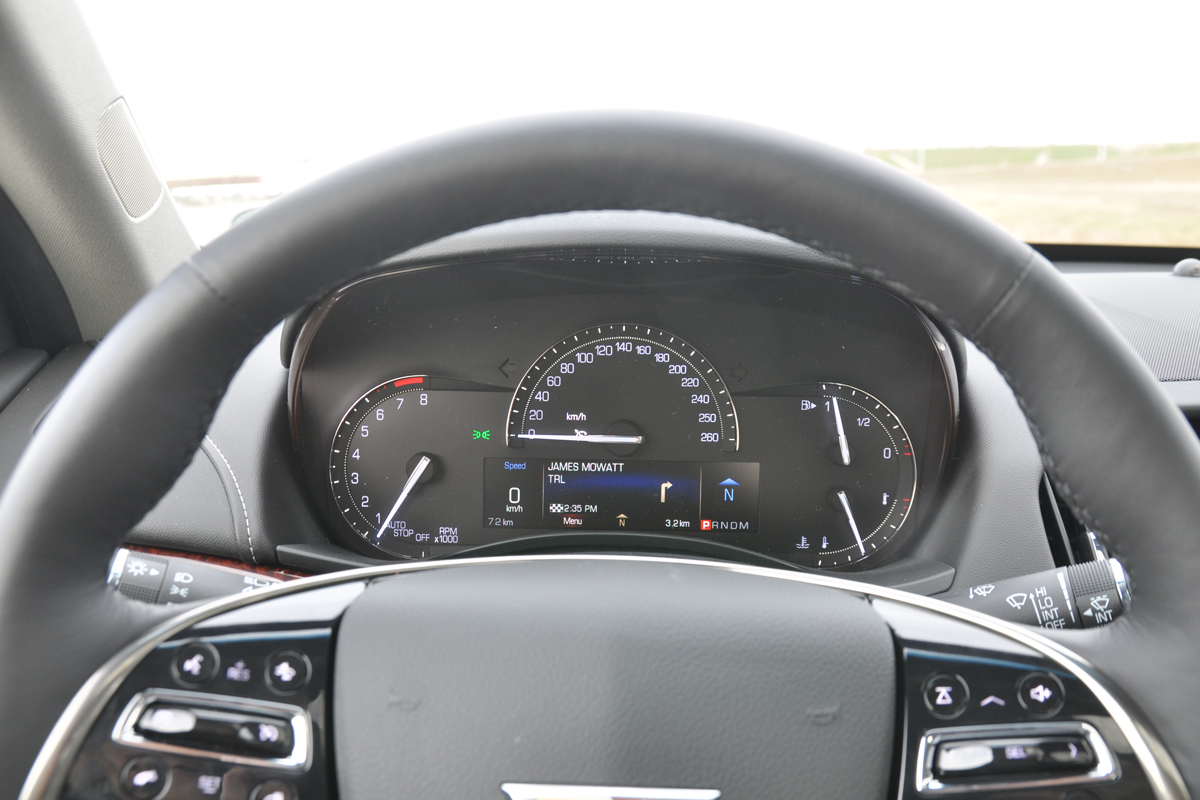 Otherwise, the interior was fine. The seats are comfortable, visibility was decent except for a major blindspot in the rear driver's side corner. The only real downfall was rear seat headroom, which was minimal at best. Blind spot detection, collision prevention, and a slew of sensors come standard. At low speeds the car has a front and rear sonar which will prevent you from driving over the curb or hitting something you can't see — this is instead of a 360 camera. Rear-view camera is included and tactile door handle open/close functions come standard with keyless start.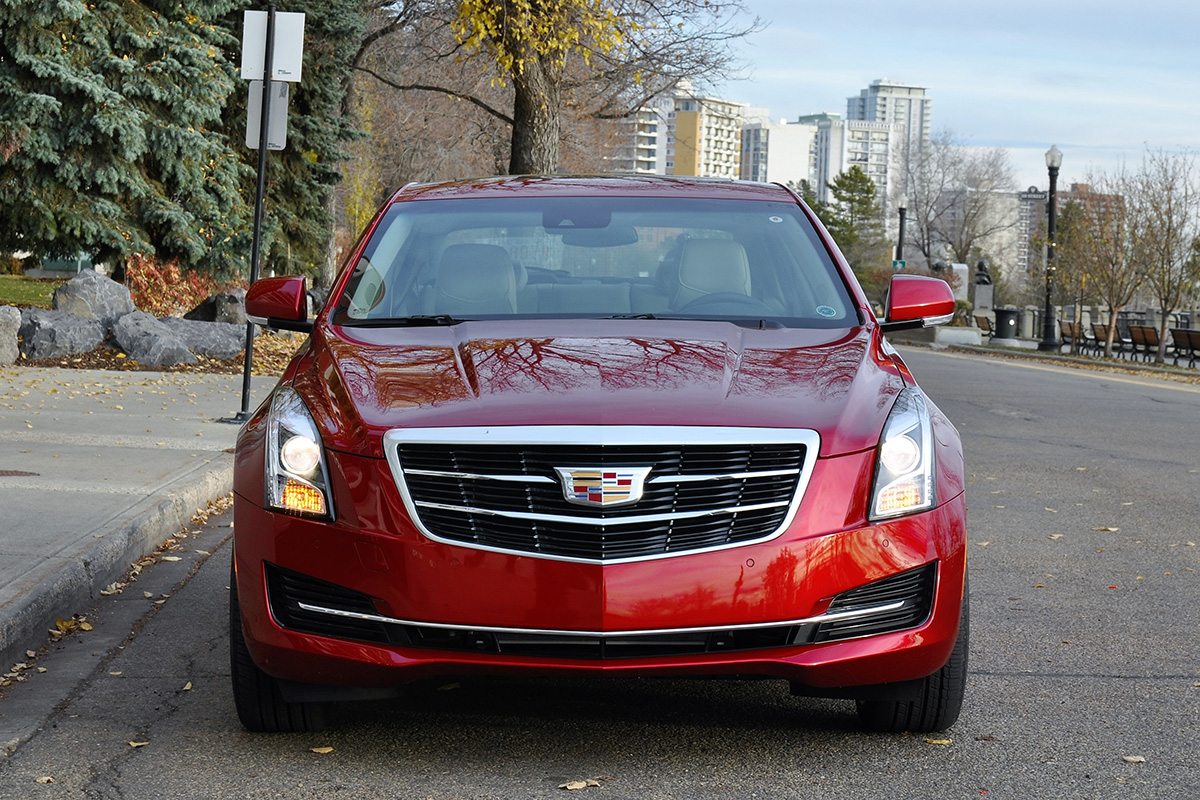 In all, the Cadillac is a car as close to perfection as it is not. In the handling department the car is astonishing. No car points on the road as well as the ATS for the price. Yet, the superb handling is tragically soured by an interior that needs improvement. If the ATS will be purchased as an affordable luxury sedan (it starts at $45,000 + GST), the car would be a spectacular choice. It is super fuel-efficient from my personal driving experience thanks to smooth and quiet engine start/stop technology, and unlike German cars it'll take either 87 Standard or 91 Premium at the pump. While I'm not quite sure if this car is ready to beat German luxury cars just quite yet, it's getting close. If I had to give the Cadillac brass some advice, go kidnap Audi's interior designer, and no one would buy a German luxury sedan again.