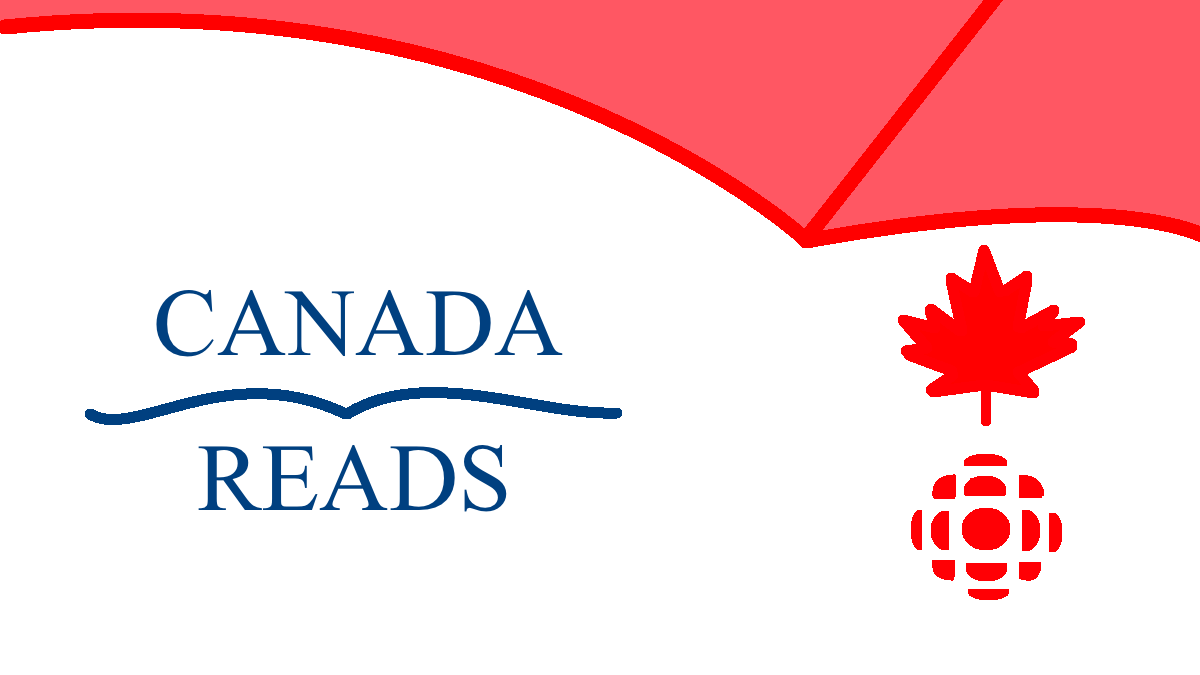 If you're the kind of person who gets unnecessarily competitive while playing Monopoly and you're also a literary fanatic, you might want to tune into this year's Canada Reads.
CBC's Canada Reads is a book competition that pins five Canadian-authored novels against each other. As the novels' representatives, various Canadian celebrities and notable figures face off in daily debates. Each year, Canada Reads poses a question, and to win, the book must provide the best answer. This year's question is "What is the one book Canadians need now?"
Throughout the duration of the competition, the representatives will defend their choices, provide a pitch as to why their book should win Canada Reads, and vote off a competitor each day. It's Survivor for books. The competition starts on Monday, March 27, and the winning book will be chosen on March 30. You can tune into the debates on CBC-TV, CBC Radio One, or watch the livestream on CBCbooks.ca at 9:00 a.m. (MT). 
You can check out each of the contenders below. Five writers from The Gateway have each chosen a novel to read, write a short review on, and provide their own pitch as to why it should win Canada Reads. 
---
The Break by Katherena Vermette (defended by Candy Palmater)
The Break doesn't mess around. Katherena Vermette's debut novel is unflinching, uncompromising, and raw. It opens jarringly with the rape of a young girl and then slowly takes it time unraveling the complicating web of characters directly or loosely related to the crime. Every character the novel follows is complex, each with their own struggles and problems. In fact, there are ten of them; the young mother who witnessed the crime, her relatives dealing with broken homes or addiction, the police officer investigating, and a few others.
While the opening crime is present in the background throughout the novel, The Break's true focal point is its relationships. The novel explores the relationships between family members and friends; characters and their Aboriginal or Métis roots; characters and poverty or addiction. However, the most important relationship The Break investigates is between its characters and their community. The novel is set in an impoverished neighbourhood on Winnipeg's north side, where Vermette herself grew up. This is where the novel takes its name from – the break is a small strip of undeveloped land that runs through the heart of that neighbourhood and where the novel's opening crime takes place.
Ultimately, The Break is an impressive debut novel. While a work of fiction, the novel's cast of broken characters and their community, full of crime and poverty, is a little too real. The only gripes I can muster against the book are that The Break is quite slow-paced at times and it can be a little difficult keeping track of who's who. Thankfully, the novel provides you with a handy family tree, which I found myself checking frequently. Regardless, The Break is a beautiful novel, one that asks tough question and admits that it doesn't have all the answers.
The Pitch:
There's two reasons The Break is the book Canada needs right now The first is that the book's entirely about Indigenous people. Such characters are often excluded from Canada's literary scene, so a novel that discusses Indigenous people and problems so honestly is necessary, especially as Canada continues to work through its own relationship with its Indigenous peoples. The other reason is that the book's honestly beautifully written. Every line of the novel is carefully composed and often they feel more like poetry than prose. Ultimately, for its subject matter and its beauty, The Break is the book Canada needs right now.
— Matt Gwozd
Update: This book was eliminated on March 27
---
Fifteen Dogs by André Alexis (defended by Humble The Poet) 
"Could other species find happiness if they possessed human intelligence?" is the central question that André Alexis' Fifteen Dogs muses upon. Centering itself on 15 hyper-intelligent pooches, Fifteen Dogs is a philosophical and political novel.
Noticing just how generally miserable humanity is, Hermes and Apollo make a bar bet that any other animal with human intelligence would be as miserable as we are.
To settle the wager, the Greek gods decide to give a group of doggos in a Toronto veterinary clinic the same human cogitative functions. Once escaping, the group of puppers must face the threats of the greater Toronto area — from humankind to dogkind.
The novel's greatest element, above all else, is obviously the titular dogs; each one is a complex, yet cuddly character in their own right, holding their own against literature's greatest – from Lassie to Air Bud. If you like dogs, philosophy or excellent Canadian literature, then I cannot recommend Fifteen Dogs enough.
The Pitch:
What makes Fifteen Dogs such a strong contender for CBC's Canada Reads 2017 is its expansive scope of topics. By transposing something we take for granted to canines, Alexis is able to question the very facets of humanity more than most books actually about humans. Fifteen Dogs is kind of like Philosophy 101 but with a desperately needed puppy element. And it discusses  complex issues (language, dominance, friendship) in simplistic yet hilarious manner.
— Sam Beetham 
Update: This book is the winner of CBC's Canada Reads 2017
---
Nostalgia by M. G. Vassanji (defended by Jody Mitic)
In M. G. Vassanji's futuristic novel, nostalgia isn't as euphoric as we're used to.
In the novel, also entitled Nostalgia, nostalgia is a syndrome, a complication associated with people in a technologically-advanced, near-immortal society. New Generations (NGs) are given a fresh start that's free from their past and their respective emotional baggage by having artificial happy "memories" implanted in their minds. But sometimes that past seeps into their current state, and a "leaking memory" occurs, which intrudes on the present.
Frank Sina, the narrator, is a doctor in Toronto who specializes in helping patients with nostalgia syndrome. Patients' pasts are intended to be suppressed, especially those with dark secrets like "Rejuvies," rejuvenated individuals who may have been refugees, war criminals, or terrorists in their previous lives. Through notebook entries and conversations with Tom, a technological system like Siri or Alexa who can also understand a person's thoughts, it's clear Sina becomes fascinated with one of his patients, Presley Smith, who keeps remembering the phrase "It's midnight, the lion is out" and doesn't know why. Smith's condition unfolds alongside the story of Holly Chu, a journalist who dies while reporting on the illnesses and disparity in a fictional third-world, war-torn country called Maskinia.
The book is more than a piece of speculative fiction represented by a dystopian society. It addresses concerns and fears in today's society. In the world of Nostalgia, Maskinia is frightening and baffling to people beyond its boarder, it embodies the darkness and immoral aspects of society, and it is the "persistent unknowable alien," the "Other." People are intrigued with this insecure world but are quick to distance themselves from this "Other" and erase disturbing memories from their past. It's a society that fosters fearful individuals, and instead of coping with the fear or solving the problem, they simply erase it and fabricate optimism.
The Pitch: 
Today, the notorious millennial generation indulges in the fictional reality of social media, but Nostalgia takes us into another world — one that also indulges in an alternative reality and distances itself with the past and what's real. It should win Canada Reads because it successfully presents readers with current issues: problems of acceptance, refuge, privilege, identity, hate, and fear. It critiques the way we characterize and justify our fear from the racial "Other." Just like how the world of Nostalgia fosters fictional happy memories, our world fosters fictional ideas of the "Other" and irrational fears of the unknown.
— Ashton Mucha 
Update: This book was eliminated on March 28
---
The Right to be Cold by Sheila Watt-Cloutier (defended by Chantal Kreviazuk)
As the Earth gets warmer day by day, does anyone keep their right to be cold? Sheila Watt-Cloutier argues the world must help those in the North keep that right to preserve our humanity.
In this extensive memoir, she describes her experiences growing up in the North.  From here, she expands her experience into how she impacts Arctic indigenous communities through her upbringing in the North. Watt-Cloutier argues the global society has an obligation to live more sustainably, or risk harming the earth beyond repair. Society would also be complicit in human rights violations in the process, by the subsequent destruction of Inuit culture.
An inherent property of this book is that it is quite detailed both politically and bureaucratically. The Right to be Cold might imply a legal dimension, but the text gets bogged down in acronyms and terminology often found in a reference book, not a memoir. It can be easy to get frustrated or even bored with some parts of the book, as Watt-Cloutier struggles to find her voice in some chapters. She seems to hold back, and that is the main flaw of her memoir.
However, that fault is trivial compared to the skill Watt-Cloutier shows in conveying her values. Her passion is clear throughout, and her message steadfast: The Arctic is the world's biggest sign climate change is coming on strong. The world must come together to ensure the Arctic and its culture are not lost.
In addition, Watt-Cloutier includes her experiences as an indigenous person living in Canada. She recalls most everything from the horrors of her Manitoban residential school, to the indifference of the Canadian government, to questioning how she identifies herself in the changing political and physical landscape of the North.
In The Right to be Cold, Watt-Cloutier extends the arena of climate change past that of neoliberals and vocal activists that want to become more sustainable for the sake of the planet. She extends the arena to connect human rights, as well. By advocating for sustainability from an Arctic perspective, Watt-Cloutier successfully incorporates the human element.
The Pitch: 
The Right to Be Cold ought to win Canada Reads because it displays an unfiltered Canada with a dark past, and a call to action to help all Canada's citizens.
Canadian history is generally viewed as how Britain and France settled on occupied land and set up a fur trade. Yet, Canadian history is much deeper than that. The Right to be Cold educates more broadly on indigenous culture.
— Alexander Cook
Update: This book was eliminated on March 29
---
Company Town by Madeline Ashby (defended by Measha Brueggergrosman)
A murder mystery set on an oil platform populated by Newfies… so Fort Mac on a good night?
Madeline Ashby's novel Company Town follows Hwa, a bodyguard for prostitutes, as she attempts to navigate the rig in search of answers for the recent string of murders. The book is a thriller with a science fiction backdrop that attempts to establish its own rules. To set the world of the book up, most other humans have been cybernetically enhanced and Hwa is one of the few who hasn't. It also exists in a cyberpunk-esque world where humanity lives on offshore oil rigs.
The book is good. Frankly, what's best about it is the protagonist.  She was a strong female character in a sci-fi setting and it's not an Alien clone. The book largely works because of this fact. It's refreshing to have a strong female character lead a great story in a genre overpopulated with weak characters and lacking compelling stories.  It avoids tropes and does a really great job at setting up its universe in way that is intriguing way. It genuinely made me want to learn more about and I hope that Ashby writes more in this word.
The Pitch:
The book deserves Canada Reads because it combines oil and displaced Newfies and if that ain't more Albertan, I don't know what else is. After a rough couple of years, I feel Alberta, and to a further extent Newfoundland, need this win.
— Nicklaus Neitling 
Update: This book was eliminated on March 30