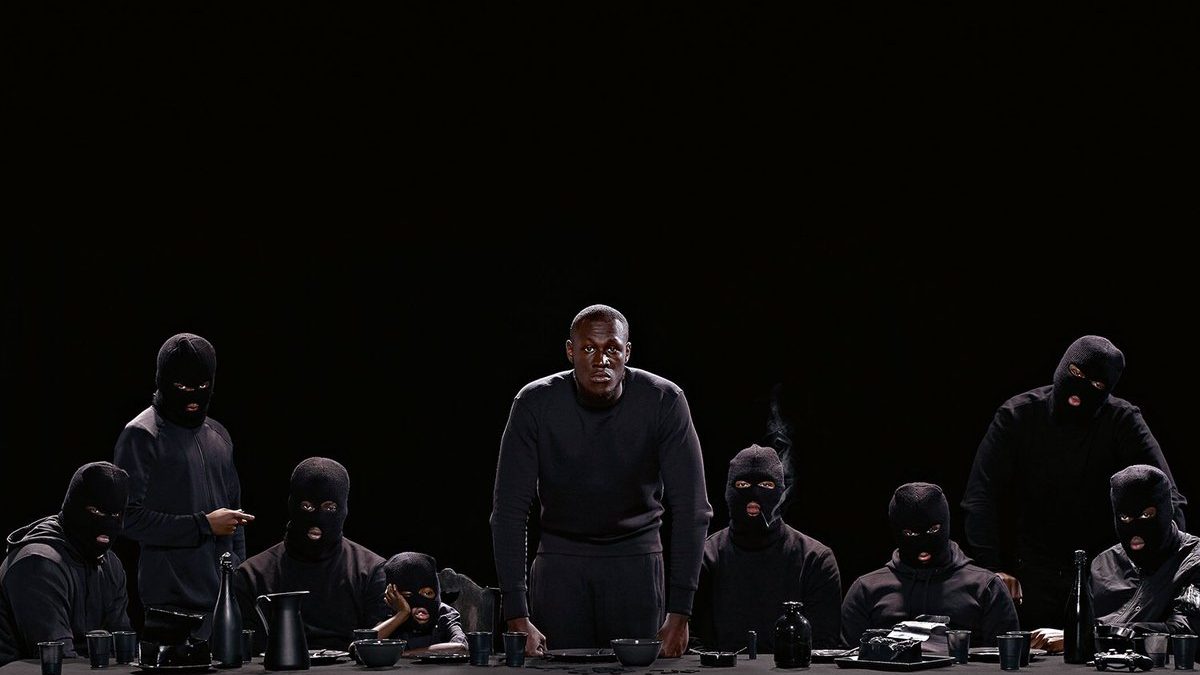 "A bunch of young men all dressed in black dancing extremely aggressively on stage, it made me feel so intimidated and it's just not what I expect to see on prime time TV."
For most of the North American, non-initiated public, it was Kanye West's explosive performance at the 2015 Brit Awards, which featured West flanked by 30 "goons," that introduced them to the genre of rap known as grime. The quote above comes from a skit in the infamous "Shut Down," which mocks the uproar following the performance among (mostly) middle class viewers, who were not used to what grime artists like Skepta and Stormzy delivered that night on the award show's stage.
Despite generating some mainstream interest post-performance, grime's popularity has still generally been limited to the geographic area of the UK — where it has its roots. Even with the additional cosigning of grime artists by notable mainstream musicians (like Drake), the genre's acceptance in North America has been surprisingly slow. There are a lot of factors responsible for this but chief among them is grime's refusal to change for any audience. The genre is harsh, often abrasive, and highly critical of inauthenticity; it doesn't reward artists who pander to other cultures for success.
For the small section of the public who might be interested in acquainting themselves with this sound of music, but need some direction, here are a couple records to check out on your journey into grime.
---
Stormzy
Gang Signs & Prayers
#MERKY
https://www.stormzy.com/

Stormzy went to town on this album, laying down a sort of interspersion between grime and R&B. Despite his ambitions however, the inventiveness and boundary-hugging nature of grime doesn't bond well with Stormzy's more tame R&B and singing attempts on the record. While you cannot fault him for trying to incorporate something new into the traditionally grime style, his singing doesn't do anything to convince me it should have a place in his music. In actuality, the addition of singing achieves the opposite effect of engagement, taking me out of the songs it's featured in, in a rather irritating fashion.
The strength of Gang Signs & Prayers lies exclusively in the tracks where Stormzy unleashes his prowess as a true grime artist, running through raw instrumentals with an unfiltered energy. He demolishes each beat he faces with innovative flows and cadences, his confidence communicated with a seemingly effortless delivery. Also, the honesty and reality of Stormzy's lyrics provide the record with some needed colourful uniqueness, with bars like "I love my hood but the hood shit bugs me" making up for some of the woes felt by his singing.
For a genre that's traditionally better when it operates outside the box, Gang Signs & Prayers is best when Stormzy sticks to what he knows best about making grime music.
Tracks to check out: "First Things First," "Cold," "Bad Boys," "Big For Your Boots," "Return of the Rucksack," and "Shut Up"
---
Wiley
Godfather
CTA
https://www.wileyofficial.com/
Presented as a parting gift to the genre he helped birth, Wiley's Godfather is an embodiment of the genre's best tropes: raw, hungry, and unfiltered.
For anyone interested in understanding the allure of grime, this album is well worth a spin. The record is cohesive and homogeneous to the core, with no throwaway tracks among the healthy 17 it houses. A concentration and dedication to upbeat rapping is consistent throughout Wiley's vocals on the record, as he skillfully utilizes numerous flow patterns on every beat pattern that comes his way.
Aside from the main act, all guests give the album added strength. Wiley's chops as a producer are on full display despite the fact that he doesn't actually produce the majority of the songs. But he ensures every guest fits into the atmosphere of the track they're chosen for, complementing efficiently with Wiley. Peep Flowdan and Jamakabi's effortless assist on "Pattern Up Properly,"  or JME, Frisco, and J2K's annihilation of the industrial beat on "Name Brand."
Ultimately, Wiley achieves a rare success on the album, successfully mining the roots of a genre while presenting it with a touch of exciting innovation that keeps it sounding fresh — even 20 years into his career. If this is his official bow out, "The Godfather of Grime" has justified his title unequivocally.
Tracks to check out: All of them.