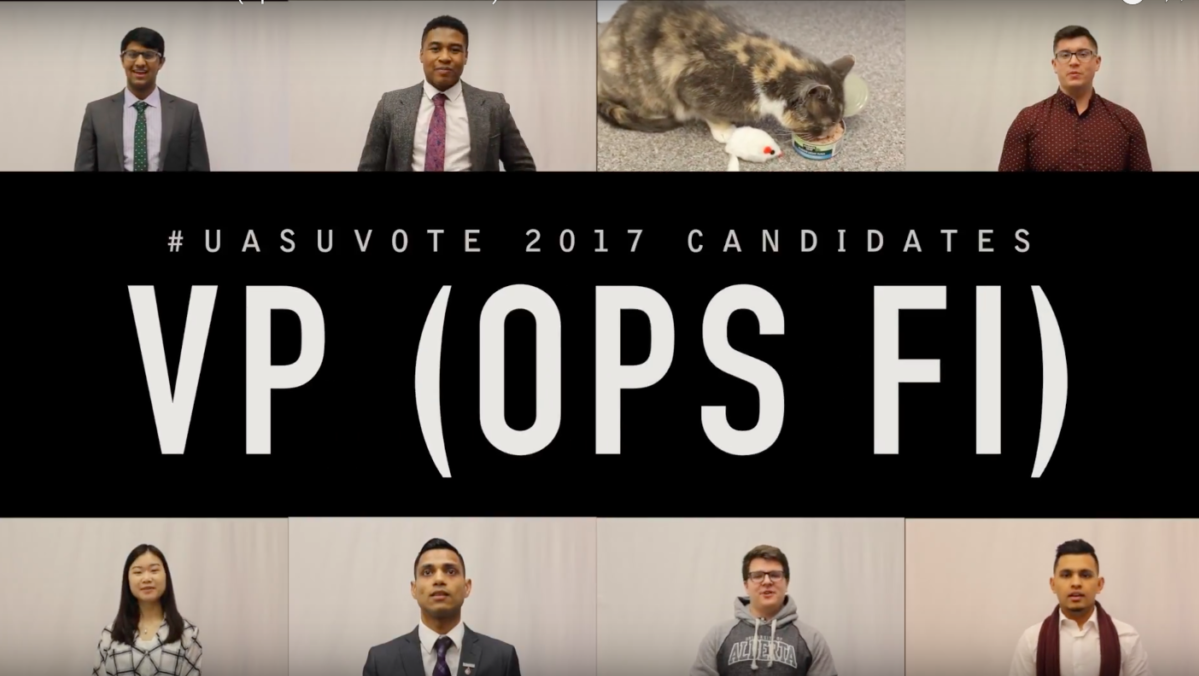 The Students' Union Vice-President (Operations and Finance) oversees the organization's $11 million operating budget. This includes overseeing budgeting around Students' Union fees, and working on committees and boards for dedicated fee units (student groups or units that are funded by Students' Union fees). Business-wise, it involves overseeing strategy for Students' Union food vendors which include the Daily Grind, Dewey's, L'Express, and Room at the Top. Students' Union Building-wise, it involves managing renters.
The following interviews have been condensed and simplified for clarity. Full recordings can be heard on SoundCloud.
Chen Liang
Robyn Paches
The Gateway: Why are you running?
Chen Liang: Over the past four years, I've voted in every student election for great candidates who proposed great changes. Yet, my student fees continued to increase while services provided to the majority of students stagnated. I'm sick and tired of no change. Just recently, the Students' Union membership fees increased by 10 per cent. I feel like not enough student input and consultation was in place. Just last month, the Myer Horowitz Theatre wants to take a third of their renovation budget from the students, and I think that's absurd. I'm running to watch out for the best interests of the student body and not for Students' Union government.
Robyn Paches: I'm running because our campus has a lot of room to improve, and I want to bring forward ideas to turn our campus into something even better than it is. I want to bring students back to campus through the specific points in my platform, and I think we could see a lot more vibrancy on campus if my platform is implemented.
Can you briefly explain your platform?
Liang: My platform has three points. First is expand and diversify the current Students' Union revenues. So that is looking into the feasibility of new business ventures and cutting down on business ventures that are not necessarily profitable. So, projects like building a Students' Union brewery pub at Dewey's. Secondly, I'm looking into eliminating unwanted and unneeded student fees such as the Myer Horowitz renovations, I don't think students should be paying out of their pockets themselves. And lastly, if we increase profitability by 4.6 per cent year over year, by 2020 we can totally cut out all Student Union membership fees.
Paches: Every point in my platform falls under one key line, "Bringing students back to campus." I firmly believe campus can be a much more vibrant place with even more students. I want to bring in the student voice to the Myer Horowitz theatre renovations by surveying and creating a report of student opinion on the theatre and integrating that into planning. Secondly, I want to make our bars the licensed living rooms of campus by bringing students in with specific student group partnerships and programming relevant to students. Lastly, I want to make sure our home is not falling into disarray. I want to advocate for more government funding for the university's deferred maintenance. Not only that, I want to have conversations with student leaders in each faculty to know which parts need repairing, because administration may miss the water fountain that is used most in a certain building.
Why should students trust you in managing an $11 million budget?
Liang: I believe I have the experience and the skills to manage an $11 million budget. Being an engineering student, I had the privilege of working on real life work experiences. I've managed industrial projects with over $3 million budgets and I've organized leadership conferences here at the university with budgets over $50,000. Just recently, I finished my term as a Chemical Engineering Students' Society president where I managed a budget of over $30,000 and allowed a team of 10 to represent students in chemical engineering.
Paches: The main reason students should trust me with that is experience. I'm the current sitting Vice-President (Operations and Finance), and I've been in the position for about nine months. I had a lot of experience not only this year, but then the year before I was on the Students' Council as the chair of the audit committee, as well as finance committee. I have a background in business with a major in operations management. I've developed a lot of experience this year in the relevant field.
If elected, how would you proceed with the Myer Horowitz renovation project that was started under this year's VP (Operations and Finance)?
Liang: I want to look into reducing the student cost that is associated with the renovations. I believe that it's unfair that students should be burdened with this additional cost since the initial pitch was brought to the Students' Union that students would not be paying for any of it out of their pocket. Next, I will look into additional revenue sources, maybe from provincial partnerships in industry as well as more government funding or from the University of Alberta. I don't think that the Students' Union should relay this cost onto the student body. I want this as efficient, as fast as possible so we don't delay the renovation of the Myer Horowitz Theatre.
Paches: What I've been developing this year is a set of decision-making tools. I'm aware that right now those individuals in governance this year may not be the ones making the decisions on how that project moves forward. I've been developing tools for them to make those decisions. Number one, we commissioned a feasibility study to analyze how much funding can be acquired for the theatre. We have a preliminary design which was approved at General Faculties' Council. We're also starting a market analysis to see where the theatre fits in Edmonton's theatre market. I want to commission a review on student opinion — I'll sit down with leaders on campus, host town halls, and have interactive displays in the Students' Union Building to develop a report on student opinion which will be presented to Students' Council and the public. That will inform all future decision makers on how far this project goes to best suit student need.
Do you plan to make any changes to RATT, Dewey's, and L'Express?
Liang: Yes, I want to make sure all these businesses are running like a business. I know they provide essential services to students. But, just look at Dewey's last year. They made a profit of $788. For a business that size, that's ridiculous. No business outside of Students' Union would survive through 2016 if they only made a profit of $788. I want to look into how we can cut out fat business operations and reduce expenses while maximizing revenues so we can boost profits and reduce the fees for students on campus.
Paches: Absolutely. Room at the Top has been moving towards a bit more of a modern feel this year. We rebranded it, and what I'd like to look into for both is furniture upgrades — those tables have been there for a long time. What I think is most important is the programming. I'd like to analyze both active and passive programming in each area and make sure that it's relevant to students, as well as work very hard to have specific student group partnerships. A lot of student groups take their bar events to bars outside of campus. I want to personally sit down with as many student group leaders as possible and develop partnerships so that those bar events can be brought back on to campus at Room at the Top and Dewey's.
JOKE: If the Students' Union created their own bank and currency for U of A students, who would you put on the hypothetical $20 bill?
Liang: If I were to choose one person to put on a $20 bill, I would say it would have to be William Lau. This guy has a great smile, very very likeable, and has been the last Students' Union President, I think in 2014. All in all, I think he would make a great face for the $20 bill.
Paches: If it's going to be on a student currency and a student bank, I would work with Students' Council to develop a shortlist of three to five names and put it to student vote. I think that's something that students need to vote on — past university leaders or influential alumni.