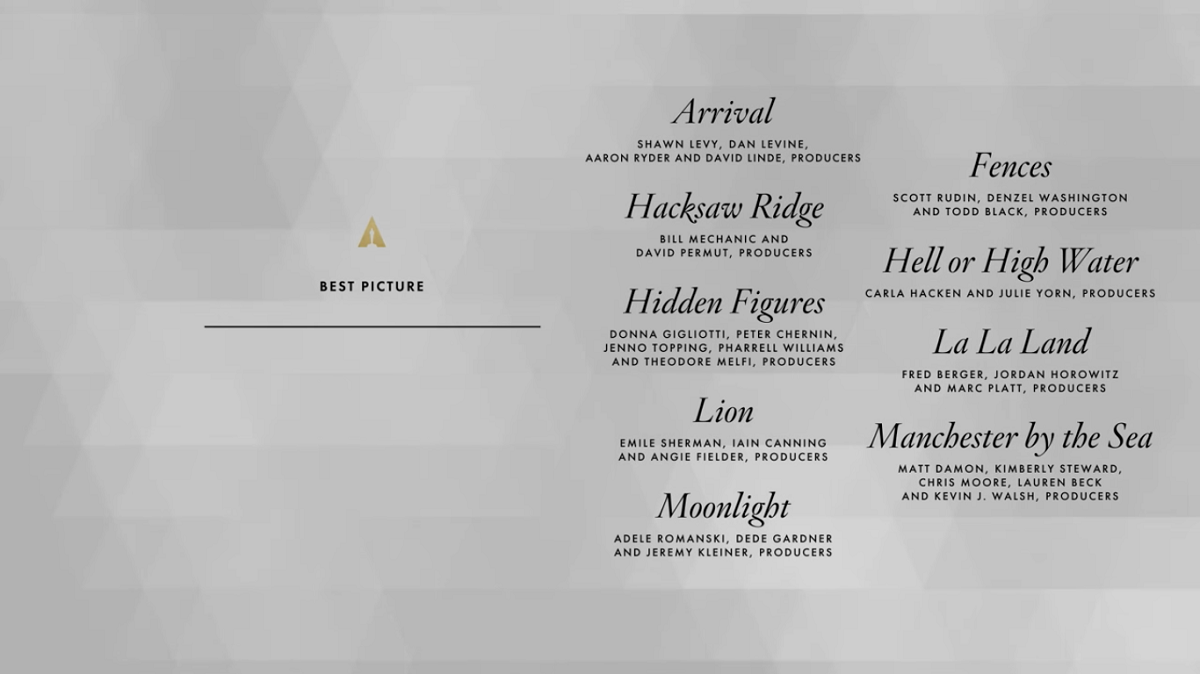 Cue the music, roll out the red carpet, sit your ass on your couch, and stuff your face with Doritos while this year's crop of beautiful people win awards for things you paid $16.25 too much to see. That's right folks, it's the Academy Awards!
We've got your backs for all of your Oscar pools this Sunday, offering our thoughts on what will win and what should win for all the important categories (sorry not sorry sound mixing and makeup and hairstyling…) At least one of our editors saw all the Best Picture nominees, so you know these picks are legit.
---
Best Picture
What will win: La La Land  
What should win: Arrival
Obviously the "best" film of the year will be different for different people. I enjoyed many of the nominees in this category. Hacksaw Ridge pleasantly surprised me, Moonlight is nuanced but powerful, even Hidden Figures and Lion take true stories and turn them into cinematic masterpieces. But Arrival was the best film I watched this year. For someone who's not a science fiction fan, I actually appreciated the concept of aliens arriving on Earth because it offers an interesting perspective on colonialism and the "other." With certain countries being quick to deem these creatures as the enemy, it sheds a necessary light on the political outlook of our world today. It's also a unique perspective on love and hate, time, and humanity. Although I think everyone should watch Arrival, I don't see The Academy not awarding a movie about Hollywood with the Oscar for best picture.
– Ashton
---
Actor in a leading role
Who will win: Casey Affleck, Manchester by the Sea
Who should win: Denzel Washington, Fences
I went back and forth in this category between Affleck and Washington. I wanted to like Manchester by the Sea, but I can't say I was wowed by Affleck's performance, and I know that's kind of the point: his character is stuck, he's mourning, and he's still in shock from a tragedy. Although Affleck's sexual harassment scandal may hinder his chances for this Oscar, ultimately I think The Academy will award Affleck for his nuanced, emotive performance and snub Washington for his explosive role in Fences.
My honourable mention is Viggo Mortensen for Captain Fantastic. Mortensen plays a dad who raises his kids in an unconventional way. It's such a weird movie, but it's really a critique on the "correct" parenting methods; it challenges standardized parenting and normalizing a child's upbringing in this day and age with the education system, social media, and technology. Also, there's a scene with full-frontal nudity from Mortensen, so that deserves a round of applause.
– Ashton
---
Actress in a leading role
Who will win: Emma Stone, La La Land
Who should win: Isabelle Huppert, Elle (but really Amy Adams)
Once I got past how uncomfortable Elle is to watch, I realized how great of a performance Isabelle Huppert delivered. Her character is raped several times by a masked attacker — the film literally starts with him on top of her. It's confronting, but she's not rattled. She's composed, confident, and strong, which is frustrating to watch but also admirable. The film is somewhat predictable, then it takes a turn, but throughout it, Huppert is solid. Emma Stone is okay in La La Land, and that's kind of the point: she's an average singer, dancer, and actress (as her character portrays for most of the film). Her character depicts the struggles of people trying to make it in Hollywood, and for that, The Academy will commend her with an Oscar.
– Ashton
---
Supporting Actor
Who will win: Mahershala Ali, Moonlight
Who should win: Mahershala Ali
(Who should have been nominated: Aaron Taylor-Johnson, Nocturnal Animals)
Dev Patel is definitely the honourable mention in this category, and he could be the dark horse at the Oscars. But even though Mahershala Ali's appearance in Moonlight isn't that long, he makes the largest impact. As the only father figure for the main character, you can't help but be drawn to Ali's performance as he cares for the protagonist.
I don't think he would have won, but Aaron-Taylor Johnson gave a compelling and disturbing performance in Nocturnal Animals, which won him the Golden Globe back in January. It's a shame he was snubbed from the Oscar nomination.
– Ashton   
---
Supporting Actress
Who will win: Viola Davis, Fences
Who should win: Viola Davis 
Fences is so painfully a filmed play. There's not enough settings and there's so much dialogue, it's exhausting to watch. But it's jam-packed with so much acting, and The Academy loves that shit. Also, Viola Davis masters snot acting, so she's the clear winner here. It's worth mentioning, however, that Michelle Williams is the highlight in Manchester by the Sea, and without Davis in the category, she may have taken the Oscar.
– Ashton
---
Directing
Who will win: Damien Chazelle, La La Land
Who should win: Damien Chazelle, La La Land
As much as I would like Denis Villeneuve to at the very least take home the "should win" for this category, Chazelle simply can't be overlooked. Unlike in other areas, this win would be well earned. La La Land is a gorgeous film, with camera work that captures every ounce of your attention and imagination. The dance numbers are particularly immaculate, recalling the personal nature of last year's winner, Alejandro G. Innaritu, and his work on The Revenant — you're right there with Mr. Gosling and Ms. Stone as they soak in the City of Stars. And that's downright irresistible.
– Sam
---
Writing (Original Screenplay)
What will win: Manchester by the Sea
What should win: The Lobster
While The Lobster, a film about Colin Farrell trying to find a mate in order to prevent himself being transformed into a lobster, really puts the original in Original Screenplay, it's Manchester by the Sea that'll take the win. It's possible La La Land will be too unstoppable for it to lose in this category — easily one of its least deserved — but I think this is another one (see Best Actor) where Casey Affleck's fackin' sad movie about grief, loss, and being from Massachusetts can beat out the happy(ish) one about singin' and dancin'.
– Sam
---
Writing (Adapted Screenplay)
What will win: Moonlight
What should win: Moonlight
Based on a play, that's based on the real-life experiences of its author… just give Moonlight the award already. In moonlight, golden statues of little men look blue.
– Sam
---
Cinematography
What will win: La La Land
What should win: All of them
In this category, every film nominated should take home a trophy. But this year, that's just code for, fuck it have another one La La Land.
– Sam
---
Music (Original Score)
What will win: La La Land
What should win: La La Land
Hahahaha none of those other poor bastards stand a chance.
– Sam
---
Music (Original Song)
What will win: "City of Stars"
What should win: "City of Stars"
See above. Go download it on iTunes right now. It's so damn catchy.
– Ashton
---
Costume Design
What will win: Jackie
What should win: Jackie
I haven't seen Jackie. But I know how much the Oscars love it when people get to play dress up as historical figures. According to Ashton, Natalie Portman doesn't make a very convincing Jackie O through her performance. But hey, at least she dressed the part.
– Sam
---
Animated Feature
What will win: Zootopia
What should win: Kubo and the Two Strings
The Oscars love their Disney animations, so if it's not Zootopia that claims the top prize for this one it'll be Moana. And both are awesome movies, no doubt — Zootopia's one of my favourite movies to have come out in the past year, and it's so funny and complex that I'd be happy if it won. But I also saw Kubo and the Two Strings on a whim a few weeks ago and that movie fuckin' TORE ME UP in pretty much every way, so my bias is telling me it's the movie that deserves to be on the winners list. Even if it doesn't win, give it a watch, cuz it rocked.
– Victoria
---
Visual Effects
What will win: The Jungle Book
What should win: The Jungle Book
Sure, there are some major players being nominated in this category — Rogue One is a behemoth of a film with its gazillion lightsaber and starship effects and Kubo was made entirely out of seamless claymation wizardry — but all told, it's the remake of The Jungle Book that takes the cake for visual effects. The blending of enormous talking animals, lush jungle vegetation, and a burning forest with what was basically a human cast of one was truly masterful, and frankly the effects were so damn good they made me almost forget about the shitty acting by the kid in that film.
– Victoria
---
Documentary Feature
What will win: O.J.: Made in America
What should win: O.J.: Made in America
With 13th and I Am Not Your Negro also in contention here, this category is stacked. Still, there's no question this ESPN eight-hour mini-series will walk away with the trophy. If the glove fits right?
– Sam
---
Foreign Language Film
What will win: Toni Erdmann
What should win: The Handmaiden
The critically beloved, soon to be remade with Jack Nicholson, Toni Erdmann will most likely win in this less predictable category. The Salesman is probably its stiffest competition as of now, but if Park Chan Wook's The Handmaiden wasn't snubbed, I'd be cheering for it to take the upset with all my might. The fact that this Korean historic erotic thriller didn't get a nod is *Trump voice* SAD! but oh well, I suppose I can live with it living on in infamy for its exclusion, rather than fading into the abyss of other long-forgotten Oscar winners.
– Sam