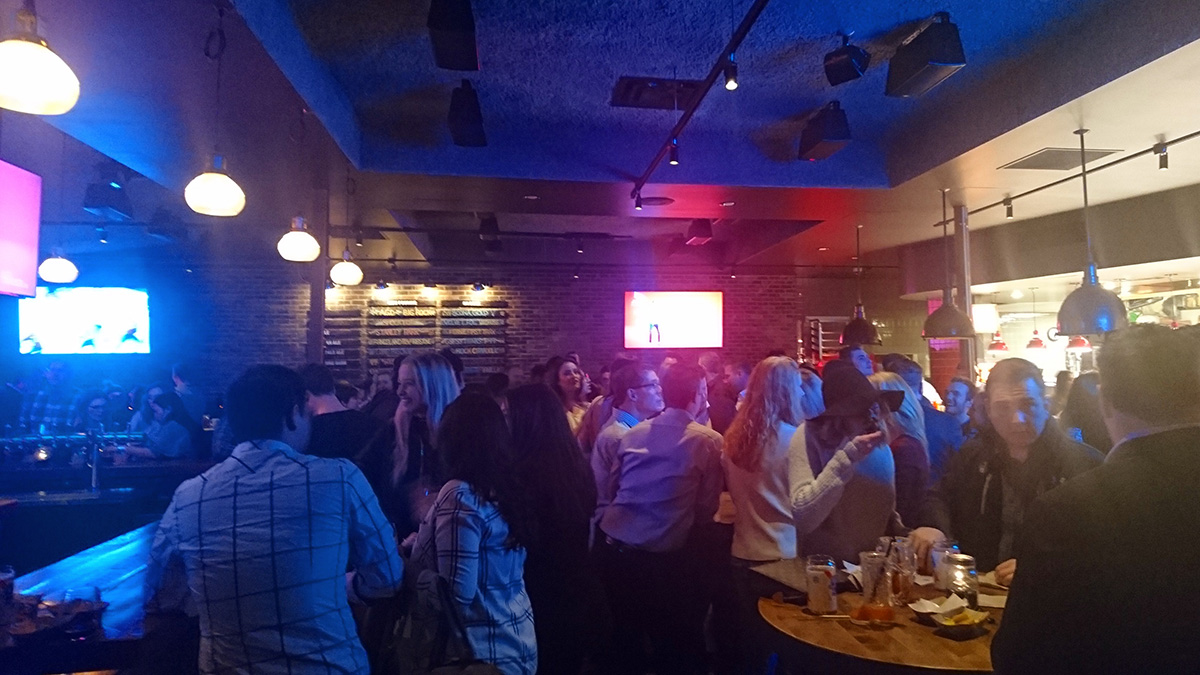 Local Public Eatery
#11228 Jasper Ave
Casual/ Pub fare ($$)
https://localjasperave.com/
---
I often have the feeling all chain restaurants have the same atmosphere — walking into one is like visiting a theme park and knowing exactly what rides you'll find and types of people you'll see. This is why I was so pleasantly surprised after visiting Jasper Ave's Local Public Eatery: it made me realize how down to earth the Vancouver-based chain actually is.
Local Public Eatery welcomed guests last Wednesday night to celebrate the launch of their new Jasper Ave location. The restaurant takes over the spot from their sister chain, JOEY, which has now moved into the ground floor of the Ice District's Bell Tower. With another location in South Edmonton Common, this is the second Local to open in Edmonton.
Walking into the restaurant, the smell of pizza immediately smacked me in the face. I had no expectations, but I certainly wasn't disappointed after tasting it. In fact, the pizza being sampled was some of the best thin crust I've eaten in Edmonton. The dough was chewy, perfectly browned and the many toppings featured were extremely fresh and well spread out. I especially loved the kale and bacon pizza because of its strong flavors and vibrant, crunchy greens. If kale pizza is too post-yoga-sesh for you, they also had a basic margarita, and classic Italian sausage.
Of course, there is no mistaking the restaurant's pub lineage. Tortilla chips with guac and pico de gallo were served in little cardboard boxes, and pierogis, also served in tiny containers, were doused in sour cream and sprinkled liberally with bacon. The fish tacos, my personal favourite of the night, came in warm flour tortillas with a vinegary coleslaw and as much Cholula as my little heart desired. Their lack of grease was a highlight, and so was the absence of heavy mayo-based sauces, which often disguise the flavour of the fish.
Although there was more food to try, my stomach was full and I didn't want to leave without drinking out of a boot-shaped cocktail glass. My friend guzzled her Caesar while I went for a really tequila-y Paloma, garnished with a lime wedge. There was wine, and as you'd expect from a pub, beer galore. Lagers, wheats, mild ales, American ales, Indian ales, Ciders… I could go on. I also saw someone drinking what looked like sangria and wish I'd asked for a sip. The atmosphere was so chillax they probably would have let me.
As for clientele, people were of all ages, genders, and career brackets. Nobody stressed about how they looked, or how loud they were, and frankly, they shouldn't have to. Local isn't trying to have a hipster vibe, or host an especially "classy" clientele. You won't find pretentious noodles wrapped around a spoon for $18 here, but what you will encounter is a casual environment, where the waitresses are kind and talkative, the food is abundant, and the décor is simple. Sometimes — especially when that sometimes involves spicy Caesars served in giant glass boots — classic pub food and atmosphere are all you need on a cold January night.