Campus Life
News
Agriculture and Forestry Building atrium now open to students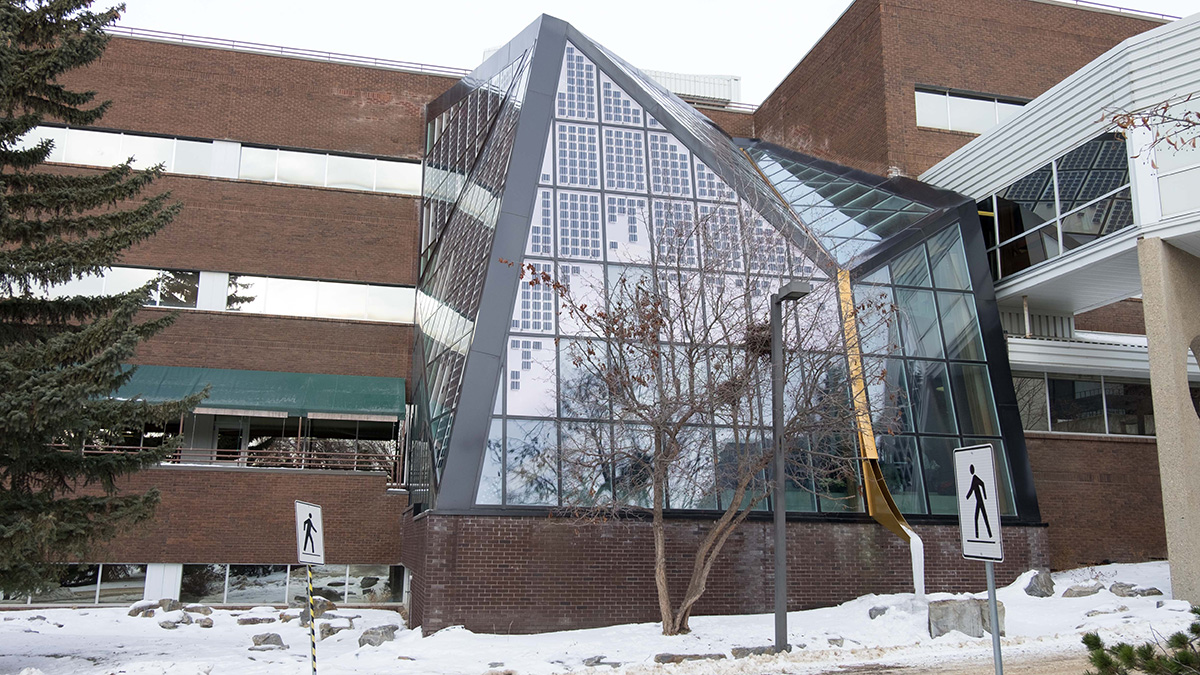 After five years of quiet vacancy, the Agriculture and Forestry Building's atrium has been reopened to students and faculty.
The space, formerly used to house tropical plants, has now been renovated for into a space for student and faculty use.
Dean Stan Blade of the Faculty of Agricultural, Life and Environmental Sciences (ALES) said peak periods of general usage will be kept free of private events so that students can use the space when they need it most.
"We're sort of making a note of when students are using it mostly, and then just trying to make that work," Blade said. "By no means are we trying to make the atrium exclusive (so) that students don't get access."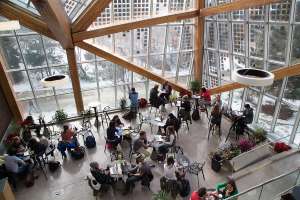 Students and faculty seemed eager to visit the reopened atrium, making quick use of the space as soon as it opened.
"We didn't have to make any announcements," Blade said. "We just left the door unlocked, and people found their way to kind of make the space their own."
Architecture manager Kelly Hopkin said the atrium was closed in 2012 after damage from moisture leaked into aging structural joints — its original purpose as a housing area for tropical plants required relative humidity to be kept high.
"Not only was there moisture from the outside, there was moisture from the inside," Hopkin said. "The atrium structure was getting attacked from inside and out."
The atrium now has slip-joints and membranes to prevent similar moisture problems.
A new aesthetic
The core vision behind the new atrium was to create for engagement. While the old atrium was a quieter and more contained space, the new atrium is more open than before. Beyond practical revamps, the new atrium has been redesigned almost from the ground up with elements referencing the Faculty of ALES as well as the atrium's original designation as a place for tropical plants.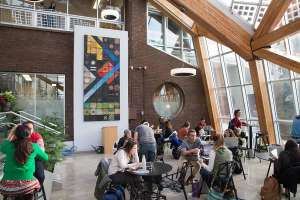 Resembling a mineral, the atrium is made of large glass panes arranged in a crystalline structure. The panes are supported by large wood beams manufactured in Edmonton, a pointer to the faculty's forestry program.
The atrium's upper panes are embedded with translucent solar panels (opposed to the traditional opaque), which will help power the Agriculture and Forestry Building. The panels create a dappled sunlight effect that appears similar to light coming through a treetop, Hopkin said. Around 30,000 kilowatt-hours will be generated by the panels per year, enough to power a convenience store in the same amount of time. Testing is still being done to determine how much energy the panels generate.
Alongside the structural elements, a mosaic by Burn Design Collective stands in the place of a now-defunct waterfall that once accompanied tropical plants. The mosaic is composed of 84 items selected by faculty members that represent ALES's history.
Renovation funding came from the university's deferred maintenance costs. An exact project cost has not been released, but the expense was shared between Facilities and Operations, the university body that manages buildings and residences on campus, and the Faculty of ALES.
As far as reception, the atrium has been getting positive feedback from students and faculty. While he hasn't gotten any specific quotes, Blade said that people are "voting with their feet," and Hopkin said many people have expressed they're glad the atrium is back online.
"(The atrium) used to be very much a favourite spot," Hopkin said. "Hopefully it will become that for everybody in the future as well."