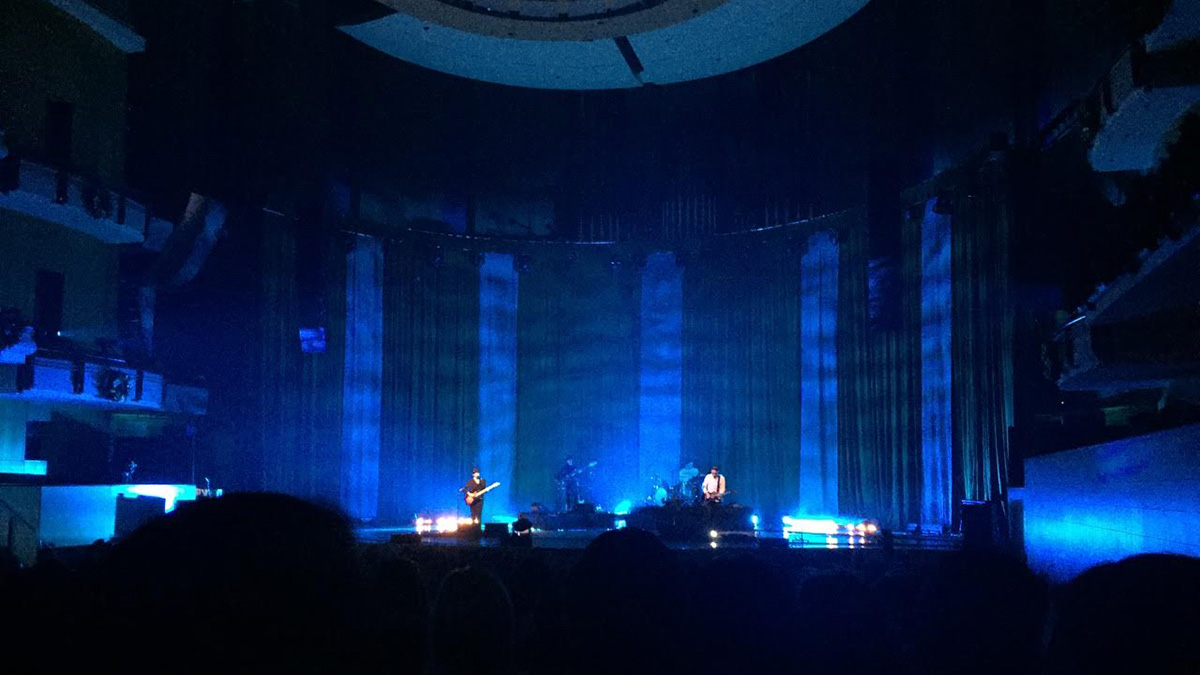 Daughter
Winspear Centre
November 22nd
https://ohdaughter.com/
It was hard to imagine a better way to listen to Daughter than through a pair of good headphones while crying in bed with the lights out — then they took the Winspear stage.
Arriving at the Winspear on Tuesday night, the venue which is typically reserved for 70-year-old country club-regulars was invaded by swaths of millennial "alternative" fans — happily rocking their half buns and Topshop pea coats — all ready to support British indie trio, Daughter.
The Winspear was decked out in the sort of Christmas decorations you'd expect to find at your rich boyfriend's grandparents' Christmas party in Calgary. Daughter's guitarist Igor Haefeli later remarked that he felt like he was playing "the saddest Christmas party with the saddest music."
Taking our seats, the lights dimmed and Vancouver Sleep Clinic (an Australian band) appeared on stage. I'm from #Vancity so there was an instant connection to this band I'd never heard of. Also I like to sleep.
The best moment of their set was during a song (that for the life of me I can't find on Spotify) when vocalist Tim Bettinson practically screamed over the crashing drums with more energy than anything else Vancouver Sleep Clinic did that night. After all, their songs are literally supposed to help you sleep.
Daughter came onto the stage in adorably British fashion, with cups of tea, and began performing the first song off their new album Not to Disappear, "New Ways." Anyone who only thought of Daughter as the stage name of lead singer, Elena Tonra, immediately realized they're actually a band.
Tonra's voice doesn't disappoint live. By far the best parts of the concert were when her she ran free, without accompaniment. The worst moments were when the songs picked up volume and her microphone wasn't even audible.
Unfortunately the biggest flop of the night was one of my favourite Daughter songs, "No Care." On the album, what that song lacks in Elena's vocals, it makes up for in spitting lyrics (Spit-kissing on my sickbed/I'm not searching for replacements/But we are like broken instruments") and attitude. But the Winspear's sedated energy wasn't right. Afterwards the guitarist remarked that it was "funny" playing the song to a seated crowd, to which someone in the audience replied, "I feel you."
Despite these hiccups, the concert had some amazing ups. From strobes, to pulses, to the wavy blue beams which turned the room into an aquarium, the lighting enhanced every song. During "Love," a song off their first EP, Haefeli played his electric guitar with a horse hair bow, elevating the anxiety of the lyrics.
The best (and simultaneously most depressing) song of the night was "Smother." Under starry lighting, Tonra sang about wishing she'd stayed inside of her mother in the haunting way only she can. At points the two simple guitar parts sounded like a lullaby.
As they were leaving after a three song encore (where the audience finally moved to their feet), Haefeli called the night, "a little bit magical." I agree. On the LRT ride home my friend asked if I would shoot him so he could die happy. I think I'd rather be a fetus again instead, I suspect hums I'd hear inside the womb sound just like Elena's voice. If you don't leave a Daughter concert feeling like you want to crawl back into your mother's womb did you really go to a one at all?