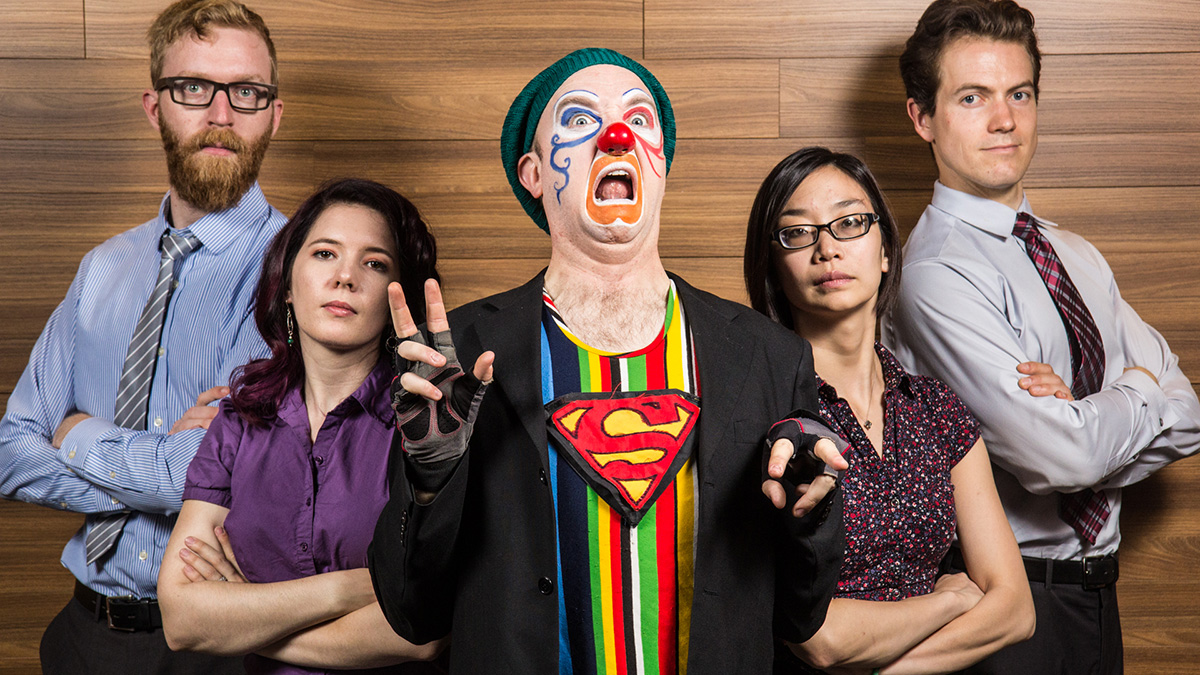 Thanks to Krusty the Clown, the work of the Insane Clown Posse, and the cultural foothold that the horror film clown has held ever since Stephen King's It, we've become skeptical to the idea that clowns can be fun, and even funny.
Edmonton's first annual clown festival took place last weekend at La Cité Francophone's L'Uni Théâtre to showcase and celebrate clowning in all its varieties. Beyond your typical red-nosed-white-faced clown trope, these entertainers explored mature themes that dovetailed with experimental forms of theatre. They were also hilarious.
I arrived to Sunday's short clown series inexcusably 10 minutes late and when I asked the man at the door if I could still enter, he shrugged his shoulders and exhaled, "It's just a clown show."
The series' third, and most memorable show, "Exposing the Mould," featured Shitstick and Fuckface, a Buffon-esque pair who sought to educate the audience on romantic relationships. The two lovers presented examples of good and bad communication techniques while allowing the audience to throw small loaves of bread at them whenever they felt "offended." The play's raunchiness was validated when an elderly woman sitting in the front row left the moment Shitstick announced, on the topic of virginity, "it doesn't count if it's in your butt." The couple continued to faux-bone onstage while smearing faux-shit on themselves. The play was certainly in the vein of the grotesque, but as a rule grotesque is always a parody of something. So what did "Exposing the Mould" satirize? I initially wanted to pin it down as a mockery of Dr. Phil, Maury, et al., but realized, with a loaf of bread in each of my hands, and moments before they become projectiles, that "Exposing the Mould" lambasted our affectation of outrage culture. Audiences love a good scandal, but a scandal where we can first laugh at "Oh wow, a man cleaning up! He must be an immigrant," and then stage our disgust for it is the ultimate safe space.
The clear highlight of the festival was its headliner, Deanna Fleysher as Butt Kapinski. Audience members were seated in the dark and in numerous semi-circles on the floor. Kapinski waltzed on stage with a voice like Elmer Fudd, a face of makeup that appeared to be painted in the dark, and a trench coat that was big enough to accommodate a massive battery-pack hidden underneath; a giant spotlight extended out of the backpack, over her shoulder, and illuminated her garish face. She instructed the audience that they're about to take place a film noir, while promising sex, murder, and sin in the process. Throughout the show, Kapinski would point at audience members with her spotlight and direct them into improvised vignettes. My date and I were ordered to make elephant-like wails every time her name was said. She queued a naive-looking man to play a capella saxophone during a love scene in the rain. For approximately 30 seconds Kapinski cajoled all the men in the room to dance like "whores" while the women were told to feign "jacking off." If this is the Red Light District, so be it!
The show's fast-paced rhythm never ceased as Kapinski was never at the mercy of the audience's rapport. When Kapinski performed, you had the sort of faith in her that I imagine Trump supporters have in their appalling presidential nomination — a faithfulness characterized by its loyalty and vulnerability. I felt hypnotized that night underneath the chiaroscuro lighting. I am sure I would have framed my date for the triple-homicide if Kapinski had given me reason to double-cross him.
At the end Kapinski stripped to her underwear and addressed the audience as Deanna, but Deanna the character, not Deanna the person. She admitted, accent-less, "So far I haven't really solved much, eh?… Might've been not such a good film noir." No, Deanna, it was much better than anything a tired femme fatale or cynical anti-hero could have offered us; in fact, it was phenomenal.
I attended more than a half dozen other clown performances during the festival, but Shitstick, Fuckface, and Butt Kapinski were the most successful due to their ability to integrate the audience into their performances. Other performers either vied for the audience's approval through a handful of desperate gestures or ignored the audience completely. It's also possible that I could just have a soft spot for fart jokes.