What: Hospital of Horror, Virtual Reality Haunted House
Where: 10010 107a Ave NW, Edmonton
When: All October
Tickets: $20-25
https://hospitalofhorror.webflow.io/#main
Every October, traditional haunted houses hope to terrify Edmonton's Halloween thrill seekers, but this year, you can visit one that's taken a new approach, digitally innovating their scares.
Hospital of Horror is a first haunted house in Canada which uses virtual reality integration, simulating the experience of wondering around an abandoned, haunted hospital. Developed by brothers (and U of A alumni) Alexander and Nathaniel Rossol, who are also the creative forces behind the virtual reality development company VR Cave, Hospital of Horror is an immersive, mind warping take on the classic haunted house format — one that's guaranteed to generate scares.
Instead of the traditional experience of a haunted house, where you're guided through a maze-like environment, with multiple rooms and scares waiting around every corner, the entirety of Hospital of Horror takes place within a single dimly lit room bordered by black walls. It's not until you are fitted with the equipment — a HTC Vive headset, headphones and two remotes that function as your in-simulation hands — that the scares become real. While wearing the gear can be cumbersome at first, the headset quickly becomes your eyes, and the headphones your ears, as you are enveloped in a world of virtual visuals.
"Virtual Reality really lent itself to a unique experience, one that couldn't easily be done with a physical haunted house," says Alexander Rossol about the development of Hospital of Horror. "We thought we could leverage the power that Virtual Reality allows, and if you're thinking of it in terms of a computer game, there are a lot of things you cannot do in the real world."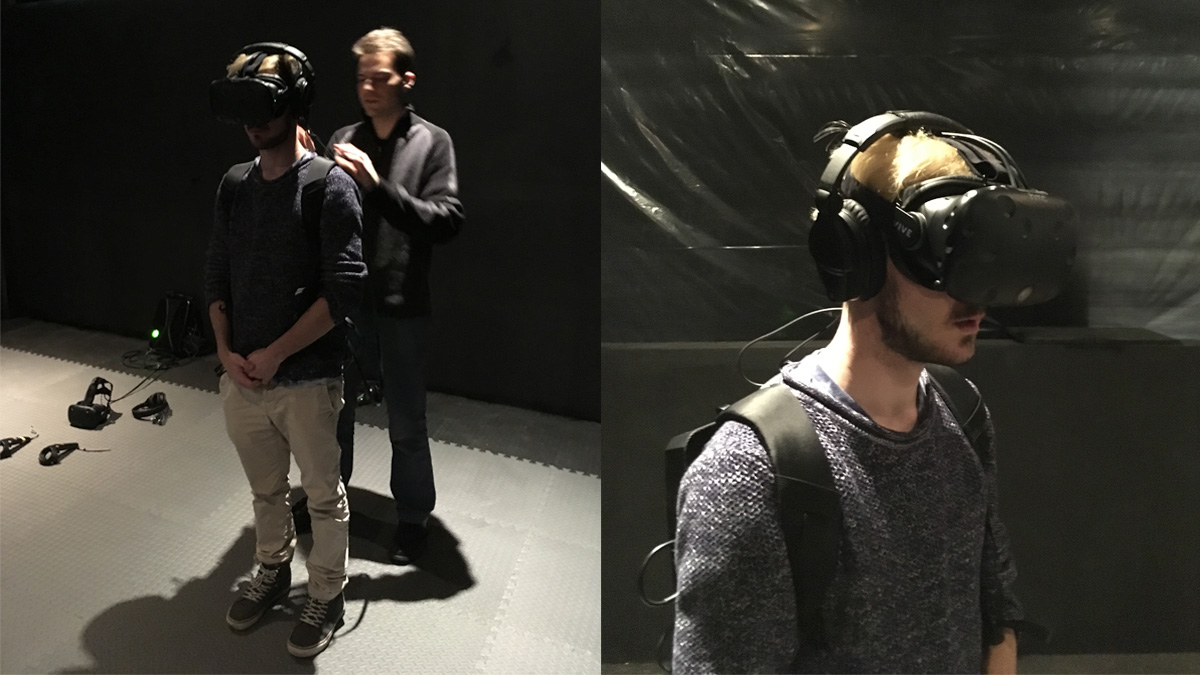 As the simulation begins, you're transported to a long-abandoned hospital, which is an already spooky setting before you take into account the full immersion VR allows. While the flickering of the virtual projections isn't as vivid as real life, it provides an eerie, otherworldly feel to the experience of Hospital of Horror. Each room is expansive and filled with computer-generated details, from cracks in the wall revealing adjacent rooms, to body bags strewn around that you can only assume are occupied. As you wander through the rooms, a surmounting, supernatural paranoia sinks in, starting small as chairs float up to the roof, and building up until a lumbering monster sneaks up behind you.
Since VR is such a new medium, Rossel explains, the choice to pursue a haunted hospital setting was based on picking something "tried and true." The classic tropes of the environment are all present, from bloody medical equipment to body bags with something less than dead inside, giving users things they could "hold onto as they're experiencing a new medium," Rossel says.
One of the things Hospital of Horror does best is scare — from the eerie atmosphere to the encounters with the supernatural, the virtual reality provides exceptional immersion. From the first room on, the haunted house plays with your mind, from seemingly transporting you between rooms, to the floating objects, to the occasional jump scare. Beyond the visual scares however, you will hear hushed whispers come from the headphones, and feel a lone plank of wood you're walking across seemingly shake under your weight. The level of detailed sensation in the Hospital of Horror is astounding.
If you're looking for a new Halloween scare, Hospital of Horror creates a terrifying reality of its own. Even the bravest souls will find themselves lost in the experience — and the haunted setting as well.