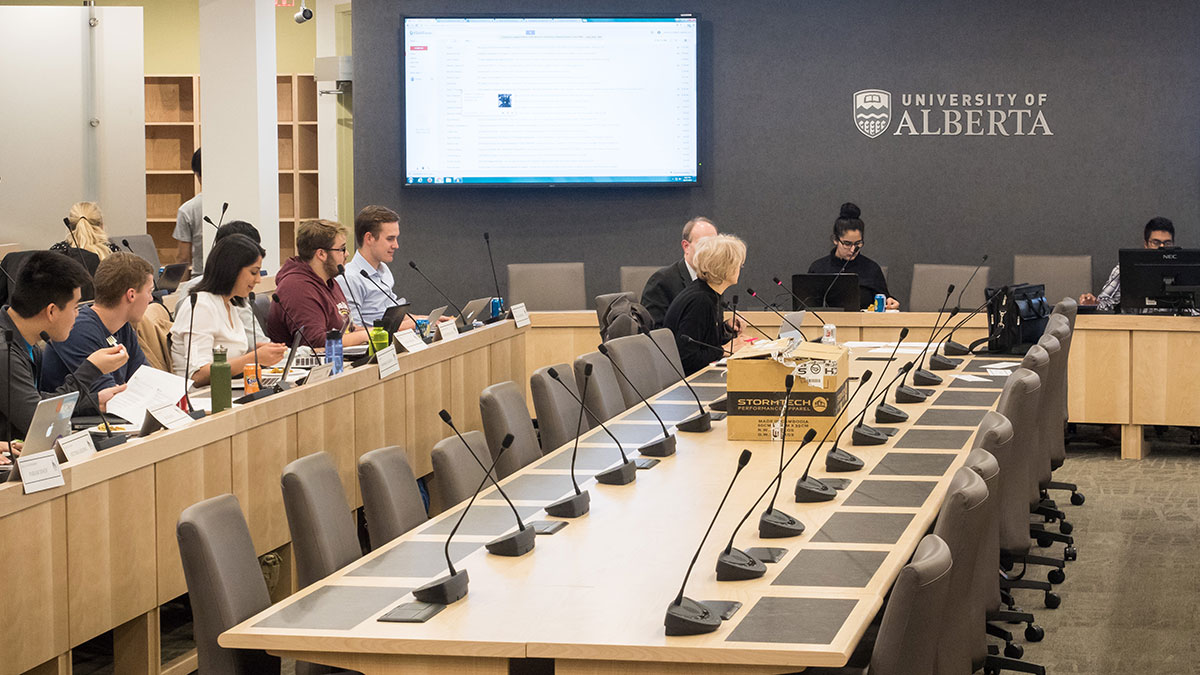 The Students' Union is the official representative body of undergraduate students at the University of Alberta. Its responsibilities include advocating for students, running businesses, running student services, and maintaining the Students' Union Building.
The SU must also manage an $11 million budget every year that contain the roughly $80 in mandatory SU fees paid by all U of A students. These services include the UPass, the student health and dental plan, and advocacy for government initiatives such as the tuition cap.
Comprised of 200 employees, the SU's workforce includes five student executives elected every March to lead the SU's initiatives for the following year. Here is the SU's executive team for the 2016-17 year.
President
Fahim Rahman
The President oversees the SU's advocacy efforts, operations, and employees. The President also represents undergraduate student interests while working with the university's Board of Governors and General Faculties Council, as well as the federal, provincial, and municipal governments.
Goals:
Expand awareness of experiential learning opportunities at the U of A
Advocate for a $1 million provincial grant for mental health
Move the responsibility of student group discipline from the university to the SU
Increase student financial aid, particularly for low-income students
Office hours: Visit Fahim to talk about progress on any of his goals.
Presidential advice: "If you're a particularly shy person don't be afraid to say "hi" to the person you're sitting next to in class. If you say "hi" to the two people that sit beside you in class every single day, and multiply that by the number of classes (and semesters) you take in your degree, you're going to end up with at least 50 unique friends you can grow alongside."
Vice-President (Operations and Finance)
Robyn Paches
The VP Ops-Fi manages the SU's $11 million operating budget and oversees the SU's businesses (including Dewey's and L'express.)
Goals:
Bring students back to campus by directing businesses closer to student wants and needs
Create more programming for RATT and Dewey's
Make L'express fill the "fresh food" niche of SUB food
Improve security on campus by advocating for more UAPS patrols
Oversee Myer Horowitz renovations
Office hours: Visit Robyn to talk about SU businesses, building matters relating to SUB, campus security, and progress on the Myer Horowitz Theatre's renovations.
Financial advice: "Make some kind of plan. It doesn't have to be extensive, you don't have to have a sheet in Excel for every little expense you'll have, but try and think of a base-level budget of what you want to do. Also, pre-game, don't drink at a bar."
Vice-President (Academic)
Marina Banister
The VPA looks after the academic life of students by working with administration, General Faculties Council, student faculty associations, and department associations.
Goals:
Advocate for flexible course loads, particularly in programs such as Nursing and Engineering
Strengthen role of student faculty and associations in university governance
Increase opportunities and awareness for inter-faculty majors and minors
Communicate to students how governance works
Office hours: Visit Marina to discuss any academic matters or student and university governance concerns.
Involvement advice: "The U of A and the SU (give students) a lot of information in September, which can be totally overwhelming. But if students can make the most of the different clubs fairs, information sessions, and open houses — even if you go to 10 different things, chances are you're going to like one of them. Have somewhere that you can go to after class so that you don't just go to class and go home."
Vice-President (Student Life)
Francesca Ghossein
The VPSL coordinates non-academic advocacy and programming for student services, groups, residences, and events.
Goals:
Pursue residence advocacy in the Residence Task Force
Begin writing a Charter of Student Rights
Centralize mental health resources online, and create a service triage tool
Organize a large campus event facilitated by different student groups during the last week of class
Office hours: Visit Francesca to discuss concerns with residences, student groups, the SU's Health and Dental plan, progress on the university's sexual violence task force, mental health, and campus events.
Life advice: "University life is going to get competitive and challenging, and what we typically do is ignore mental health and our relationships. The excuse is that we're busy, and we need to focus on our studies. But we should be doing the counterintuitive thing — take care of ourselves and take care of our relationships because those support systems get us through the toughest times in university."
Vice-President (External)
Mike Sandare
The VPX advocates for undergraduate interests at the federal, provincial, and municipal levels of government.
Goals:
Advocate to continue provincial mental health funding, but on a per-student basis
Push for switching student financial aid from a tax credit model to non-repayable loans
Change the STEP program from summer to year-round
Facilitate an employment festival in the Winter semester
Office hours: Visit Mike to talk about mental health finding and how students advocate towards the provincial and federal governments.
Diplomacy advice: "To quote Winston Churchill, 'To grow is to change, and to change is to perfect.' Don't be afraid to get out there, and to make moves and try to make something out of your time here at university."