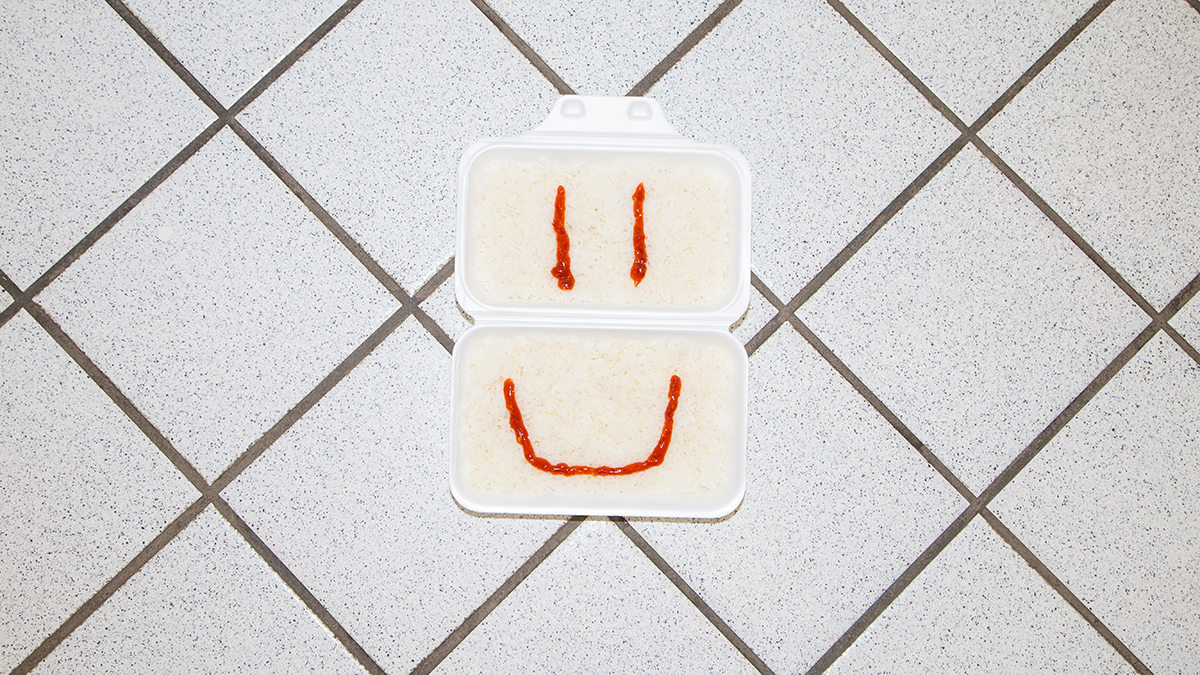 The University of Alberta's HUB Mall is a four-storey student residence, food court, and study space that horizontally stretches the equivalence of four city blocks along Edmonton's 112 street. The building is approximately 30 metres wide, a 30:1 ratio of its length to width. ATMs, gift shops, stationary shops, magazine stores, convenience stores, two hair salons, an optician, a shoe cobbler, law services, immigration law services, a flower shop, a laundromat, a jewelry repair shop, and a framing centre line either side of HUB's 292-metre-long second floor and are dispersed amongst its 17 food joints: A&W, Academy Pizza, Bar Teca, Beez, Burrito Libre, Chosun Korean, Cookies by George, Edo Japan, Feta & Olives, Ho Ho Chinese Food, International Fare, Joe Coffee & Tea, La Pasta Trattoria, New York Fries, Subway, and Jacket Potato Man. One restaurant appears about every 17 metres.
But more than merely a food-based mini-mall, HUB is a pedway that connects the university's transit centre and Fine Arts Building (FAB) on its south side, to the Humanities Centre, the Alberta School of Business, and the Henry Marshall Tory Building on its north end. At the halfway point, a pedway to Rutherford Libraries (North and South) juts to the west. The sheer number of amenities housed not only within the mall, but that the mall connects to, renders HUB a pedestrian super-highway during rush hours. To deal with the amount of traffic, walkers have silently and unanimously decided that, like North American cars, one travels on the right. With metal aisle seating as the meridian, two opposing streams of pedestrians commute down the mall and try their best to not look to the left — for potential fear of making mutual eye contact with one another. HUB, for better or for worse, is a place to see and be seen.
Thus, on the one hand, there is the commuter HUB: a place of perpetual to and fro where one willfully ignores its goods and services; the building is, conveniently, a heated sidewalk to shelter pedestrians from Edmonton's blistering winter climate that spans 60 per cent of the academic year. On the other hand, there lies the HUB that is not only home to about 800 students (mostly international ones), but that through more than its one dozen restaurants, simulates a hybridity of the quintessential American food-court experience and a Parisian arcade, or le passage. How do we reconcile the transient nature of commutership with the inert act of eating? If lunch should be enjoyable, then why does it feel like a chore when I eat a bowl of Udon from Edo Japan in HUB?
My objective is to investigate how space influences taste and how taste informs space. Beyond a solely culinary or architectural critique in and of the building, my research synthesizes an aesthetic-historical account of HUB with my own Morgan Spurlock-esque* endeavor to eat HUB food once a day, every day for a week. The mode of the resulting research is an homage to Walter Benjamin's incomplete magnum opus The Arcades Project (1927-1940) through both its fragmentary and interdisciplinary design: fragmentary because at the time of his death, The Arcades Project was a haphazard collection of aphorisms and reflections that has since been edited and published in order to become a preeminent text in the field of 20th century literary and cultural critique; interdisciplinary because Benjamin's criticism relates the flow of capital to the modern Parisian arcade experience. Thus, piggybacking on Benjamin's work, I am calling for a taste map of HUB.
*(Morgan Spurlock is the American filmmaker most prominently known for his 2004 documentary Super Size Me. The film charts Spurlock's weight gain, mood swings, sexual dysfunction, and overall decline in health as he embarks on a 30-day McDonald's only diet. Though obviously less radical in my method, Spurlock's work serves as a rousing launching pad.)
As it stands at the beginning of the 2016-17 academic year, HUB could use some dignity. On June 15, 2012, four armored guards were shot and three were killed by an armed gunman inside the building. On October 27, 2014, HUB was evacuated at 12:42 p.m. in response to a hazardous materials incident. In spite of the university's ongoing efforts to increase awareness and access to mental health services, the evacuation was due to a natural gas leak-induced suicide. One month later, on November 24, echoing and accentuating the HUB suicide, a student living in another University of Alberta residence took his life. Indeed, the structure of the building itself is not a culpable agent in the motivations of these tragedies, but it is also impossible to extradite the space from where these events took place.
A brief survey of HUB reviews reveal pervading sentiments towards the Mall. Alex F., writes on Yelp.com:
HUB mall … I don't really know what to say about it. I visit whenever I need bus tickets or if I forget my lunch … The thing I don't like is that even with a larger selection than SUB or CAB, the food either seems overpriced or terrible for you or both. I've never had anything that was simultaneously healthy and tasty [t]here … Overall HUB is OK … but it's a bit underwhelming.
When I first mentioned this project to friends their reactions varied from laughter to mockery to pity. Why would one subject herself to "so much HUB"? a colleague asked. My best friend preemptively scorned the project by labelling the Mall a "24/7 carnival." Determined to find a glimmer of poise, I forged onwards: HUB has a bad reputation that has just yet to be redeemed.
Allow me to preface with the fact that at best, I am an amateur cook, although I am unabashedly an expert eater. I do not believe that food must be an esoteric experience, nor do I think that a nice dinner date should be an exercise in spending half a month's rent. But I do believe that food can, and should, surpass mediocrity at all costs. Too often does an unacknowledged Calvinist sensibility permeate and guide our eating habits that it's often mediocre Big Salads* and sad deli sandwiches that reign supreme at lunchtime. The unfortunate thing is that when mediocrity is perpetuated to the point of ubiquity it is taken to be the standard.
*(In the vein of Elaine's "Big Salad" from Seinfeld episode 88 that turns to be more hassle than value.)
Monday, April 6, 2016; 14:14: A $9 shredded beef burrito from Burrito Libre has steadfastly been, for three years running, my go-to comfort food on the east end of campus. I know what to expect: a $1 dollop of never-brown guacamole and toppings that conglomerate into a savory mess. The burrito juices always drip down my hand and onto my lap, so extra napkins are a prerequisite (these mushy things should really be toasted, like at its competitor Mucho Burrito). Oftentimes, due to the clumsy wrap job that my burrito endured, I am required to seek refuge in one of the cubicles found in one of HUB's upstairs lounges. The Garneau Lounge, Riverside Lounge, Rutherford Lounge, and Skyview Lounge are all accessible by either ramp or staircase and they hover over the mall, while still under the windows of the dorms. My friend once told me that in response to not wanting to eat his burrito in isolation (for fear of being gazed-upon mid-burrito avalanche) he had transitioned to ordering the burrito bowl. He argued that the burrito bowl maintains the flavors of the wrap, but the introduction of cutlery allows for optimal adherence to codes of "social decency." I was aghast. Eating a burrito in HUB in haste and isolation is a part of the ritual, and I was insulted by his conversion to an inedible burrito receptacle. To me, the burrito bowl was an unwelcome reminder of HUB's ability to conceal those pesky, unpalatable human experiences that it deems undesirable.
Problems persisted since HUB's inception. The building was initially constructed in response to the university's affordable housing dilemma in 1971 and was under the ownership and leadership of the Students' Union. Construction began in 1971 although the funding had yet to be confirmed. As the SU grappled with banks, the government, and the university to secure loans, the building ultimately exceeded its budget by $1 million (or $6.2 million adjusted for inflation). By 1975 HUB was only 85 per cent occupied and $2 million was needed to repair its leaky skylight roof that stretched its entire length. Additionally, HUB businesses were not as profitable as had initially been imagined. In the 60s the university's future plans were to expand the campus into north east Garneau, positioning HUB as the literal hub of North Campus. When the planned expansions failed to move forward and the university began constructing westward, HUB failed to live up to its name. Foot traffic was also limited due to a lack of pedways connecting the Mall to other buildings and its obliquely marked entrances and exits. In April 1976 the university freed SU from HUB's failure to turn a profit and agreed to purchase the building. Their price tag? $1.
Tuesday, April 12, 2016; 11:52: I've purchased the Tuna Bean Salad from Beez without reading the item's menu description. These are green beans, not black beans like I was expecting, and I deride myself for being a poor close-reader. This leaves me with romaine lettuce, scallions, flakey pieces of canned tuna, and craisins dressed in a watery vinaigrette and packaged in a Styrofoam container. The meal cost me $8. I also cannot yet bring myself to eat in the aisle seats so I've retreated to an ensuite that I can only call the A&W lounge — mostly because I am surrounded by blue-collar men eating cheeseburgers and onion rings. The dish lacks any possibility for an impressionable taste that makes me miss every mayonnaise-based tuna salad (or its French rival, the classic niçoise) that I've ever eaten. Left feeling downturned and still hungry, I turn to what I know: French fries.
Tuesday, April 12 2016; 12:38: I am eating a small portion of hot $3.29 French fries (with Heinz ketchup) from New York Fries that are great enough to me make forget the fact that I just spent $8 on a lackluster tuna salad that could have potentially won the title "Most Ignored Dish" at a run-of-the-mill potluck.
Notwithstanding its economic woes, the Mall debuted to respectable architectural admiration. An editorial by Neville Green in the monthly magazine Canadian Interiors praised the design's Japanese influences, mentioned its Parisian qualities, but inexplicably evaded its obvious arcade-like layout.
"[T]he sharp perspective of the covered mall, with the variety of coloured panels, formed by the random opening of shutters in the various apartments, creates an unusually festive appearance, somewhat rare in this part of the Canadian West … Unfortunately, all the stores have been recessed behind an outer covering with projects some eight to ten feet into the mall and causes much of the hustle-bustle and colour of shopping in the marketplace to be lost to the view of the casual passerby. Some of the stores are now beginning to open out a little, and one small restaurant has cast-iron tables on the side of the mall that are so authentic, it is a disappointment not to see the inevitable bottle of Pernod [French liqueur]. Trees in tubs are also beginning to make their appearance, and these too, help to break up the boredom of the unrelieved straightness."
Green describes, in granular details but without labelling, what Benjamin devoted his lifelong work to. (To Green's benefit, the translated English edition of The Arcades Project was not released until 1999, decades after his piece.) In the introductory "Exposé" section Benjamin references an Illustrated Guide to Paris to capture the scene:
"[A] recent invention of industrial luxury, [these arcades] are glass-roofed, marble paneled, corridors, extending through whole blocks of buildings, whose owners have joined together for such enterprises. Lining both sides of these corridors, which get their light from above, are the most elegant shops, so that the passage is a city, a world in miniature."
The similarities between Green's piece and Benjamin's description are uncanny: for as much as HUB imitates a skyscraper laying on its side for an afternoon nap, it undoubtedly attempts to mimic the Parisian arcade. Benjamin viewed the arcade as the most important architectural design of the 19th century: it crystallized the period's transition from a culture of production to one of consumption. Green's review references a similar ethos, which implicitly calls attention to how the Mall is designed to habitualize consumer behaviour — while pretending not to. Green even goes as far to say that the Mall's internal temperature should be regulated to a balmy 17°C in order to "enhance the impression that one is walking outside in a narrow street, rather than at the presently claustrophobic 70° F (21°C)." The interplay between natural and artificial motifs in a singular space suggests an atmosphere that is designed to censor, like the arcade, its capitalist reasons for being.
Wednesday, April 13, 2016; 14:06: Chosun Korea is the most modern (i.e. recently renovated) restaurant in the fried food vessel. Unaware of what to order, I requested the most popular item, which happens to be the $10.05 bibimbap. The dish is a Korean favourite that I sampled at Earl's last summer — their latest East Asian culinary appropriation. A traditional bibimbap (literally translating to "mixed rice") is a quagmire of steamed vegetables, beef, gochujan (chili pepper paste), and soybeans over a bed of rice. In more lavish versions the bowl is heated and an egg is cracked on top and stirred vigorously moments before eating.
Understandably, the dish at Chosun did not arrive with a performative flair. Instead, I received (via table service!) a composée rice dish: sticky rice, shredded carrots and cucumber, mushrooms, cabbage, sliced beef and a fried egg; hot sauce in an anonymous ketchup bottle and kimchi on the side. Not an overly ambitious dish, but incredibly satisfying, healthy, and blend of distinctive textures that dovetails with my own ambitions for what mall food can be. The simplicity of the dish was matched by Chosun's strict interior colour scheme of neutrals-only.
Benjamin uses a phrase to describe the arcade, "a world in miniature," aligning with what Fredric Jameson explains in his seminal postmodernism manifesto Postmodernism, or the Cultural Logic of Late Capitalism. Jameson writes, "[postmodern architecture] aspires to being a total space, a complete world, a kind of miniature city … It does not wish to be a part of the city, but rather its equivalent and its replacement or substitute." Yet, the "world in miniature" or "mini-city" that HUB aspires to be is not purposefully dizzying, like other postmodern structures: "this latest mutation in space — postmodern hyperspace — has finally succeeded in transcending the capacities of the individual human body to locate itself … and cognitively to map its position in a mappable external world." Indeed, for all of HUB's simulations of the outside world at large — whether through its range of international cuisines or formerly domed skylight roof — the structure is ruled by laws of right angles, linearity, and perpendicular logic. Walking down HUB is not a maze to get lost in, or a means in itself; rather it functions as a means to an end. That is, while HUB is a simulacrum, a hodge-podge of East-meets-West tropes and cuisines, its purpose is pure capitalist utilitarian: to either buy or sell, or get out.
Thursday, April 14, 2016; 14:04: At Ho Ho's I am certain the sriracha sauce is watered down. I order the chow mein, ma po tofu, stir fried vegetables, ginger beef, and kung pao chicken, all drenched in sauce and soggy. It is the week's most expensive meal, coming in at $11. The ensuite dining needs to be recarpeted and the tofu should be incinerated along with it. Underneath the fluorescent lighting, as I stab a piece of dilapidated broccoli, I feel like a piece of barbecued pork underneath the warming lamps out front.
Thursday, April 14, 2016; 16:40: Unable to finish the Chinese food from 2.5 hours ago, I turn back to HUB and grab a smoked chicken panini from La Pasta Trattoria, HUB's definitive Italian restaurant. The sandwich comes to me without any gimmicks: hot, gooey and, although monochromatic inside and out, the perfect antidote to a hum-drum end-of-term afternoon. I eat it in the aisle while leaning on an oblong table and invite every onlooker to look back. While chewing the panini I feel relaxed… a near tangible sense of solidarity between the crowd and me.
Friday, April 15, 2016; 16:06: A&W's recent rebranding overhaul has infiltrated HUB and makes the other restaurants appear nostalgically mom-and-pop-like. To see more commercially bright and coordinated colour schemes, like the ones at A&W, one has to travel to the west-end of campus in search of a Starbucks or Tim Hortons.
I order a mozza burger and French fries and there is almost an auditory crunch as I bite into the lettuce, into the patty and through the bacon. The textures are reminiscent of the bibimbap from Chosun and I am thoroughly impressed. The fries are shaped and cooked to such a perfect density that I forgo the ketchup; much better than at New York Fries. The rest of the burger is so good that I momentarily disremember HUB and all its postmodern trappings. I forget that HUB is a place to watch and be watched; a place where your gaze is automatically orientated for you, and I, in turn, enjoy my lunch in peace.
The New York Times former and late chief architecture critic, Herbert Muschamp, wrote an extensive essay at the time of The Arcades Project's English publication. "The Passages of Paris and of Benjamin's Mind" aims to come to grips with Benjamin's virtually impenetrable 900-ish page text. Muschamp posits that reading The Arcades Project performs the very act is represents: the reader is transformed into an intellectual flaneur, parsing the material, in the same manner that a flaneur roams the Parisian arcades. But what is more, Muschamp maintains, is that in the 21st century "[a]ll of Paris is an arcade, and many American cities have remade themselves as shopping malls in order to survive. Cities are fun! Cities R Us!" If Muschamp is correct, then one must not be scornful of the postmodern behemoth that sits on the edge of campus; like the flaneur, one must penetrate, rather than circumscribe, the building. Because, as Muschamp gestures towards, we have met HUB before. Every right angle, every restaurant (whether franchised or not), every simulated store awning meant to evoke its European predecessor, has been copied across North American to the -nth degree. HUB is simply self-aware that its own money-making pleasures are under the guise of, to use Jameson's parlance, a postmodern "pastiche," a "blank parody" that challenges the flaneur to critique HUB instead of insisting that HUB be a vestige of cultural criticism in an of itself. HUB is harsh, but that should not make us sad.