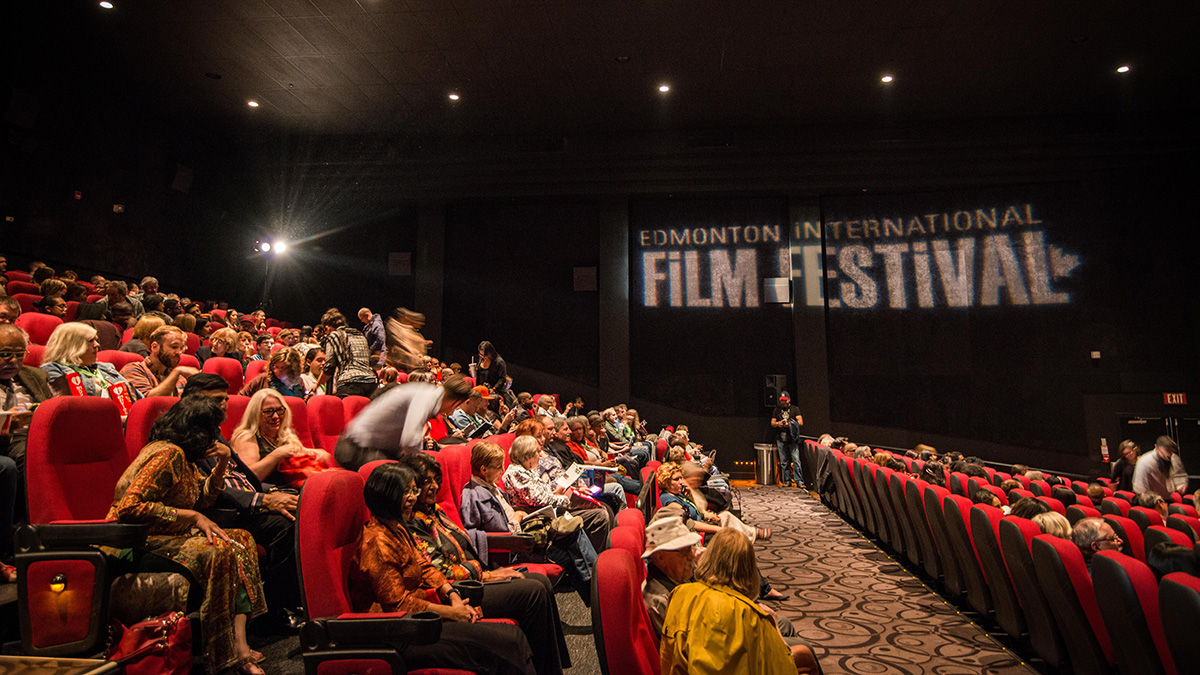 What: 2016 Edmonton International Film Festival
When: September 29th to October 8th
Where: Landmark Cinemas 9, City Centre
Tickets: $15 – Individual FILM Tickets; $149 – REEL DEAL Festival Pass; $75 – 6-PACK Pass
www.edmontonfilmfest.com

"Eclectic, engaging, and inspiring," are the words Kerrie Long uses to describe the hometown film festival she's dedicated over a decade of her life to. "It's our goal to find films that will resonate with the people who live in our community," she says.
The Edmonton International Film Festival (EIFF), where Long handles business affairs and programming duties, kicked off Thursday at their yearly residence in City Centre's Landmark Cinemas. Over the 10 days it runs, the EIFF will screen 160 films including features, shorts, and documentaries and will host a selection of events around the downtown core for festival-goers and filmmakers alike. The cinema-centric event has been a part of Edmonton's busy festival circuit for 30 years, but this is already shaping up to be a ground-breaking year in their history.
"What's new this year is we're an Academy Awards qualifying festival for short films, and that's massive news for us," says Long. "The number of submissions we received almost doubled over last year, and even though our short films have always been superb, we've seen a jump in the quality of films, and that's really special to us."
Long explains that even though audiences may be primed for films coming in hot from the Toronto International Film Festival or are abuzz with Oscar talk — American Honey, Manchester by the Sea, and The Dressmaker are a few she mentions — a great option to find footing at the festival comes in the form of its bite-sized entries.
"Lunchbox Shorts is our little cinematic teaser where you can go see five short films, enjoy an included lunch, and be done in 45 minutes," she says. "Dip your toe in with the shorts to find out if an eight minute subtitled film resonates with you, then you can see if there's a similar feature-length film for you in the schedule."
When it comes to curating the diverse and sizeable program for the festival, Long and her team adamantly avoid pre-planning a theme, and instead opt for a more organic approach.
"I feel like if we set a theme ahead of time, we would narrow down our selection and the kinds of films we can see," she says. "We prefer to come at it from the other perspective, which is to first watch the films, see what stories filmmakers are telling, and then after the selection process determine what the theme is going to be."
In Long's eyes, the common thread across this year's selections is bravery. For evidence, look no further than Heavyweightpaint, the Opening Night Gala Film, which features four Brooklyn-based artists (including the Edmonton-born, Tim Okamura) struggling to survive in New York City's highly competitive art scene, or Below Her Mouth, a film realized by an all-female crew which features lead performances that, as Long says, "take a whole lot of courage."
Despite the EIFF's steady growth, from its selection of films, to its international stature (100 filmmakers will be attending this year, which is more than any year prior), the ambition of Long and her team are undeniable.
"My dream has always been for the wonderful film festivals around our city to collectively work together," she says. "It often feels like we're in our own little sandboxes. Even if it was something as crazy as everyone programming at one time, wouldn't it be so much more exciting to say 'It's film festival time!' and have everyone come together?"
While this collaborative idea may still be relegated to the storyboard, growing and expanding the current connections the EIFF has within the city always takes a top priority.
"There's definitely a different style and expectation that Edmontonians and our community have versus other parts of the world," says Long. "I go and see a lot of local theatre, other people on my team take in a lot of comedy, and other facets of the arts. We know we can't copy or mimic (other festivals), we have to be our own beast and bring films that are relevant to our community."
When it comes to the place film — particularly independent film — has in the lives of those who make up these communities, Long has a few thoughts.
"I believe movies are the best way to give people a sense of their place in the world and a sense of how other people in the world live," she says. "Immerse yourself for two hours in a film from a place you know nothing about and you will hopefully become more appreciative and sensitive to your friends and peers. That's why it's important to get out and support film festivals and independent cinema, it's about opening your eyes to the world."
The 2016 EIFF schedule can be found online here.