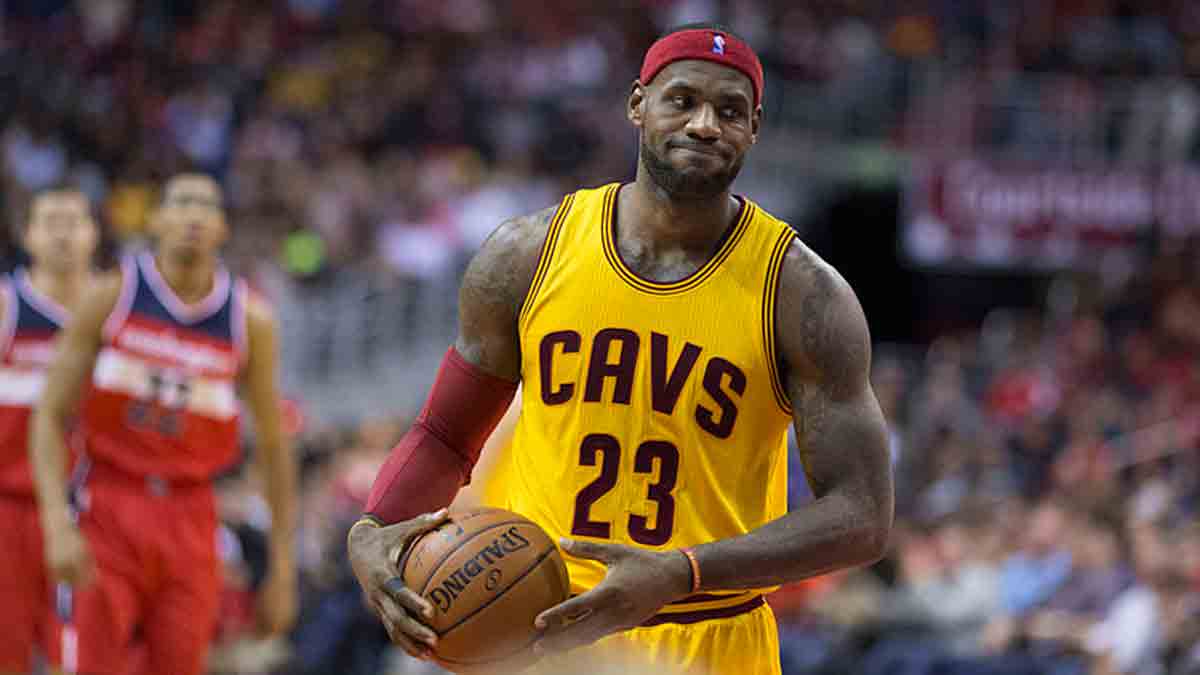 LeBron James has undoubtedly been the most scrutinized player in recent sports history.
His high school games were broadcast nationally on ESPN, he signed a $90 million Nike shoe deal before he even stepped on an NBA court, and was nicknamed "The King" while still a teenager. The constant media scrutiny and endless hype ensured his career would forever be linked to that of Michael Jordan, the greatest basketball player of all time — and it's an unreasonably heavy burden to bear.
The ad nauseam discussion of James' career in comparison to Jordan's came up again recently at the Nike Skills Academy Camp in Los Angeles. When asked what motivates him after finally bringing Cleveland a championship and crossing the most important item off of his career to-do list, James answered that it's "this ghost I'm chasing. The ghost played in Chicago."
The constant comparison of the two greats always centers on LeBron's failure to emulate Michael's career accomplishments, on court demeanor and style of play. It's an impossible standard to hold James to. In constantly viewing his abilities in terms of Jordan's, we forget to appreciate the otherworldly talent and never-before-seen athleticism James displays on a consistent basis. In fact, LeBron's skills and abilities better suit him to be the antithesis of Jordan. He is Jordan's basketball foil, rather than his clone.
Comparing their performances on the biggest stage in basketball, the NBA Finals, Jordan's legacy is unblemished, with a 6-0 Finals record displaying his consistency and unmatched will to win. Lebron, on the other hand, has had significantly more pronounced peaks and valleys in the Finals. He lost humiliatingly to the underdog Dallas Mavericks in 2011, which led to a summer of character assassination and ability questioning by media, fans and peers alike. Then in 2016, LeBron had arguably the greatest Finals performance in NBA history, as his team not only beat the greatest regular season team ever but became the only team to ever come back from a 3-1 deficit in a Finals series. Not to mention that during the series James became the only player in history to lead a series in points, rebounds, assists, blocks and steals — for both teams!
The comparisons stretch beyond Finals performances, to their styles of play and even personalities. Jordan was a maniacal competitor and a pure scorer, while Lebron is the greatest passing non-point guard ever — he's a player who elevates his teammates' performances and hides their deficiencies. Jordan's signature was offensive play, while LeBron's is defensive. Jordan is a cutthroat-trash talker, vindictive and unforgiving — just listen to his 2009 Hall of Fame acceptance speech. James has always been comparatively lighthearted, even starring in the 2015 comedy film Trainwreck.
Simply put, Lebron and Michael are more dissimilar than they are alike. We need to stop pressing LeBron to be more like Michael, to "chase his ghost," because in doing so, we are failing to appreciate James for his own mind-blowing capabilities and accomplishments. We are failing to appreciate a man who has been to six straight NBA Finals, has three Championship rings, three Finals MVP's and four regular season MVP's. We are failing to recognize that James led a squad of no-name players to the NBA Finals in 2007, at the age of 22!
James is a man who's been held to impossible standards since he was in high school and has proceeded to crush them all. It's time we simply sit back and watch him chase the insane benchmarks he's set for himself — like having his 2016 Cavaliers be the only team in NBA history to defeat a 70-plus win team — and not the arbitrary ones others set for him.