News
Bursary created to help U of A students affected by Fort McMurray fires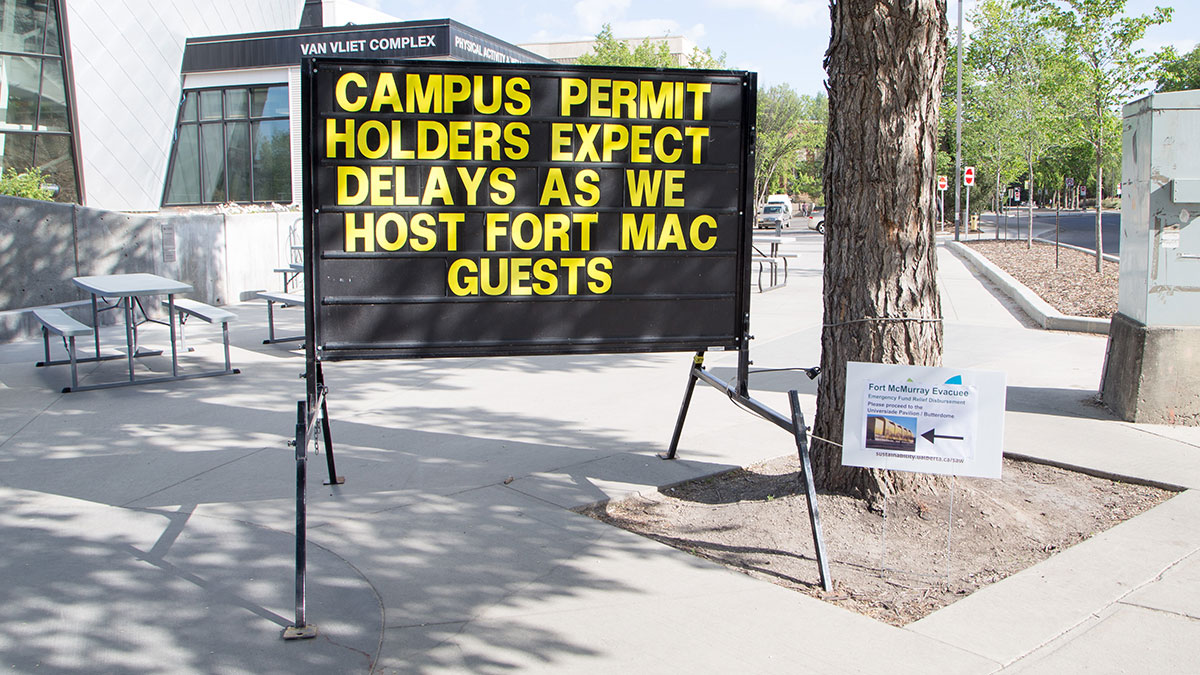 For students like Nicole McMillan, the University of Alberta's new Disaster Relief Bursary is a welcome gesture.
In response to the Fort McMurray wildfire, the U of A has launched a new bursary to help students affected by the wildfires that have caused the evacuation of nearly 90,000 people. Both incoming and returning students can apply for the bursary for the Fall semester. Exact amounts that each successful applicant will receive are tentative, as the bursary is funded by ongoing community donations.
McMillan will be one of the new bursary's applicants. A Business student entering her third year at the U of A, McMillan had been supporting herself and her family by working three jobs back home at Fort McMurray — her mother had been unemployed after being diagnosed with cancer last July.
While McMillan's house didn't burn down, her financial situation is still uncertain — she didn't end up winning any scholarships last year despite achieving a 3.5 GPA. McMillan said the new bursary shows that the university cares about their students outside of academics.
"I'd really hate to prolong my degree just because of what has happened in my community," McMillan said. "That would really suck."
Lisa Collins, Vice-Provost and University Registrar, said the goal of the new bursary is to "ensure that students can continue their studies as they plan to do." An estimated total of 500 current and prospective students of the U of A may have been affected by the fire, 250 of which are applicants to undergraduate programs. Collins anticipates that the university's estimate may be less that the number of students actually affected, as estimates are based on Bear Tracks home address listings.
"It is possible that students have family … in Fort McMurray but they're listing a home address in the Edmonton area, so our system wouldn't necessarily know the true number of everyone who's going to come forward and tell us they've been affected," Collins said. "We don't know how many of the students will actually step forward and we would like them to not be shy about this. If they have financial need, we'd like to know about it."
Fundraising for the new bursary began on May 13, and in four days the university raised more than $12,000 with contributions from students, alumni, staff, and other members of the university community. Students and alumni have shown interest in helping other students through the tough time, Collins said.
"I think this is a fine example of what it means to be an Albertan — to be an Albertan institution in a time of crisis for Alberta," she added.
While Collins is pleased by the amount that has been raised, she said that communication with donors is still important. The amount students can receive through the bursary will depend on the amount they raise through donations.
The amount that will be dispersed to students in September will also depend on applicants' circumstances, such as what program students are in, tuition costs, damages caused by the fire, and other considerations.
"We want to make sure that we're being fair about it as well so we look at how much funds we have, how many students apply and what the individual needs are," Collins said.
"The guiding principle here has been compassion and how we support each other during this time of crisis."