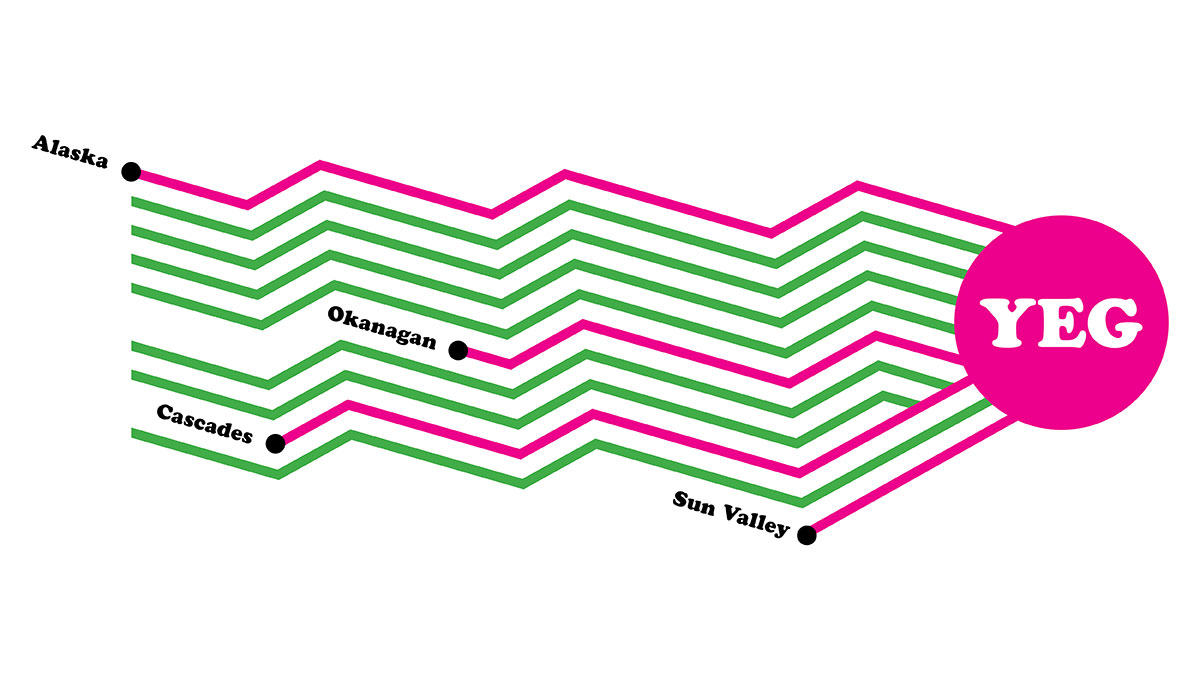 One of the key elements to being a student is travelling. We get four months off in the summer to wander around the globe, taking time to figure out exactly what we want to do with ourselves as our futures begin to approach terrifyingly fast. Unfortunately, we're situated with a terrible travel market, as the Canadian Dollar being valued as Monopoly money has made it ridiculously expensive and difficult to travel.
But don't let that discourage you. Even though rising costs and a plummeting dollar create a less-than-ideal financial situation for travel, there are still options for those who don't have the cash to jump on an airplane and fly to Europe. Road trips are significantly cheaper than airplane travel, and they also offer a completely different experience. Edmonton may seem like a completely landlocked and isolated tundra most of the time, but there exists plenty of interesting drives through North America's West for those who are willing (and able) to hop in a car and go.
The Scenic Route to Alaska
No, not the band that shows up to Folk Fest every few years. I'm referring to the drive through Jasper, up to the Yukon, and into the stunningly scenic state of Alaska. There are three ways the trip to Alaska can be done, but the most sensible for a group starting in Edmonton is the Rocky Mountain Route. Along the way, you'll drive through Jasper National park, up through the mountains, into the Yukon, and through Alaska's protected scenery and wild areas, including the world famous Kenai Fjords. If you follow the trail to the very end, you'll end up at Homer, the most western point of the United States road system.
Edmonton to Homer, Alaska.
Distance: 3,472
Down South to Idaho
If you don't want to follow the mountains north, head south and into Idaho. Nearly a direct line south from Edmonton, you can drive through Calgary, across the American border, and down to Sun Valley Resort in Idaho, which is known as "America's Original Ski Resort." You'll navigate through winding mountain roads with exceptional scenery, and along the way is the Kirkham Hot Springs, which features a series of natural pools scattered around low cliffs. It's a different side of the Rockies you won't see travelling north, as the scenery is loaded with flourishing vegetation and natural places to swim.
Edmonton to Sun Valley, Idaho.
Distance: 1,549 km
North Cascades National Park
If you're an outdoorsy type looking for something challenging, head to the Pacific Northwest and check out Washington's Cascades National Park. In doing this drive, you can either travel through British Columbia and go south from there, or you can drive through Alberta and travel west from Idaho. Either way, you'll get a nice, scenic wind through the Rockies, followed by a calm trip through Washington's flatlands. Two hours from Seattle are the rugged and remote Cascades, which feature walks and climbs from basic to intense in which you can get a firsthand taste of isolated mountain life
Edmonton to North Cascades National Park, Washington.
Distance: 1,072 km
Through the Okanagan
The Thompson Okanagan seems like it exists for the purpose of driving trips. The scenery is fantastic, the roads are well maintained, and different golf courses, lakes, and wineries are easy to access. There are two different ways to make the trip to the Okanagan from Edmonton. You'll either take the northern route through Banff, Glacier National Park, and Revelstoke, or you'll take the southern route, which goes through the Kootenays and Crowsnest pass. Both are excellent and relaxing drives, but the northern route certainly has more to offer along the way in terms of stops and scenery.
Edmonton to Kelowna, BC.
Distance: 891 km