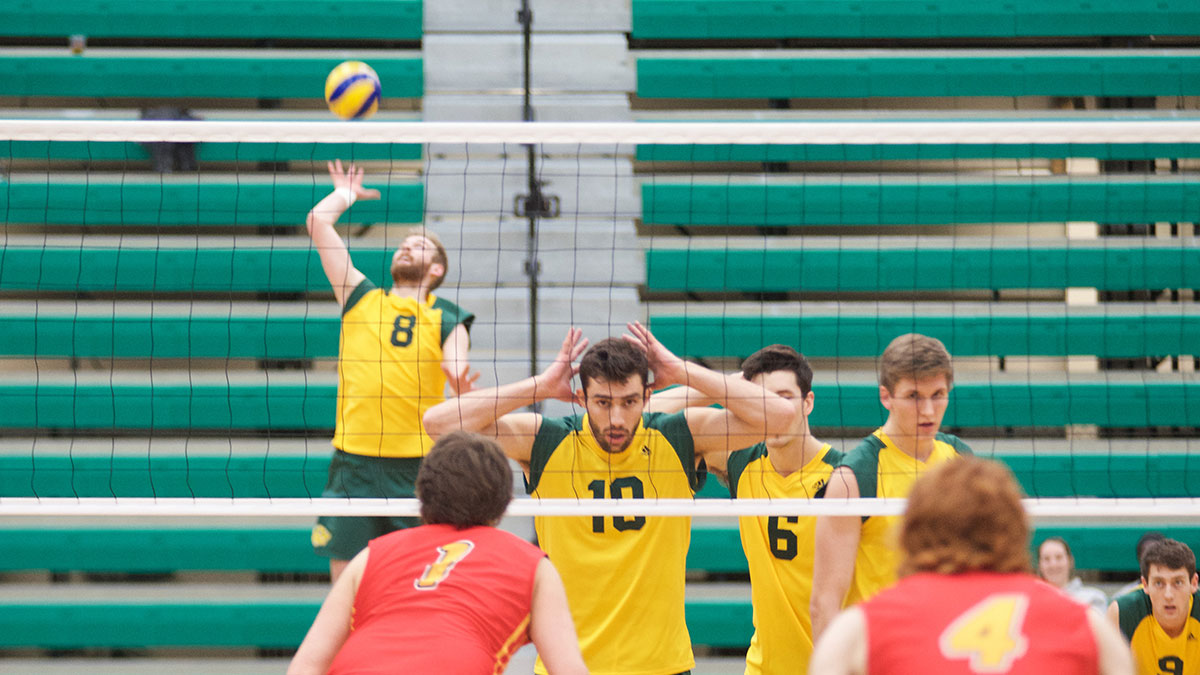 Pandas Volleyball
The Pandas Volleyball team swept the Mount Royal Cougars 2-0 in their weekend Canada West quarterfinal series last weekend.
The second-ranked Pandas came out guns blazing in their first match, winning handily in straight sets (25-19, 25-19, 25-18). Head Coach Laurie Eisler's team appeared poised and prepared against seventh-ranked MRU, as the Pandas out hit, out aced, and out scored their rivals from Calgary. Both outside hitter Kacey Otto and right side Karly Janssen both notched 11 kills, with Meg Casault collecting nine of her own.
The Pandas continued their dominance in Saturday's match, winning 3-1 (25-14, 25-13, 23-25, 25-19). This time, Otto and Casault tallied 15 and 19 kills respectively. Kill percentage was a big factor in this match, as 28.9 per cent of Panda attacks found the court, whereas the Cougars could only score on 15.1 per cent of theirs.
Having qualified for the Canada West final four, the Pandas will travel to Kelowna next weekend, where they will face hosts UBCO, as well as UBC, and Trinity Western. The top three teams in this tournament will go on to the CIS Championship tournament. — Mitch Sorensen
Bears Basketball
In the first ever playoff series between MacEwan and Alberta, it was the Bears coming out on top of a hotly contested series.
The green and gold struck first in the series, using a strong second half performance in which they outscored the Griffins 39-22 to vault themselves to a 67-58 victory. Colby Jackson lead the Bears with 21 points, while Mamadou Gueye chipping in 14 points as well.
The Griffs had a response with their backs against the wall however. Led by Denzel James' 24 points, they beat the Bears handily in game two, by a score of 77-62.Gueye scored 14 points once again, this time in a losing cause.
While Gueye may have been limited in the first two games, he busted out in a big way in the third and final game, scoring a game-high 29 points while also collecting 13 rebounds. The Bears trailed late, but a Dwan Williams put back with only 1.6 seconds on the clock gave them a 55-54 lead. The Griffins had a chance, but ultimately ran the ball out of bounds, giving the Bears the opportunity to face the powerhouse Calgary Dinos in the Canada West quarterfinals. — Zach Borutski
Bears and Pandas Wrestling
Even though the Bears and Pandas wrestling teams couldn't find their way onto the podium as a team at the CIS championships, there were some wrestlers who managed to bring home some individual hardware.
The Pandas finished sixth as a team, tallying 17 points over the course of the weekend, and falling short in their two bronze medal matches. Farrah Taj lost in the 51 kilogram weight class, while Krystin Paquette lost at 59 kilograms.
Unlike the Pandas, the Bears were able to secure some individual podium spots, with Dylan Williams winning his bronze medal match at 61 kilograms, while Daniel Oloumi lost his gold medal match at 120 kilograms, walking away with a silver medal. Most notably, Micheal Asselstine won his third consecutive CIS gold medal. This year, the gold came at 68 kilograms, while his previous two were at 61. Asselstine is the first wrestler in CIS history to pull off the gold medal three-peat, and also owns a silver medal from 2013 when he competed at 65 kilograms. The fifth-year can now graduate knowing he's the most decorated wrestler in U of A history. — Zach Borutski