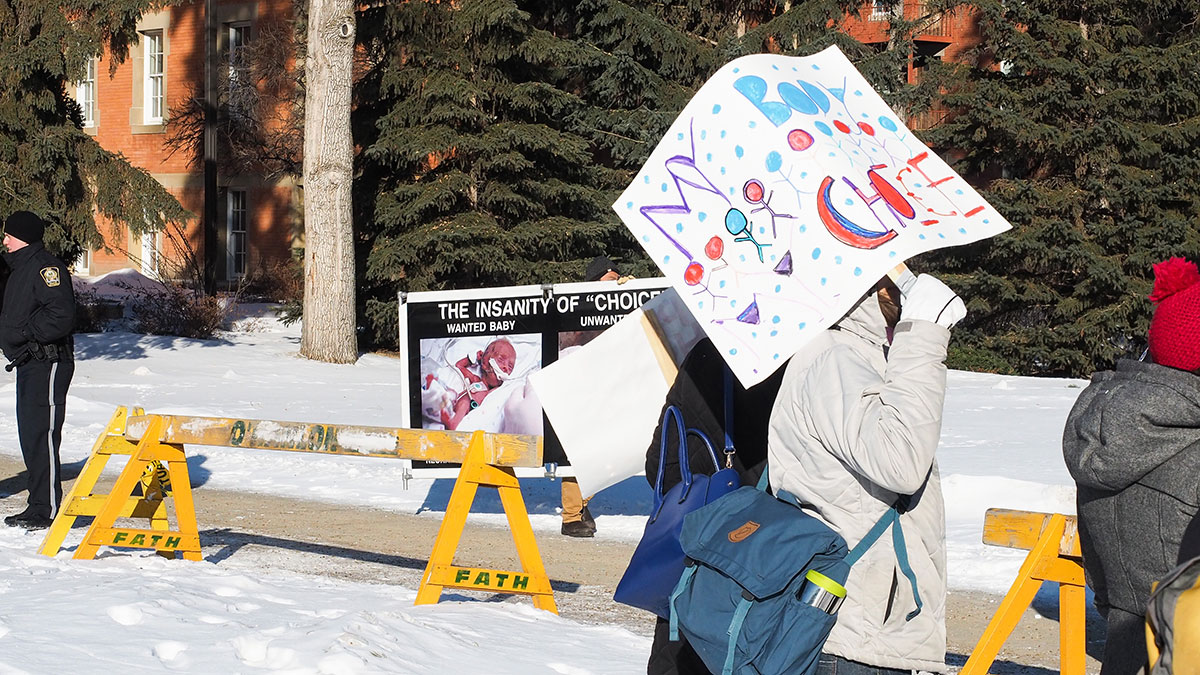 Quite literally, speech on the University of Alberta campus is not free.  I know this because my club, UAlberta Pro-Life, was told that if we wanted to host a display on campus that we would have to pay the U of A $17,500. This cost is far more than any university club could pay, and also was obviously intended to be that way. The worst part of it, however, is that the costs were demanded of our club because of the potential illegal actions of others — the behaviour of students in UAlberta Pro-Life has been above reproach at every event we have participated in.
This is a dangerous precedent. It means that if one group of students decides that they do not like the arguments made by a second group of students, then the first group can silence the second group simply by threatening mass lawlessness if the second group is allowed to hold any events. In short, the U of A has calculated that it is easier to silence an unpopular opinion than it is to protect their speech rights on campus.
I know my club and our opinions on abortion are not popular. I know many people dislike the displays we put up which show what abortion does to a pre-born child. But being uncomfortable with the way someone puts forward an argument, disliking a certain intellectual position, or even hating the people who are trying to advance that position are not good reasons to silence an intellectual opponent.
In fact, I would argue, allowing that person to make his or her argument gives you an opportunity to demonstrate that the way they made their point is offensive, or that their logic is flawed. All shutting your opponent down does is show that you are afraid of discussion and that you have allowed fear to prevent everyone else from pursuing the truth by asking questions of the status quo.
You don't have to like UAlberta Pro-Life to recognize that the security fee imposed on us was meant to prevent us from being able to present our argument. And if the "heckler's veto" is allowed to stand in this case, who will stop it from happening in another context? What if an oil company hired thugs to break up an environmentalist protest on campus, should the environmentalists be forced to pay for the right to speak because others have threatened violence against them? Freedom of speech is for offensive speech, otherwise it wouldn't need to be protected. Furthermore, if you want to enjoy its benefits then you have to tolerate others enjoying those same benefits as well.
These are the stakes of the drama that is playing out around UAlberta Pro-Life. If UAlberta Pro-Life is successfully silenced by the U of A, then every other group which does or says something unpopular on campus is at risk of being laden with crippling security costs to make their argument. Good bye to the environmentalists on campus. Good bye to the rights of Muslim students to practice their faith in a sometimes hostile environment. In fact, good bye to the rights of all unpopular minorities. If you are scared by this picture, then you should let university officials know that you are upset with the erosion of freedom of speech on campus. Make your voice heard.