Sports
Top 5: Super Bowl halftime shows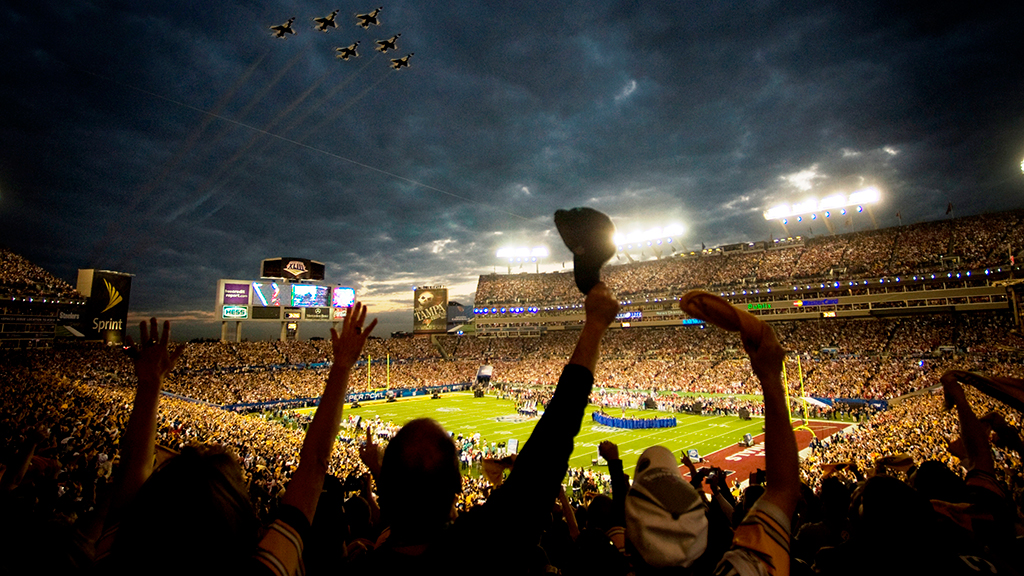 The Superbowl half time show is always a multi-million dollar spectacle, always guaranteed to shock viewers with either awe inspiring pyrotechnics or outrageous scandal. Here, we look back at our favourite half-time chicken wing-soaked memories.
1. Janet Jackson & Justin Timberlake: (2004)
Ah, the concert that invented the term "wardrobe malfunction." While P. Diddy and Kid Rock also performed at the "Rock the Vote" themed half time show, the last number, Justin Timberlake's "Rock Your Body" that plunged the duo into infamy, and kept anyone but classic rock musicians off the show until Taio Cruz was for some reason allowed to be on stage with The Who in 2010. The nip slip at the end of the song was hugely controversial, and there is still discussion over whether or not the incident was planned. Regardless of whether it was or not, it went down in history as one of the most memorable halftime shows to date. — Kieran Chrysler 
2. The Blues Brothers: (1997)
As part of a "Blues Brothers Bash" theme, the Blues Brothers reunited minus John Belushi and with James Belushi subbing in. The Saturday Night Live born group hit the stage with two of their more popular tracks, soon bowing out to give James Brown the stage. ZZ Top was also there, for some reason.
The show was as 90s as you could get, with a cheesy "breaking news" interlude announcing that Joliet Jake had escaped from prison and was on the loose in New Orleans. But despite all that, it was a fun and outrageous half time show, which is all you really need. — Kieran Chrysler 
3. Beyonce: (2013)
Bow down bitches, Bey came to win. Performing her most notable tracks with a gang of backup dancers more numerous than a football team, the show was a spectacle full of old hits like "Crazy in Love" and new favourites like "Halo." But the best part of the show was easily the reunion with her Destiny's Child group mates for a rousing performance of "Bootylicious" and "Independent Women Part I." Beyonce will be gracing the stage with Coldplay this year to bless viewers once again. — Kieran Chrysler 
4. Katy Perry (but mostly left shark and Missy Elliot): (2015)
Last year's performance by Katy Perry was noteworthy for pretty much every reason except for Katy Perry. Sure, she rode out on a giant mechanical tiger while singing "Roar," but everyone else involved with her performance stole the show. Except for Lenny Kravitz of course.
The first surprise came when Perry brought Missy Elliott to sing her hits such as "Get Ur Freak On" and "Lost Control." After Elliott's crowd-pleasing performance, it was Left Shark's time to shine. Perry had two backup dancers dressed in shark costumes for the final song of her act, and the one on the left had a lot of trouble with his/her choreography, stumbling through dance moves, and unintentionally making a meme out of themselves. A show for the ages, thanks to a couple of guest performances. — Zach Borutski
5. Madonna: (2012)
Let's get this out of the way: yes, this show was way over the top. Way too over the top, in fact. But it's Madonna, so it would be disappointing if she did it any other way. Starting off the show with "Vogue" while dressed in full Egyptian garb, she brought out a veritable all-star team of 2012 musical talent afterwards. Starting with LMFAO joining her for her performance of "Music," then bringing out Nicki Minaj and MIA soon afterwards. Notably, MIA also caught a lot of grief for flipping the bird to a camera during her performance, because Madonna couldn't possibly have all of the spotlight could she? — Zach Borutski