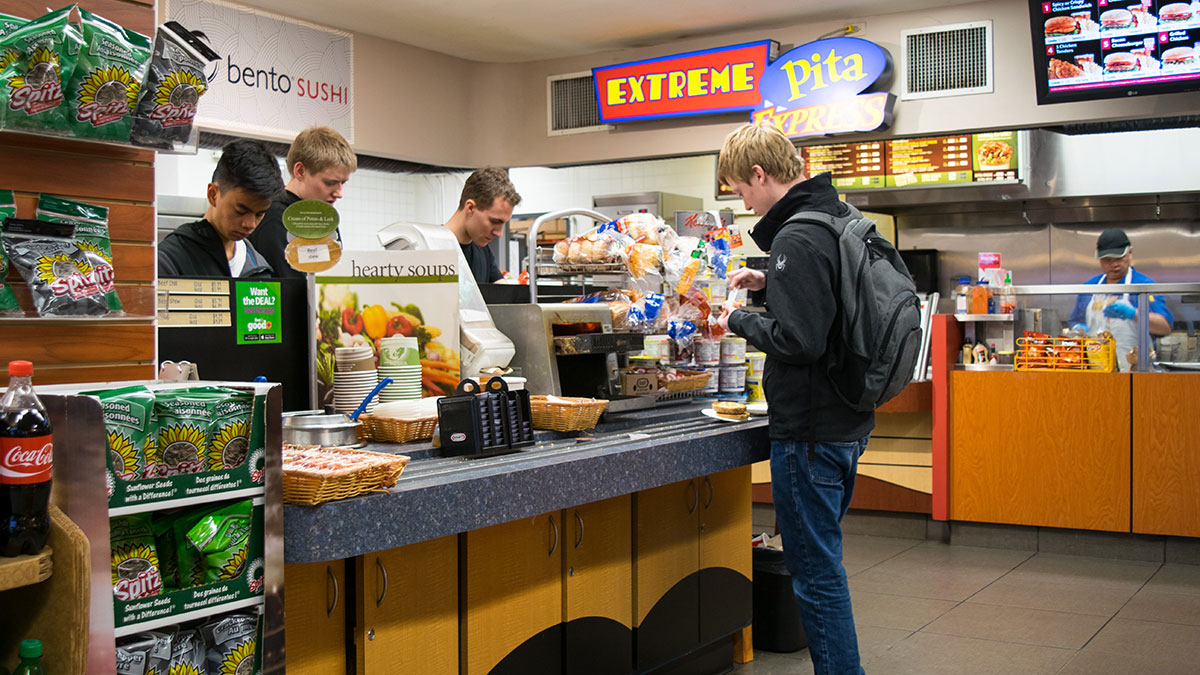 Does anyone genuinely like Lister food? Seemingly no one, except the university.
My digging has turned up conflicting information; former LHSA presidents say Aramark, the food provider of various institutions including prisons, can do no good, but the university says they can do no wrong. Why is there a glaring disconnect between what Lister students are saying and what the university hears? I don't pretend to know for sure, but I can provide some context for this discussion, and the observation that there's something fishy going on here (and it's not just the $12 fish and chips at the cafeteria).
The current contract between Aramark and the university started on Aug. 1, 2010 and will last for three five-year terms. It won't be up for negotiation again until summer 2025. Samuel Wright, LHSA 2013-2014 president, and Talha Sajjad, president in 2014-2015, didn't know this. They also had no idea that the LHSA president in 2010 was one of the two students (the other being the President of the Residence Halls Association at that time) who were on the panel that chose the contractor. The panel consisted of five people, and the students were given an equal vote. All of this information regarding contract negotiations, though made readily available to me by Associate Vice President of Ancillary Services Doug Dawson, didn't seem to be provided to the LHSA. Sajjad said he never even got a clear answer about when the contract would be up for renewal again, despite asking multiple times.
The terms of the contract are confidential. This would be acceptable for a contract between two private parties, but the university is a public institution. We have a right to know what the university gets for the exclusive arrangement to provide food in Lister. The two students who sat on the panel in 2010 knew the terms of the contract, Dawson said, and compared them to other proposals. It's good to know that some students were involved but still, I think Lister students deserve some transparency for the minimum $3,227 we shell out every year.
The LHSA's relationship with Aramark, though civil, was defined by a "rift of understanding" according to Wright. Frequent disagreements over fair pricing and promises made by Aramark that were never followed through on coloured their biweekly meetings. Compare that to the university's relationship with Aramark. Dawson said, "I think it's been a very good relationship, very positive over the years. They're extremely responsive. That's why they're still here."
Extremely responsive is not how Sajjad describes Aramark. He says the LHSA would receive complaints about Lister food multiple times every day, yet when they brought these to the company's attention any changes made would never last. He acknowledges that the addition of the Halal station in the Cafeteria has been an important improvement, as a resident with strict dietary restrictions he found it embarrassing to ask employees to do things he considers part of the job description like washing their hands before handling a vegetarian sandwich or cooking vegetarian patties on a different part of the grill than beef burgers. "This was something that was promised to us by Aramark, that they would educate their employees … (but) these problems continued to persist and they continue to persist today."
Lister students and the university also have different opinions about food quality, and I have to side with the former LHSA on this one. Wright lived in Lister for three years and Sajjad for four. They both saw the food quality improve, but since prices soared (all price changes are approved by the university) they never felt the food lived up to expectations. Of course Dawson thinks that Lister food quality is "superb."
What does the Students' Union think about Aramark? "We tend to disagree with a lot of what they do on campus," said Vice President (Operations and Finance) Cody Bondarchuk. No one from the Students' Union represented students during contract negotiations because the SU is a competitor. They're also worried about implementing a $4,900 all-you-can eat meal plan (in which students are permitted to only spend $300 on campus away from Lister) with a company that they believe has not earned students' trust. The proposal was rejected by the SU and I agree that the prices are outrageous. Sajjad and Wright like the all-you-can-eat concept but not at that price.
So we have a secret, 15-year contract, a university that says that Aramark is a responsive company, and a students' association that says they never saw any promises being fulfilled. Add in the restaurant-priced food which is either great or not worth it depending on who you ask and you get a hell of a lot of mixed messages. What's going on? Stay tuned.