News
Third gender available on 2016–17 U of A applications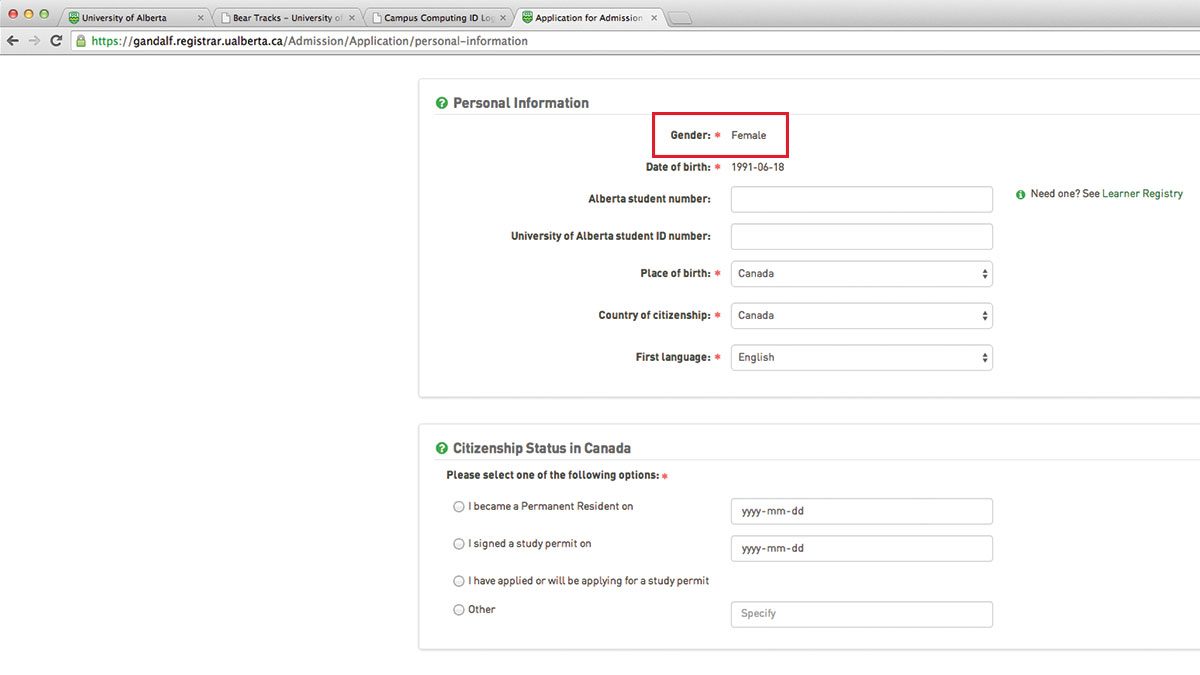 Non-binary students applying to the University of Alberta next year will have the option of choosing a third, gender-neutral option to fill the required gender field in their applications.
The third gender option saying "Another/Prefer not to disclose" will be available in paper applications, but not in BearTracks. Selecting the option in application will result in a student having no gender information in BearTracks.
When the Office of the Registrar receives an an application with the third gender option, the data for gender will be left empty in the BearTracks system, so it won't know if the student is male, female or any other gender, Vice-Provost and University Registrar Lisa Collins said.
"We realize paper is not ideal," Collins said of the new process. "But this is a first step."
Applications to Alberta universities are completed via the ApplyAlberta website, which only has options for male and female. Students can choose to leave the field blank if they identify as non-binary, but the system will automatically use the gender information from the students' high school transcripts, which may not be the gender the student identifies with.
The gender field in university applications used for university and government reporting. It also exists to prevent accidental duplicates of students to be created within the system.
The Students' Union's Political Policy on Gender, which was championed by SU Vice-President (Operations and Finance) Cody Bondarchuk, was approved at Students' Council last September. Through the policy, the SU has also been advocating for U of A documentation to include options other than male and female, Bondarchuk said.
"My opinion has been that, and it's reflected in (the SU's Political Policy on Gender), while tracking gender is important, you shouldn't be compelled to disclose it," he said.
Besides pushing for non-binary gender options on U of A forms, the Political Policy on Gender also advocates for issues including all-gender washrooms, gender neutrality in university documents and gender-neutral building codes. The policy has also been successful in advocating for the Government of Alberta to recognize gender identities outside the male-female binary.
"There's so much more to do, but this is an important first step," Bondarchuk said. "And it is so comforting to see that the (Office of the Registrar) is listening to students."
The Office of the Registrar has received negative feedback in the past from the SU and specific applicants who do not identify as male or female, Collins said. Having only male and female options for gender may send the signal to that the university doesn't welcome sexual minorities, she added.
"We don't feel that is the case at the U of A and we realize how important those signals are," Collins said. "It really worried me when a student contacted my office and said, 'I identify as neither male or female, and I don't feel comfortable applying to your university.'"
For years, the Office of the Registrar has been in talks about inclusivity with various stakeholders on campus, such as the SU and the Institute for Sexual Minority Studies and Services. Previous projects regarding inclusivity have included hanges to class lists, which were changed to show students' preferred names instead of legal names.
Including a third gender option in applications is not a permanent solution for inclusivity, but it is an important first step, Collins said, and work still must be done for the third option to exist in BearTracks.
"We're just investigating what we would have to change (in BearTracks) to make sure that we don't, in trying to improve things for students, actually break the required reports on behalf of this university," Collins said.
Students with inquiries regarding the non-binary gender option can contact Student Connect at the Office of the Registrar