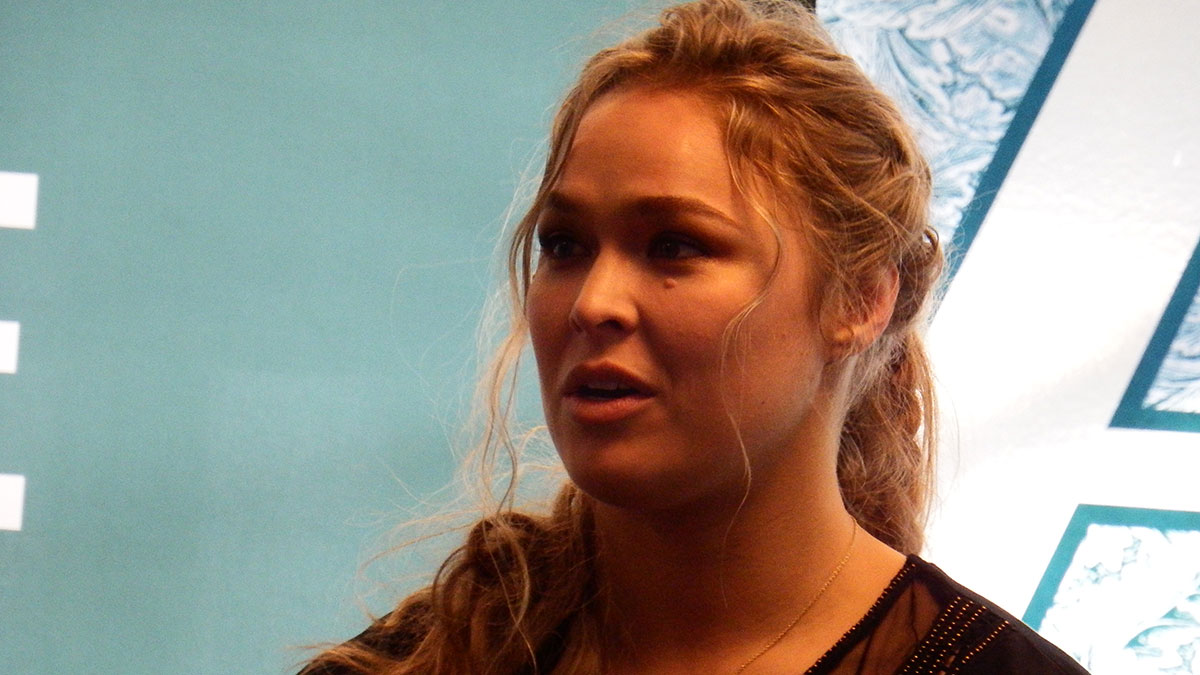 Ronda Rousey, in all her confidence, composure and persistence, has been at the forefront of women's in mixed martial arts, most notably: UFC fighting. Until her recent loss against Holly Holm at UFC 193 that ended with a KO by Holm in the second round, Rousey had been undefeated since her Olympic bronze medal for Judo in 2008. Since she began her career in the UFC, she has been at the top of the heap in women's fighting — and whether she liked it or not, she became a role model for all women who have faced the stigma of women in combat, which has traditionally been a male dominated sport. She became the success story.
When someone is thrust into the role of idolship/mentorship, there is a certain criteria that is intrinsically expected of them: you are suppose to be approachable, easy going, inspiring, motivating, and respectful. In essence, you need to be marketable and interesting, without being too provocative or abrasive to the general population. And to an extent, she was, before UFC 193, appearing on talk shows, and the cover of Sports Illustrated. However, after UFC 193, fans and media alike criticized her over the top, aggressive performance. Most notably, when she did not reciprocate Holm's invitation to touch gloves at the beginning of the first round, which was construed as a direct insult to Holm. However, following the defeat of Rousey, Holm humbly congratulated her on her leadership in women's combat sports, and stated that Rousey was a significant role model for her.
Should Rousey feel obligated to fit this hegemonic role of a role model and of an icon, as she is one of the only notable female UFC fighters? Why do UFC men typically not feel the same weight to present themselves a marketable way?
Following the UFC 193 fight, Rousey's outright aggression was criticized immediately, and her sportsmanship was directly questioned. Many stated that she did not deserve to win, after how she treated Holm initially. However, male UFC fighters show aggression in the ring, and are often encouraged to do so: Jon Jones has been celebrated for his overt, typically brutal tactics in the ring, rather than his sportsmanship being called into question. Why is it that women in combat sports are more heavily criticized for being more aggressive than men are? The double standard that exists for men and women translates into the fighting ring: people are uncomfortable when they see a woman with aggression and persistence — they view it as a violation of what is expected of defined gender roles. Rousey is definitely is not an overly agreeable character: she is opinionated, blunt and intimidating — but she is authentic, which carries major significance in the role model framework.
She has challenged the notion of femininity and desirability in many ways. Before her Sports Illustrated feature, she intentionally didn't cut her weight before her photos (fasting/dehydrating to achieve optimal muscle definition), because she wanted to portray her body in its most natural form. Rousey, being her authentic, unapologetic self is more of a genuine role model than someone that seeks to present as someone she's not. Women deserve to take up space in the sphere of combat sports, and Rousey indeed takes up space, boldly.